NBA star Tobias Harris 'finds ways to bring Christ' out in his life on and off the court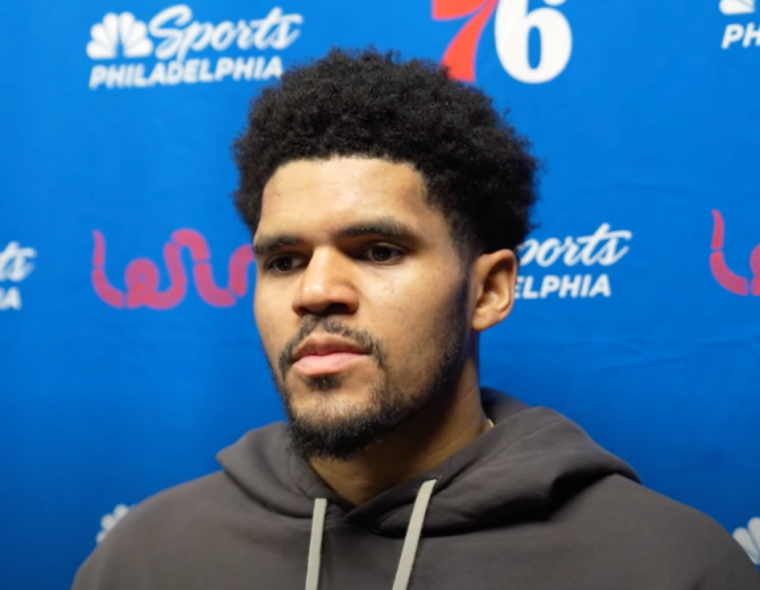 Philadelphia 76ers forward Tobias Harris is averaging nearly 20 points per game this season, and although his skills show on the court, he wants the world to see the light that comes from within him as a follower of Jesus Christ.
The professional basketball player played one season of college basketball for the Tennessee Volunteers before declaring for the 2011 NBA draft, where he was drafted 19th overall by the Charlotte Bobcats. 
A member of the 76ers for the past three seasons, he is gaining a reputation for his gifts on the court as well as his humanitarian work off of the court. His work off the court consists of community outreach for underprivileged youth nationwide and in Philadelphia.
"Every day that I wake up understanding how blessed I am, how fortunate I am," Harris told Pastor William Mcdowell during a Deeper Worship Intensive "Team Edition" segment released last month. "When I do a lot of the community outreach with the youth, I can easily see the blessings that I've had in my life, even as a young kid growing up." 
McDowell, an award-winning gospel singer, is the host of a four-week intensive featuring a masterclass of worldwide leaders to equip all Christians to live out their faith. People can sign up for the course and access the material online. 
During week three of the course, Harris was a featured guest and spoke of the importance of physical and spiritual disciplines that led him to where he is today. 
"Each and every day I truly wake up, I'm thankful to have a life and be alive. I'm thankful to do what I do," the athlete shared of some of his spiritual disciplines. 
"I always try to make sure that the workspace that I'm in — the NBA, there's highs and lows — but I always make sure that I never let the highs and lows truly determine my true happiness as a person." 
The 10-season NBA veteran said that while many people would love to be a professional athlete, "this position won't necessarily make you happy."
"It just brings in a sense of happiness and different things," he continued. "For me, I look at it like if I'm playing basketball at the NBA or if I'm a principal at a school, which is something I would love to do when my career is over, I'm going to find ways to always bring Christ out in my life."
Tobias said he uses every interaction with other people to show them "the light" inside him, which he says is God. 
"I really believe in that, and I know that has always been something that I've tried to embody, is to help somebody on a daily basis because we really don't know everyone's walk of life and what they've gone through," Harris explained.
"Once I continue to have that type of approach, it just allowed me to truly understand and fall in love with the blessings that I have in my life: the job that I have, the family I have, the health that I have, all the way down the line," the 28-year-old added. "It's been super important for my own growth and my own walk."
Looking back on all the places his basketball abilities have taken him in the last 15 years, Harris said he realizes that he "was just always a blessed young man in the world."
"I continue to walk and enjoy the present moment of where I'm at and it been truly an honor," Harris testified.
Harris and Mcdowell have been friends for some time. The basketball player concluded by telling the gospel singer that he hoped the Christian leaders watching the Deeper Worship Intensive would take heed to spiritual disciplines and physical ones. 
In 2015, Harris echoed his recent statements in an interview with Razz and Jazz Sports.
"Any person I meet, I try to embrace them and show them love so that they know I'm a Christian," Harris said at the time. "Jesus Christ was a loving man. And as Christians, we have to try to [model] our lives after Jesus Christ."
Harris has played for several different teams throughout his professional basketball career. 
He played with the Milwaukee Bucks, Orlando Magic, Detroit Pistons, Los Angeles Clippers and is now with the Philadelphia 76ers.
Through all of the life changes and moves that come with being a professional athlete, he maintains that God is his constant anchor. 
"In the NBA, you go through a lot of ups and downs," Harris once said in an interview with Darrell Johnson. "You've just got to continue to trust God's plan."
The forward is also practices what he preaches when it comes to his charity efforts. In 2019, he donated a total of $1 million to nine different charities. 
More than half of the money went to charities in Philadelphia through a "community draft" that was held at a local elementary school.