Nearly 10,000 Yazidis Killed or Kidnapped by ISIS in 2014 Takeover, New Estimates Show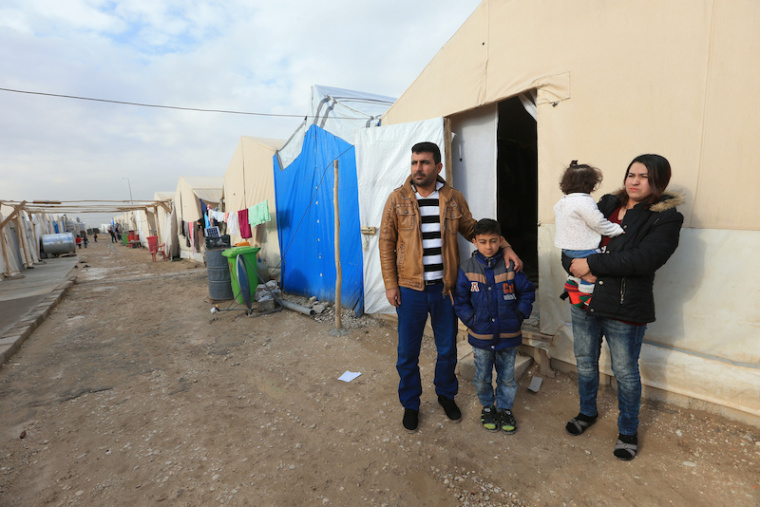 Almost 10,000 Yazidi men, women and children were killed or kidnapped by the Islamic State terrorist organization in just a matter of days when the jihadi death cult conquered Yazidi areas in Iraq in 2014, a new population-based study estimates.
A report released Tuesday by PLOS Medicine, a peer-reviewed journal published by the nonprofit publisher Public Library of Science, estimates that at least 3,100 Yazidis were killed, while over 6,800 Yazidis were kidnapped by IS (also known as ISIS, ISIL or Daesh) when the militant group took over lands around Mount Sinjar in August 2014.
As has previously been reported, when IS militants took over Yazidi towns, captured Yazidi males were usually separated from the females and young children. The men and older teens boys were usually killed, while the women and girls were taken and sold as sex slaves. Many captured Yazidi boys were also abducted, brainwashed and trained to become militant fighters or suicide bombers.
Before IS rose to prominence and forced hundreds of thousands of residents to flee their homes in Northern Iraq, there were over 400,000 Yazidis living in the area. Over two-and-a-half years after the rise of IS, PLOS Medicine has released a retrospective household survey in order to estimate just how many Yazidis were actually killed or abducted.
"According to lists compiled by local authorities and human rights organizations, between 2,000 and 5,500 Yazidis were killed and more than 6,000 were kidnapped during the ISIS attack on Mount Sinjar in August 2014," a summary of the report states, adding that the United Nations has not been able to verify those statistics. "This retrospective household survey provides the first population-based estimates of the number and demographic profile of Yazidis killed and kidnapped by ISIS."
In conducting the survey, researchers collected data between Nov. 4 and Dec. 25, 2015 from a random sample of 1,300 displaced Yazidi households now living in displacement camps in Kurdistan. Of the 1,300 displaced households, 988 of the households included in the survey were originally from Sinjar, a town that was once home to over 80,000 Yazidis.
The data was used to estimate the number of killings and kidnappings and "the respective proportions of children and adults and females and males."
The report estimates that of the 3,100 Yazidis that were killed, 1,400 were executed by either being shot, beheaded or burned alive. Meanwhile, 1,700 people, mostly children, died in some way (starvation, dehydration or injuries) on Mount Sinjar during the IS takeover.
The study estimates that there were as many as 4,300 Yazidis who escaped from captivity. An estimated 2,500 are still missing, according to the study.
"Population-based estimates from our survey confirm the severity of the ISIS attack against the Yazidis," the report's summary reads. "Combined with other existing evidence, these estimates can contribute to documenting the full scale of violations and holding perpetrators accountable for their actions."
In addition, the author summary states that the "estimated toll of killings and kidnappings corroborate the figures reported by local authorities and human rights organisations."
"We found that executions were indiscriminate, but children accounted for nearly all those who died on Mount Sinjar from lack of water and food or injuries during the ISIS siege," the author summary explains. "[K]idnappings were also indiscriminate, but children were much less likely to escape captivity than adults."
Valeria Cetorelli, the report's lead researcher and a demographer from John Hopkins University and the London School of Economics and Political Science, told the Thomson Reuters Foundation that until now, "there has not been clarity on the numbers of Yazidis killed and captured by ISIS during the attack on Mount Sinjar."
"What we wanted to do, in anticipation of a possible trial, is provide the best estimates that we can get of the people affected," she explained.
What the IS has done to Yazidis, Christians and other religious minorities in Iraq has been labeled as "genocide" by a number of prominent governmental and intergovernmental bodies, such as the U.S. State Department, the United Nations' Independent International Commission of Inquiry on the Syrian Arab Republic and the European Parliament.