Nepal Earthquake Death Toll Passes 5,000 People; Samaritan's Purse Reports 'Incredible Destruction, Death, and Tragedy'
As the death toll from Saturday's Nepal earthquake and aftershocks continues climbing and passed 5,000 victims, relief groups such as Samaritan's Purse have reported heartbreaking scenes on the ground of families losing everything they have. The Christian aid group has asked for prayers and financial support as it seeks to reach out to the nearly 8 million people affected by the disaster.
"There are a lot of people sleeping out in the streets," said Samaritan's Purse team leader Patrick Seger in a report from Tuesday. "They are fearful of the buildings and don't want to sleep inside. They are sleeping in the rain because they don't have any other shelter."
The aid group said that although over 5,000 people are reported to have been killed, officials fear that the number will double as rescue teams continue finding bodies through the rubble. At least another 8,000 people have been injured; tens of thousands have been left homeless, and close to 8 million people in total have been affected.
"There's a lot of hurting people here," Seger added. "A lot of people lost their homes and lost their incomes. They're trying to figure out what they're going to do."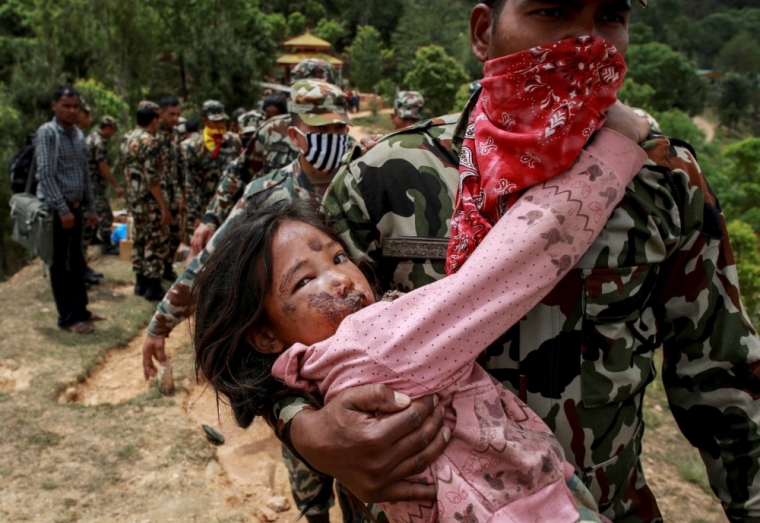 Samaritan's Purse, along with a host of other aid groups, are on the ground in Nepal helping in relief efforts and sending emergency supplies.
The 7.8-magnitude earthquake is the worst of its kind to hit Nepal in over 80 years. Heavy damage has been reported across the nation, with the capital of Kathmandu suffering greatly and reporting that its hospitals are overflowing with patients, while its medical supplies are running short.
BBC News reported that the government is providing free support for the capital's residents, with school buses sent to help the overstretched services.
"There's a rush to get out of Kathmandu. Thousands of people are trying to flee — some trying to head out to the remote districts to see how their families are, others including tourists trying to head toward India by road," BBC's Sanjoy Majumder said.
"But there simply aren't enough buses to take them out and the highways are choked with vehicles, people and relief convoys. Tempers are flaring. The police came to the bus station to restrain those trying to board crowded buses, which made it worse."
AFP noted that aid has also been reaching the hard-hit Gorkha district, where people are in need of food and other supplies. A number of the villages are said to have been almost completely destroyed.
"We haven't had any food here since the earthquake," said Sita Gurung, whose lost his home in Gorkha. "We don't have anything left here."
Rescue workers are reportedly being overwhelmed by the scale of the tragedy, and have shared of the challenges in delivering relief to far-off villages.
"The terrain is such that very remote areas take a very long time to reach," said army spokesman Jagdish Chandra Pokherel. "Our troops are trying their best."