#NeverTrump Conservatives Vow to Continue Fight; Talk of Third Party Begins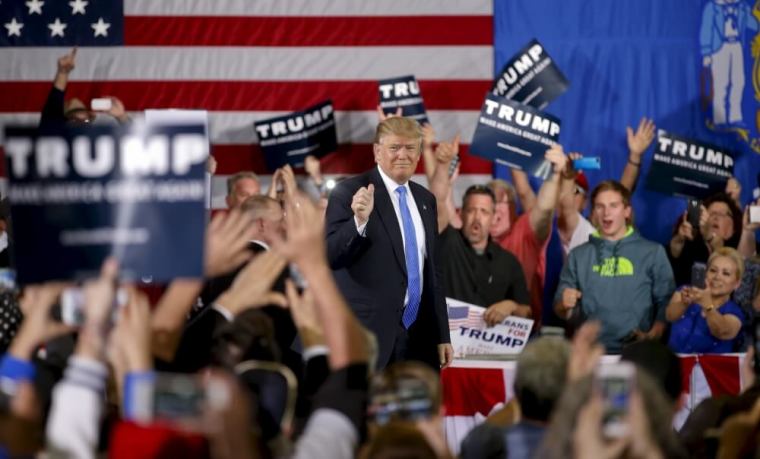 Even after Ted Cruz dropped his presidential bid Tuesday, some #NeverTrump conservatives believe it is "not inevitable" for the billionaire real estate mogul to win the Republican nomination while other #NeverTrump conservatives have begun talking about supporting a minor party or independent candidate.
After Trump won the Indiana Republican primary Tuesday and Cruz announced that he was leaving the race, Republican National Committee Chair Reince Priebus issued a call for all Republicans to embrace and unite behind Trump, the "presumptive GOP nominee," in order to help take down Democratic frontrunner Hillary Clinton in the general election.
However, a group of prominent conservatives who have previously convened to discuss how to stop Trump, will continue its campaign to stop Trump.
"Conservatives Against Trump are dismayed at tonight's result, but not deterred. Polling continues to show that a huge swath of Republicans want a candidate other than Trump to run against Hillary Clinton in November — and this is to say nothing of the countless independents to which the party will need to appeal in order to prevail," Deborah DeMoss Fonseca, spokesperson for Conservatives Against Trump, said in a statement shared with The Christian Post Tuesday night.
"We believe a Trump nomination is not inevitable despite tonight's result," Fonseca added. "We believe that an open and fair convention can produce a viable Republican candidate. As a coalition, we will continue to pursue this goal."
With Trump a little under 200 delegates away from securing the 1,237 delegates needed to claim the GOP nomination, it looks probable that the billionaire will win nomination without a contested convention.
Erick Erickson, a leader in the #NeverTrump movement, is more pessimistic about the direction of the election, implying in a blog post published Wednesday morning that that Trump's possible nomination is an indicator that the "Republican party is broken."
Despite Preibus' call for Republicans to unite behind Trump, Erickson and many other #NeverTrump conservatives still consider a Trump to be just as bad of a presidential option as Clinton.
"The Republican Party is broken and is not, for now, a viable opposition to the Democrats. Principled conservatives will have to go elsewhere even as the charlatans heckle them as helping Hillary Clinton," Erickson wrote. "This is going to end badly for the GOP. Everyone knows it — Republican leaders included — everyone knows it except Donald Trump's supporters."
National Review columnist and author David French opined that America needs a third-party candidate to run as an alternative to Trump and Clinton.
"America needs a third party alternative, and it needs one quickly," French wrote on Tuesday morning. "As I tweeted earlier [Tuesday] tonight, Americans who constantly complain about corrupt politicians have voted by the millions to put two of the most dishonest candidates in America front and center in the general election."
"Throughout this election season, we've talked about various 'lanes' to the nomination," he added. "There was the so-called establishment lane, the conservative lane, and the populist lane. Why don't we create a new lane? Let's call it the integrity lane, and it's the lane for people who refuse to support corruption — who refuse to waste or destroy their moral capital by arguing endlessly over the 'lesser of two evils.' Why not reject evil entirely?"
Another leading #NeverTrump conservative, Weekly Standard editor Bill Kristol, who made headlines earlier this week when he said that he was #NeverTrump but would "never say never," contested the argument that not supporting Trump will only help Clinton.
On Tuesday, Kristol replied to a tweet by former Speaker of the House Newt Gingrich, who wrote, "If you're not for Trump you functionally are for @HillaryClinton, & she's going to create the most radical Supreme [Court]."
"If you're for Trump you functionally are for a man unfit to be president, & for the degradation of Am. conservatism," Kristol tweeted. "The battle for the 2016 GOP nomination is over. The battle for the soul of the Republican Party (or its successor) has just begun."
Sometimes in a general election, as The Federalist's David Harsanyi points out, "there is no lesser of two evils," which could cause some #NeverTrump-ers to eventually support Trump over Clinton.
"The only way to avoid this is a concerted write-in campaign or third-party candidate — with all the caveats about getting on state ballots and having absolutely no chance of winning in the general election," Harsanyi states. "A person whom candidates can support to diffuse the Trump attacks. Find a person a movement can coalesce around, or it's just a matter of time before Hillary-hatred gets the best of people who consider themselves #NeverTrumpers."