New Bill Would Allow Public High School Coaches to Pray With Students in Georgia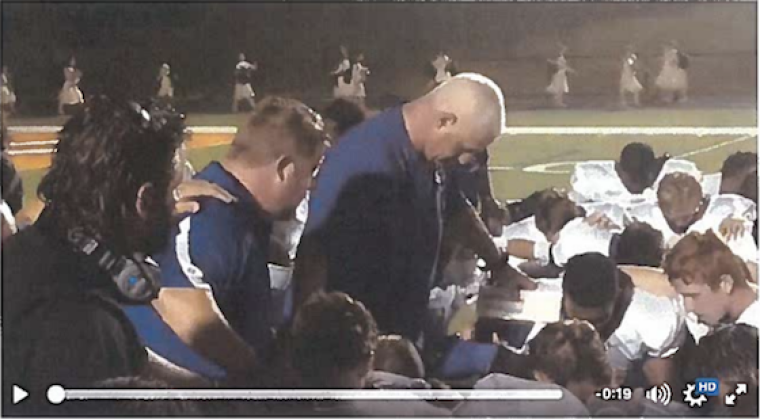 A lawmaker in Georgia has introduced legislation that would effectively allow high school football coaches and other public school officials in the state who want to participate in a student-led and initiated prayer to do so.
After headlines were made last year when East Coweta High School football coach John Small was told by the school district that he could not engage in prayer with his team before games, State Sen. Michael Williams introduced Senate Bill 361 on Tuesday in an attempt to give Small and other coaches such a right.
The bill, titled the "Coach Small Religious Protection Act," would take effect in the 2018-2019 school year and would amend state law relating to elementary and secondary education to provide "freedom of religious expression by faculty and employees of public schools while fulfilling the duties of their jobs."
"While performing their assigned job duties, school employees are required to maintain a position of neutrality toward religion; however, when interacting with other school employees or when the context makes clear that the employee is not speaking on behalf of the school, school employees are entitled to robust protections for their religious expression," the bill states.
The bill states that during "contract" time, school employees, faculty and other types of volunteers affiliated with the school are permitted to "participate in voluntary student-initiated, student-led prayer, such as prayer before a sporting event, when invited to do so by the students, provided that the participation is in the faculty's or employee's personal capacity and not as a representative of the school."
The bill would also protect teachers' rights to wear religious clothing, jewelry or symbols and engage in religious discussions and share religious materials with other faculty.
The bill comes after the Wisconsin-based Freedom From Religion Foundation filed a complaint with Coweta County School System last fall about how Coach Small was seen before a football game participating in a team prayer with his head bowed.
The FFRF complaint led to the school district issuing a district-wide guidance on prayer that explained clearly that coaches can't "join hands, bow their heads, take a knee or commit another act that otherwise manifests approval with the students' religious exercise" when it can be perceived to display government endorsement of religion.
"Public schools are being threatened by out-of-state special interest groups who demand that schools adopt inaccurate interpretations of the First Amendment that unlawfully restrict the freedom of students, teachers, and other public school employees to engage in religious expression or otherwise exercise their freedom of religion, leading to a stifling of constitutional rights," the legislation adds.
"Clear protection in state law is needed for students, teachers, and other school employees in public schools in order to ensure First Amendment freedoms are protected, to prevent against interference from out-of-state special interest groups, and to safeguard academic freedom."
Sen. Williams, a Republican candidate for governor, said in a statement that although "religious liberty is the bedrock of our nation," out-of-state groups like FFRF are "forcing their secular values on Georgia students."
"This is a much needed protection for Georgia faculty members and students who incorporate their religious beliefs into their daily lives," Williams said. "The Supreme Court has held for over 50 years that religious beliefs don't end in the school parking lot."
Cole Muzio, executive director and president of the social conservative group Family Policy Alliance of Georgia, praised the bill in a statement.
"Every student and faculty member should have the right to exercise their First Amendment rights without fear of bullying from radical atheist groups," he said. "I am thankful that Senator Michael Williams has stepped forward to protect the First Amendment rights of all Georgians and affirm that our schools should be a place where those freedoms are taught, honored, and no longer vilified and banned.
"My hope is that our legislators in the Gold Dome will unite to pass this common sense legislation."
The bill has drawn the ire of secularists, such as Patheos.com's "Friendly Atheist," Hemant Mehta.
"When a high school football coach is working a game, everything he does is under the banner of a school representative. Just because the final whistle has blown doesn't mean his duties are over," Mehta argued.
"Football coaches in particular usually have a post-game meeting with players and conversations with local reporters. If there's a student-led prayer immediately after the game, and the coach joins in, it's reasonable to say he's still their football coach, not random dude John Small who just happened to wander into the prayer circle accidentally."