New School Prayer Compromise Allows 'Even Atheists' to Participate, Say South Carolina Democrats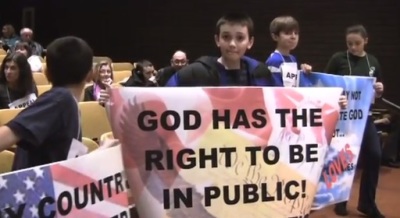 South Carolina democrats are proposing a watered-down version of legislation for prayer in the state's public schools that they suggest is so inclusive, it gives even atheists the opportunity to participate.
The bill, titled house bill 3526, was initially proposed back in February 2013 as a way of allowing prayer in the state's public schools. The initial text of the bill called for teachers to lead the students in prayer every morning. The measure was backed by 10 state representatives, the majority of whom are Democrat.
The measure has since stalled in the state House's judiciary committee, and some who are critical of the bill have argued that it violates a Separation of Church and State by allowing teachers to lead the morning prayer. As a compromise, some democrats backing the bill have suggested that instead of a daily teacher-led prayer, there is a mandatory moment of silence for students of all creeds to simply reflect and be peaceful.
Rep. Wendell Gilliard (D-Charleston) told WCIV-TV that amending the bill to include a moment of silence instead of a teacher-led prayer would not interfere with the bill's purpose, which is to put prayer back in school.
"The compromise would be to have the students to pray to whomever they want to," Gilliard says. "If they want to do away with teachers conducting the prayer, that would be fine with us. The essential part of the bill, the important part, is putting prayer back in school."
Rep. Joseph Jefferson (D-Berkeley), another backer of the measure, said that the modified version of the bill would be so inclusive that even atheists could participate, adding that the purpose of the measure was "merely revisiting the issue to reassure people that everybody should be given the opportunity to pray."
"Even the atheists, it gives them the option of praying or not praying without anybody interfering," Jefferson said.
The American Civil Liberties Union, a non-profit group seeking to protect constitutional liberties, has said it is monitoring the bill's advancement, adding that as the state's diversity grows, it must be sure to protect the rights of non-believers and minority faith observers.
"The rights of non-believers and minority faith observers must also be defended under our system and our constitution, if our state is to thrive in the 21st century as it did at its founding," Victoria Middleton, executive director for ACLU of South Carolina, said in a statement.