New Trailer for Film 'Heaven' Featuring Never-Before-Released Message From Billy Graham Released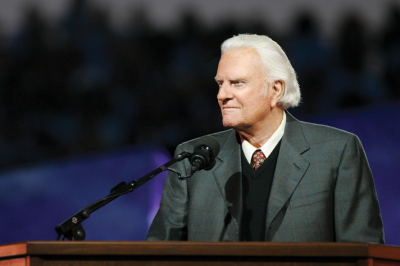 The Billy Graham Evangelistic Association recently released a trailer for "Heaven," the next installment of evangelistic films offered by the My Hope with Billy Graham ministry. "Heaven" features a never-before-released message from Billy Graham, alongside compelling stories of hope and faith, much like "The Cross" and the other impactful programs previously produced.
"'Heaven' is going to be an incredible resource for the Church to use to present the Gospel," said Steve Rhoads, vice president for My Hope. "The trailer only gives a glimpse of the importance of this film in proclaiming the peace that only comes from knowing Jesus Christ. As wonderful as this program is, it is only made truly effective when we pray and ask God to prepare the way."
The film releases on Nov. 7 in the United States and Canada, and churches and individuals involved in My Hope are encouraged to begin praying and planning now for events and gatherings in November, during which they can use this this newly produced video program to reach out to neighbors, family and friends, say BGEA officials.
The film will be free of charge through the My Hope with Billy Graham ministry.
Beginning in 2002, My Hope has been implemented in 59 countries in Africa, Asia, Europe, the Americas, and the Middle East. More than 305,000 churches and 4 million homes have participated and more than 10 million salvation and rededication decisions for Jesus Christ have been recorded.
"Evangelism is clearly the hardest activity of the Church, but it's also the one most closely tied to the health of the local church," Rhoads said earlier this year. "We want to come alongside pastors and help them as they motivate their congregations to reach out in love. The local church holds a unique position of influence in our communities."
A Barna Group study found that while 73 percent of "born-again" Christians believe they have a personal responsibility to share their faith, only half (52 percent) have actually done so in the past year. Among "evangelicals" – the group which overwhelmingly believes they have a responsibility to share their faith – less than one-third (31 percent) have in the past 12 months.
Graham's message on heaven was filmed from his home as part of last year's My Hope campaign. In addition to never-before-seen footage, this year's program will also feature real-life stories of faith interwoven throughout, in the same style as the impactful programs previously produced such as "The Cross."
The trailer for "Heaven" is available online at www.MyHopewithBillyGraham.org/programs.