New White House Press Sec. Sarah Huckabee Sanders: 4 Things You Should Know
New White House Press Sec. Sarah Huckabee Sanders: 4 Things You Should Know
4. She is known for keeping her cool under tense circumstances.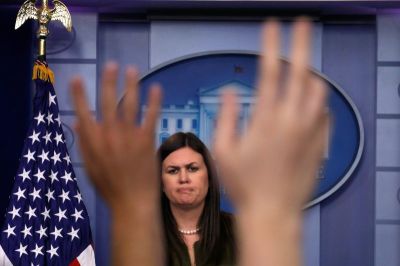 Amid the swirl over the Russia investigation and the firing of former FBI director James Comey in May, Huckabee Sanders, who was principal deputy press secretary, filled in for Sean Spicer at a tense press conference. Some observed that it appeared she was being groomed for the position in light of notable gaffes from Spicer as others predicted he would be ousted.
Unlike Spicer, who sometimes visibly showed his agitation, Sanders is known to sound friendly whatever the circumstances.
Although Spicer will not officially leave until August, on the day when it was announced Sanders would replace him, a reporter asked her Friday if she thought the White House was in chaos in light of number of people exiting the administration.
"If you want to see chaos," Sanders replied, "you should come to my house early in the morning, when my three kids are running around. That's chaos. This is nothing," Newsweek reported.