Newsom cuts ties with Walgreens for not dispensing abortion pill in states where it's illegal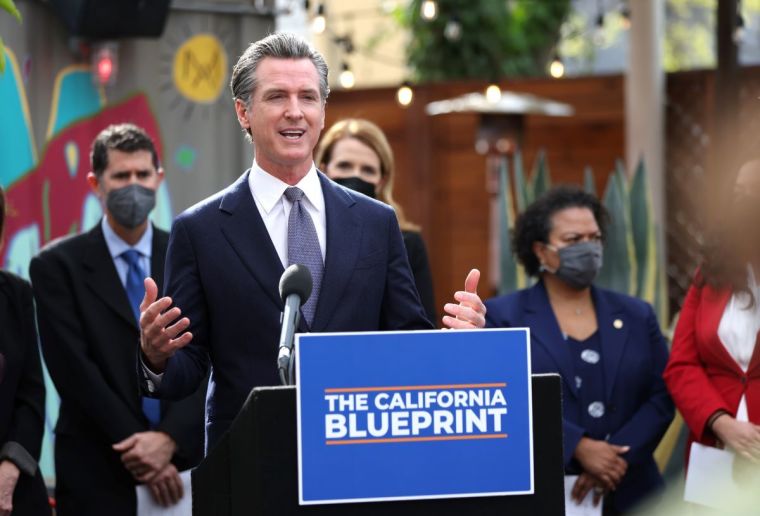 California Gov. Gavin Newsom announced that the state is withdrawing from a $54 million contract with Walgreens after the corporation revealed that it would not dispense the abortion pill in certain states where it is not legal to do so.
Under the Democratic governor's directive, the California Department of General Services gave Walgreens a formal notice Wednesday that it's withdrawing from a contractual agreement with the company set for renewal in May. 
The contract enabled the state to procure "specialty pharmacy prescription drugs," which are typically used by the state's prison health care system. Walgreens had received $54 million from the state of California under the contract.
"California will not stand by as corporations cave to extremists and cut off critical access to reproductive care and freedom," Newsom declared in a Wednesday statement. "California is on track to be the fourth largest economy in the world and we will leverage our market power to defend the right to choose."
Newsom stated on Twitter Monday that California would no longer do business with Walgreens or "any company that cowers to the extremists and puts women's lives at risk." 
A Walgreens spokesperson told The Christian Post in a Thursday statement that the corporation was "deeply disappointed" by the state of California's decision not to renew a "longstanding contract due to false and misleading information." 
"Walgreens is facing the same circumstances as all retail pharmacies, and no other retail pharmacies have said that they would approach this situation differently, so it's unclear where this contract would now be moved," Fraser Engerman, senior director of external relations for Walgreens, stated. 
Engerman told CP that the corporation has always maintained that it would dispense the abortion pill in any jurisdiction where distributing the drug is "legally permissible," including California, once Walgreens obtains certification from the U.S. Food and Drug Administration.
"We will dispense this medication consistent with federal and state laws," he vowed. "Providing legally approved medications to patients is what pharmacies do, and is rooted in our commitment to the communities in which we operate." 
Gov. Gavin Newsom's office did not immediately respond to The Christian Post's request for comment. 
As CP previously reported, Walgreens responded to a letter from 20 Republican state attorneys general promising to take legal action if the company began dispensing the abortion pill in their state by indicating that it would not do so. The letter, led by Missouri Attorney General Andrew Bailey, was signed by the attorneys general of Alabama, Alaska, Arkansas, Florida, Georgia, Indiana, Iowa, Kentucky, Louisiana, Mississippi, Montana, North Dakota, Ohio, Oklahoma, South Carolina, South Dakota, Texas, Utah and West Virginia.
Walgreens, alongside other major retail pharmacy chains, including CVS and Rite Aid, announced that it had taken steps to begin distributing the abortion pill, marked as Mifepristone in the U.S., after the FDA modified restrictions on it in January.
"We are not distributing Mifepristone at this time. We intend to be a certified pharmacy and will dispense Mifepristone only in those jurisdictions where it is legal and operationally feasible," Engerman told CP in a statement last week. 
Pro-life advocates have warned that allowing major pharmacy retail chains to dispense the abortion pill threatens the lives of women and their unborn children. Multiple pro-life groups protested at major pharmacy retail stores through the #StopAbortionRx campaign, calling on corporations to "cut ties with the abortion industry."
Susan B. Anthony Pro-Life America Director of State Affairs and Midwest Regional Director Sue Liebel told CP in a previous interview that data collection on abortion in the U.S. is "abysmal," criticizing the FDA for deregulating the drug when there is a lack of proper reporting on complications. She also highlighted how reduced medical supervision surrounding the pill could increase a woman's risk of experiencing health complications. 
"There's a lot of opportunity here for misuse, including a woman not correctly anticipating the gestational age of her baby," Liebel said, in addition to other complications, such as ectopic pregnancies and RH compatibility. 
Following the overturn of the Roe v. Wade Supreme Court decision legalizing abortion nationwide last summer, Newsom moved to expand abortion access through a $200 million taxpayer-funded budget package. In September, California launched a $1 million website to direct residents and non-residents to abortion facilities or places where they can obtain the abortion pill.