NFL Legend Deion Sanders Prays in Tongues During Desert Adventure With Bear Grylls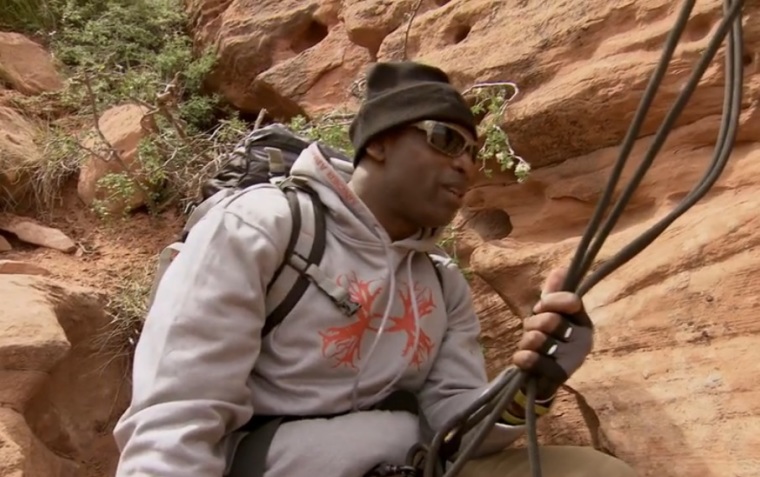 NFL Hall of Famer Deion Sanders joined adventurer Bears Grylls for a day of camping through Utah's southwest desert mountains where at one point Sanders began to pray in tongues while facing a challenging canyon ascent.
The "Running Wild with Bear Grylls" episode aired Monday night in which the former athlete is shown as he maneuvers through the wild while putting his athleticism, and mental and physical toughness to the test.
"I began to pray in tongues because it's a language between me and God that He knows. But I wanted a direct line, a direct contact, so God could expedite this process and give me the peace I needed," said Sanders in the episode. "I said, 'Lord, you didn't bring me way out here to end it. You've never forsaken me, never let me down.'"
During the last obstacle of their two-day experience, Sanders and Grylls climbed the canyon where a helicopter eventually picked them up to finalize their adventurous feat.
Sanders admits that looking up the canyon made him fearful and he needed a moment to find his own will power to continue moving forward.
"It was the most horrifying experience I've ever had because you can't look down, over or up, just straight ahead," said Sanders. "I have a little problem with lateral direction because it doesn't seem like we're getting to our destination, even though we are. Sometimes in life, you have to move laterally to get ahead. ... I've never thought about that process."
During rare moments when the two would catch a break for water or rest, Sanders opened up about his past and the road he took that led him to fame and fortune.
"I grew up in the projects (in Fort Myers, Florida,) and it was something because we didn't have football fields or anything. I remember playing football with a milk carton — that was the ball," said Sanders. "It was so crazy there that they even had a jail, so if they caught anyone selling dope or anything they would take them up off the street."
He says he remained focused on playing sports or jogging and was never deterred from his dream of seeing his mom get out of the inner city he grew up in.
Once he became a professional athlete, he moved away and has had his mother living with him ever since. He also noted that something was missing from his life, even though he had reached the pinnacle of success by winning a Super Bowl and playing in a World Series during his time as a baseball player.
"It wasn't fulfilling as I thought it was. It wasn't about the power of things because I had the power of money and sex, but it was an empty feeling," said Sanders.
He further shared that he became depressed because he was going through a divorce at one point and even attempted suicide by driving his car off a cliff, but it did not flip over as he has planned.
"Shortly after that, I had to come to the Lord with my hands up and said I'm done. … I've stayed strong and have never questioned God," said Sanders.
Despite his success, he asserted that all he had ever wanted to be was a "perfect father," which he said he fought hard to become after temporarily losing custody of his children. Sanders later regained full custody of his children after his divorce.
"I know all of their clothes sizes, their teachers, their shoes sizes," said Sanders. "I know how to braid my daughter's hair. … It has to be something bigger than you that you're working and living for. If it's all about you, you've already lost."