NFL's Torrey Smith says trip to notorious prison led him to question his view of forgiveness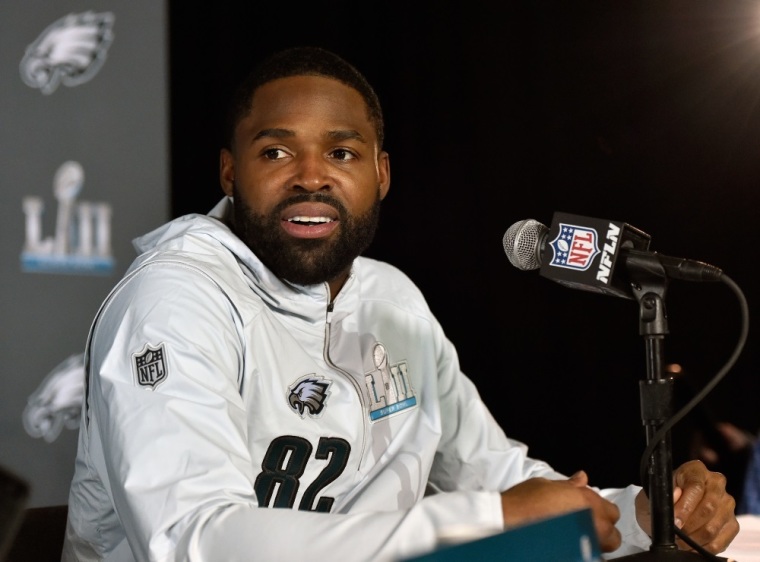 Carolina Panthers wide receiver Torrey Smith has shared how a recent ministry trip to the largest maximum security prison in the United States changed the way he views forgiveness.
Smith, the 30-year-old former University of Maryland standout, penned an op-ed posted to The Undefeated earlier this month where he explained the "transformative" experience he had during a Pro Athletes Outreach trip to Lousiana State Penitentiary.
Through chaplain Len Vanden Bos, Pro Athletes Outreach runs a ministry called Higher Ground, which takes former and current NFL players as well as Christian leaders to prisons to share the Gospel with inmates.
Although Smith has visited prisons many times over his career, he wrote that the visit he made to the prison built on a former plantation in Angola, Louisiana challenged the assumptions he had about rehabilitation and forgiveness.
"I knew that Angola was a maximum security prison filled with people who were facing lengthy sentences, some convicted of violent crimes like murder or rape but others convicted under the state's harsh habitual offender laws for which Louisiana is famous," Smith explained. "I also assumed from everything I had heard that people would be locked in small cages with little interaction with each other outside of the prison yard."
But to his surprise, what he saw was a community of men that didn't seem like they were imprisoned at all.
"Some were dressed in plainclothes; no one wore chains," he wrote. "The men slept in a big room with bunk beds, which reminded me of the 1999 movie Life, where Eddie Murphy and Martin Lawrence play two Harlem bootleggers sentenced to life in prison for a phony murder charge," Smith explained. "The reality of what I saw was a lot to take in, and as we walked around, I wondered how could the most violent men in Louisiana live together in what appears to be a very peaceful environment."
Not trying to over glorify the prison experience, Smith added that men did have to work in the sweltering heat and some work for as little as $0.02 per hour doing things like making license plates or raising cattle.
In walking around the 18,000-acre campus, Smith stated that his interactions with prisoners led him to question his own sense of forgiveness.
"As a follower of Christ, I believe that we are forgiven. But I had to ask myself, 'Am I really forgiving others?'" Smith asked. "'If my forgiveness is conditional, is it real?' I've spent many years holding grudges against people who've wronged me in some way, and I imagined the grace summoned by victims of crime when they forgive those who have harmed them. I seek the peace and freedom that the forgiven men feel."
Smith explained that many of the men who he saw at the Louisiana State Penitentiary had seemingly already found peace through Christ and that allowed them to feel a sense of divine forgiveness.
"As I prayed with them at the end of our visit, worshiping alongside men who had committed violent crimes and were now paying their debt to society, I witnessed the power of real forgiveness," Smith wrote. "It was a lesson that I carried with me when I left, and it is a lesson that I will share with the hope that others can accept and give forgiveness too."
Although Smith left with a deeper understanding of what it means to forgive, he was saddened to witness what he considered to be "modern-day slavery" in the form of prisoners being forced to do manual labor.
Smith wrote, however, that he was struck by how people accused of serious crimes and forced to do physical work in hot conditions can live peacefully together.
"I wondered if those people working so well together were really still even a danger to anyone," Smith thought. "This experience drove home the importance of second chances, because people change, even those who have caused terrible harm."
Smith also passed a church on the prison property that was built by inmates. He was awed when he saw two inmates working on building with only hammers, nails, screwdrivers, and screws.
"It was a striking visual that remains stamped in my memory," Smith stressed. "Although I strongly believed that it was wrong that they were working for pennies on the dollar, their ability to do so conveyed a sense of collaboration and responsibility that led me to also believe they had hope."