NHL reverses ban on players using LGBT Pride Tape on hockey sticks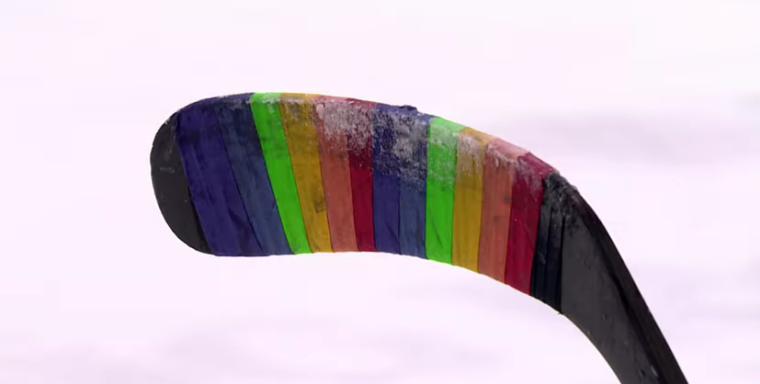 The National Hockey League has reversed its decision to prohibit players from using stick tape to promote LGBT pride and other political causes after backlash. 
"After consultation with the NHL Players' Association and the NHL Player Inclusion Coalition, Players will now have the option to voluntarily represent social causes with their stick tape throughout the season," a statement posted to X by the NHL on Tuesday reads. 
NHL statement on symbolic tape in support of social causes. pic.twitter.com/BJN0hAde2W

— NHL Public Relations (@PR_NHL) October 24, 2023
The NHL's policy change comes amid criticism the league received after implementing a rule prohibiting players from wearing specialty sweaters and promoting political causes during games, warmups and official practices. With this policy, the NHL sought to prevent players from being "put in the position of having to demonstrate (or where they may be appearing to demonstrate) personal support for any Special Initiatives." 
The memo outlining the previous policy was met with fierce criticism from Pride Tape, a company that makes rainbow-colored tape that players wishing to show support for the LGBT community can place on their hockey sticks.
In a statement posted to Instagram two weeks ago, Pride Tape said it was "extremely disappointed by the NHL's decision to eliminate Pride Tape from any league on-ice activities." 
In a Tuesday Instagram post, the company stated it was "extremely happy that players will now have the option to voluntarily represent social causes with their stick tape throughout the NHL season." A picture accompanying the post featured a picture of a hockey stick with rainbow-colored tape, accompanied by the words "thank you for sticking up for pride tape."
Pride Tape launched a change.org petition urging the league to reverse its decision.
"The removal of Pride Tape is a step backward from our collective goal of inclusivity," the petition lamented. "By reinstating its use, we can continue to foster an environment where everyone feels welcome regardless of their sexual orientation or gender identity. Let's stand together for equality and diversity in sports."
The petition had amassed 6,800 signatures by the time the NHL reversed its decision. The league's initial decision came after several Christian players received media scrutiny for not participating in their team's LGBT pride night celebrations because such messaging contradicted the tenets of their faith. 
Last season, former Philadelphia Flyers defenseman Ivan Provorov sat out the pride night tribute put on by his team. Provorov said declining to participate in the event was an effort to "stay true to myself and my religion."
San Jose Sharks goalie James Reimer took a similar action by declining to wear a rainbow-colored jersey on his team's pride night.
Even after the NHL distributed a memo explaining that players could no longer show support for political causes on the ice ahead of this fall's new season, the league insisted that teams could still hold special events such as pride night, Black History Night, Hockey Fights Cancer Night and Military Appreciation Night. Additionally, a source within the league stressed that players could "express themselves off the ice."