Nick Vujicic's Wife, Kanae, Tells of 'Magical' Moment They First Locked Eyes in 'Love Without Limits' (Part 2)
Kanae Miyahara Vujicic, wife of "limbless evangelist" Nick Vujcic, tells of the "magical," yet complicated moment she first laid eyes on the man she believed she would marry, in their new co-authored book, Love Without Limits.
"There was definitely a spark and a strong attraction from the first moments I locked eyes with Nick," writes Kanae of their initial meeting, which occured in 2010 at a small Dallas event in which Nick was the guest speaker.
Indeed, when Nick first locked eyes with Kanae, who was sitting in the audience, he "had to force himself to look away."
The two chatted at the conclusion of the event and though the Serbian-born Australian evangelist was certain of what he was feeling, Kanae wasn't quite as sure. She did know, however, that she was intrigued.
As for Nick, he apparently was so smitten with Kanae that he texted a mutual close friend, who wanted to play matchmaker, what he really thought of the Japanese-Mexican woman he had just met: "She is the most beautiful woman of God I've ever met in my life. She literally took my breath away!"
As for Kanae, "I was just amazed at this man of God who wanted to touch hearts, save souls, and make a difference in the world" — traits not necessarily shared by the man she was currently dating.
And that message Nick had texted in reply to the inquiry of their matchmaking friend? Well, due to a misunderstanding on that friend's part, Kanae's sister, Yoshie, believed that she was the object of Nick's affection. Things felt so complicated then to Kanae that she describes feeling "trapped in a ... romantic comedy."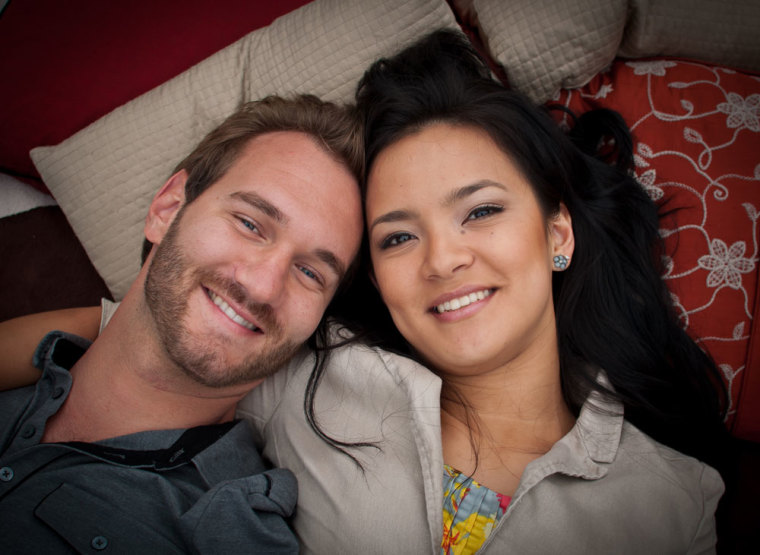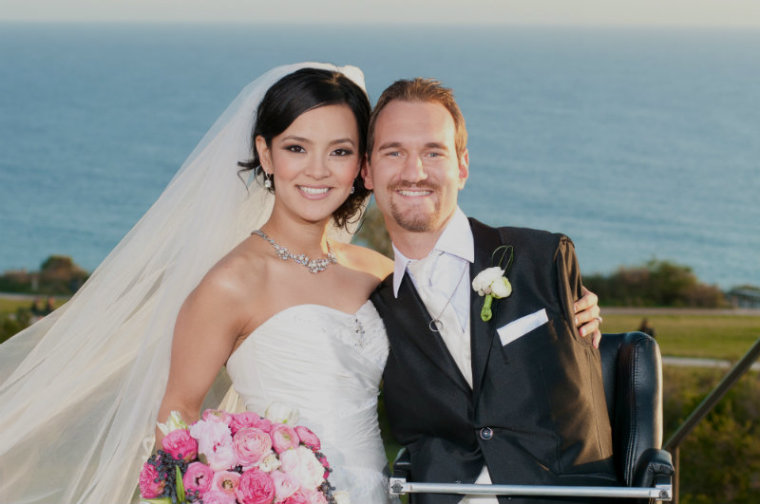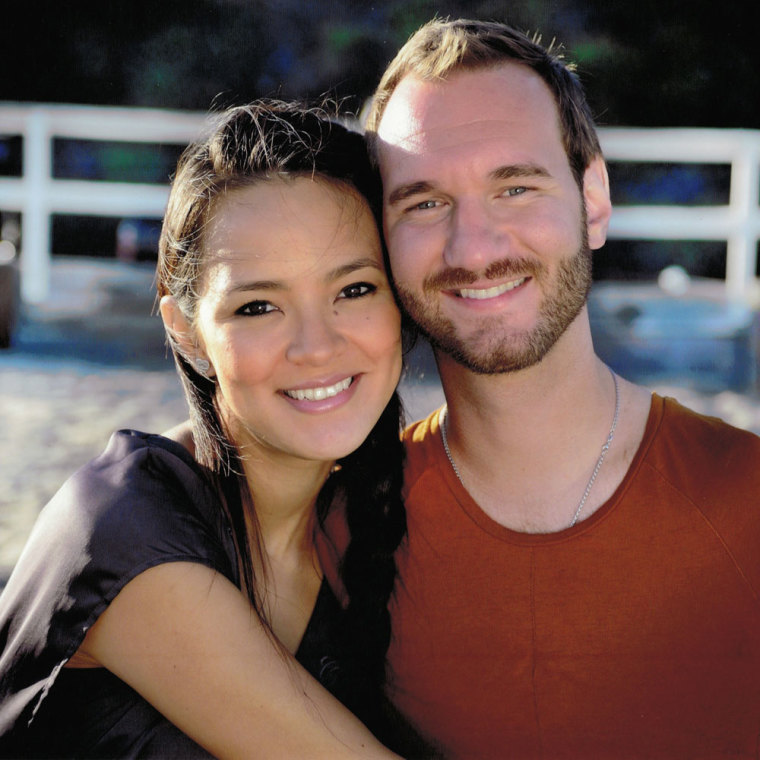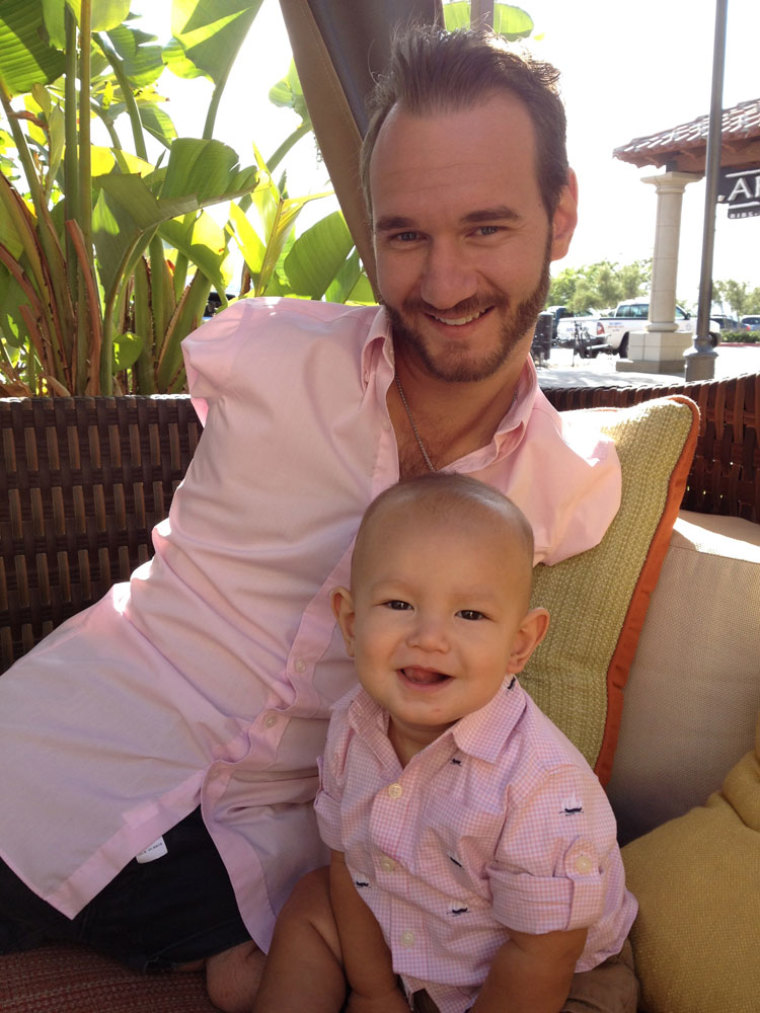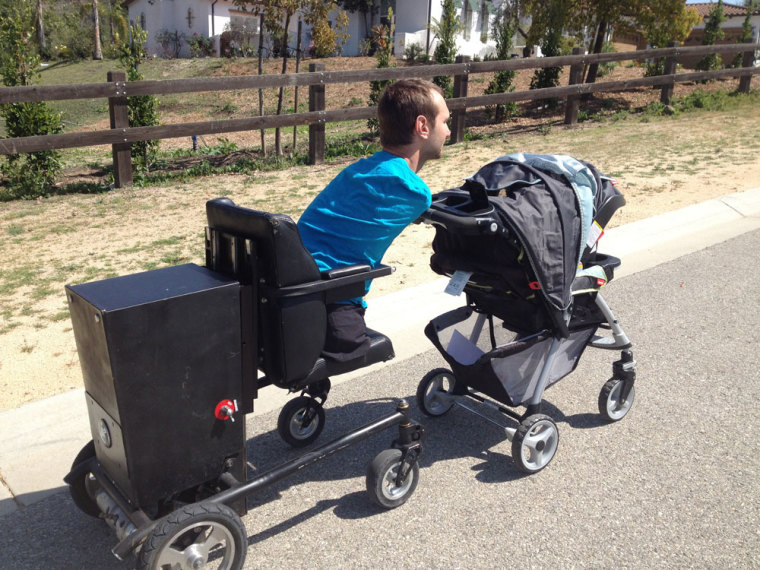 View Photos
So despite that initial spark, it took Nick and Kanae a while before they had the occasion to express their mutual attraction, which was a "good thing," according to Kanae, as they "both needed to work through some issues."
Kanae writes that during that uncertain time she leaned heavily on her "secret weapon" — her relationship with God, and fasted and prayed about the emotional turmoil she was experiencing.
Eventually, she felt peace about the conviction that her current boyfriend was not the man God had in mind for her.
"Once Kanae was free, we began seeing each other and talking on the phone whenever possible," writes Nick of the early stages of their courtship. "We were eager to explore the possibilities of a relationship. We felt good about the situation, because we had done the honorable thing in waiting for the issues with the boyfriend and Yoshie to be resolved."
Nick and Kanae, who "liked each other and enjoyed each other's company," worked on establishing a friendship, which the now married father writes is "critical to building a loving relationship."
After a year of dating, Nick popped the question to Kanae, in rather dramatic fashion — a sailboat and cream puffs were involved, and Nick nearly gagged on the engagement ring.
It all worked out of course, and Kanae said yes, which Nick announced on Aug. 1, 2011, to his supporters on Facebook. Nick uploaded a photo of himself and Kanae (showing off her engagement ring) with the caption: "The greatest blessing I've ever received after life, salvation, and a relationship with God: introducing Nick and Kanae engaged!!!"
The couple married six months later, and in 2013 welcomed their son, Kiyoshi.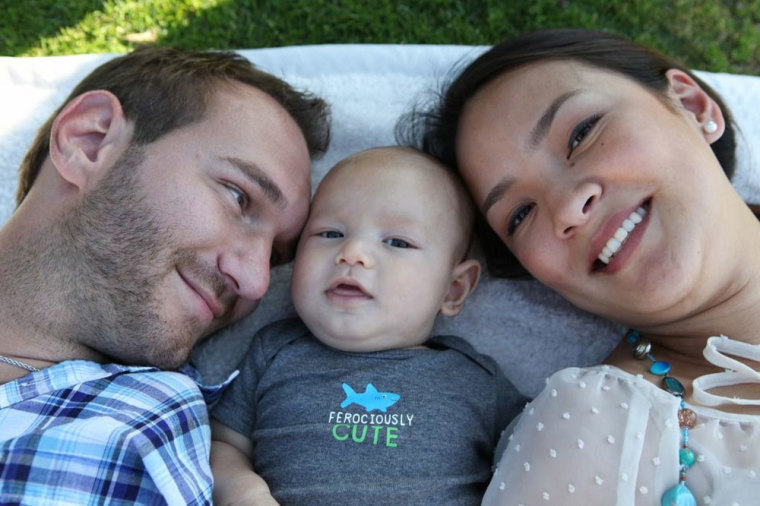 Nick and Kanae, who will participate in a live Web chat on Monday, Dec. 1, sent along via publisher WaterBrook Press responses to anticipated questions about their story shared in Love Without Limits. Below is an excerpt of what they shared.
Talk about how you've learned to serve each other, and how Kanae exemplified this attitude in how she wrapped presents for Nick.
I felt like a burden to my parents during my childhood, and I never thought I would be able to be married to a person without feeling that way. I still wish I could do more things for her to also show how I love her. I do what I can. However, the greatest way to show my love is simply quality time together, honoring her family and trying to do my best to be better than yesterday as a husband and father. She totally blew my mind with her love, thoughtfulness and creativity when during our courtship, she wrapped up a gift for me for my birthday in a way I had never even thought of. She slit open the corners of a cardboard box and kept the box in form by placing a ribbon around it where I could open it up by pulling on the ribbon with my mouth. It had no top but it was full of colored tissue paper so I couldn't see what was inside. It worked beautifully and perfectly. I did love the gift, but even before I tried opening up my very first present all by myself, I was honestly moved to tears with her amazing idea and touch of love like I had never felt before.
What was the biggest adjustment once you were married? Was there anything you dealt with that surprised you about being married?
There were several adjustments we handled once we were married. My caregivers never slept over anymore and there was the balance of me needing care sometimes but not always and then balancing the fact that I don't want my wife to assume the role as a caregiver either. I think the biggest surprise was actually seeing what our counselors said was true -- that it's always more about giving than even sharing from a day-to-day basis and that goes for both sides. Also we learned that nothing the counselor could ever tell you can ever completely prepare you for marriage. Lastly, I am reminded daily of what I need to work on in my character as a man to be all that I want to be for her and our son Kiyoshi.
Your son Kiyoshi was born a day after your first wedding anniversary. How did having a baby change your marriage?
It changed everything in such a beautiful and chaotic way all at the same time. Our focus now is not just on each other, but him. I can say nothing ever can prepare you for parenthood. You just jump in with both feet and roll with the punches. It is quick to see what things I can't handle that Kanae seems to handle quite well. A lot of the responsibility was and is on her as I cannot do most things for him, but as he is getting older we are interacting, playing and reading books together. Kanae and I never thought that we as human beings had the capacity to love someone so much as we love our baby boy. It is a deeper and new dimension altogether that we love. We hope to have more children in the future so that Kiyoshi has a sibling or two.
What was it like to write a book together? Did you learn anything new about yourselves during the process?
It was a totally awesome experience but at first we were a little nervous because we knew that there would be a "digging up" of the past and some things we would rather leave behind. But we did it, with the help of our amazing ghost writer, in understanding that there would be someone who could read our story and truly benefit and be blessed by it. I think the biggest fear of all in one's life is to be alone. We want all to know that God is with them, and He does have a plan. It sometimes takes longer and takes turns down unexpected paths that lead to a future we could not foresee.
--
Vujicic, born without limbs due to tetra-amelia syndrome, has also authored the bestseller, Unstoppable: The Incredible Power of Faith in Action. The evangelist, who attempted suicide as a child, has spoken all around the world about finding hope in Jesus Christ through his non-profit ministry, Life Without Limbs.
Read part 1 of CP's report on Love Without Limits: Nick Vujicic and Wife Tell of Finding 'Love Without Limits' in New Book (Part 1)