Nicki Minaj Sued for 'Starships': Does Clive Tanaka's 'Neu Chicago' Sound the Same? (LISTEN)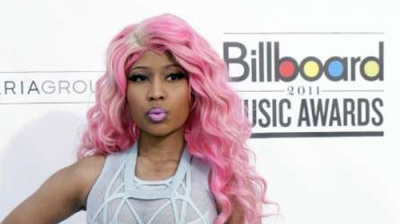 Nicki Minaj was sued by musician Clive Tanaka over her hit single "Starships" for copyright infringement, as the reclusive electro music artist believes she and other collaborators stole from his 2011 song "Neu Chicago." Tanaka filed the suit in the U.S. district court in Chicago Tuesday.
Nicki Minaj isn't the only one that was sued— "Starships" producer RedOne and writers Carl Falk, Wayne Hector and Rami Yacoub were also named in the suit. Clive Tanaka's 2011 hit "Neu Chicago" was big in Sweden previously, and the suit alleges that the producer and writers, who are citizens of Sweden, unlawfully sampled the song for American rapper Minaj.
Clive Tanaka has been described by many news outlets and media sources as reclusive and mysterious because few know the music artist's name or where he lives. Despite the relative ignorance surrounding his identity, his song "Neu Chicago" was played in the U.S. and in Europe, giving Minaj and her camp an ample chance to hear it.
"[The defendants] had a very good opportunity to hear it," Tanaka's lawyer, Christopher Niro, told WENN. "We believe [the songs] are similar to the point that it is nearly impossible for it to be a coincidence."
To further his case, Tanaka posted a mash-up of both "Neu Chicago" and "Starships" titled "Neu Starships?" Many listeners agreed that the intro, which featured Minaj rapping over the "Neu Chicago" track, was nearly indistinguishable from the original.
"The further you get into the songs, the more they sound the same," one user commented on the Soundcloud audio clip.
"Nicki Minaj did a remix of your song dude," CypherDSoul agreed.
Minaj's "Starships" video on YouTube currently has 146 million hits, with the song being among Billboard's top three hits last year.
 To hear "Starships," click below (WARNING: Adult content and lyrics).