Nicki Minaj Talks Being Crazy, Mariah Carey Feud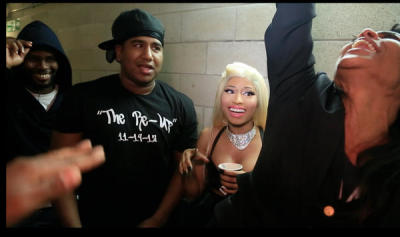 Nicki Minaj is debuting as an "American Idol" judge Wednesday, and says she hopes that fans do not view her as crazy after watching the show.
Minaj,30-year-old rapper, recently appeared on Ellen DeGeneres' show where she defended herself against people who may think that she is not sane.
"We have a lot of great talent, and I don't want anyone on the panel to say something too crazy because then I don't want to look like a crazy psycho again," Minaj told DeGeneres. "I am not really a crazy psycho, you guys."
However, some questioned the rapper when a video of her verbally lashing out at fellow "American Idol" judge Mariah Carey went viral last October.
"You think I'm playing...Think it's a joke?? Say one more disrespectful thing to me – say one more disrespectful thing to me," Minaj yelled at Carey in the video. "Don't tell me I'm inadequate. Maybe you're inadequate, you're insecure running down your resume every five minutes. Every time you take a shot at me, Imma (sic) take it back and if you've got a (expletive) problem, handle it."
These days, it seems Minaj is laughing off the spat. The rapper cleared up the rumors and detailed the disagreement between herself and 42-year-old Carey.
"It was just two big old divas, I guess. … I heard them saying 'Mariah doesn't want you on the panel' but I was like, 'No. I am friends with Mariah.' I was like arguing people down. Like, 'Don't believe everything you read, you're crazy,'" Minaj told DeGeneres. "And so I went there and I started to feel a bit of the shade. And I just kind of overcompensated by being crazier. … If you know someone maybe doesn't like you, it's kind of like, now you're gonna really go in … because it's like a defense mechanism… Your feelings are hurt and you can't believe it, so you kind of just compensate with being crazy…"
The rapper insists that she is a fan of Carey's.
"What people don't understand is that I've looked up to her for so many years," Minaj told DeGeneres. "Since she came out, 'Vision of Love,' all that. Me and my mother would sing her songs like all day and all night."
Nicki Minaj and Mariah Carey Fighting on American Idol (WARNING LANGUAGE)