Nikolas Cruz: 5 Facts You Need to Know About Florida School Shooter
FBI Knew He Wanted to Be a School Shooter
4. Students Predicted He Could Go on Shooting Spree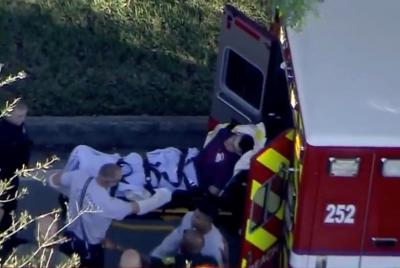 While parents and students at Marjory Stoneman Douglas High School are shocked and reeling at the massacre, the identity of the mass shooter is not surprising, according to a number of his former classmates.
Dakota Mutchler, a 17-year-old junior at the school, who for a time had been friends with the suspect, said that beside his talk about guns, Cruz also boasted about killing animals on social media.
"Everyone in the school that knew him speculated about him," Mutchler said, according to The Guardian. "When someone's expelled, you don't really expect them to come back. ... If they're expelled, they're gone. But of course, he came back."
Mutchler revealed the he cut off contact with Cruz after "he started going after one of my friends and threatening her."
Seventeen-year-old junior Victoria Olera had a similar account. "At first, he was really nice," she said, but later "he just changed. As far as I knew, he was like a future school shooter."
A third student who chose to remain anonymous added: "A lot of people were saying that it was going to be him. All the kids joked ... saying he was the one that screwed up at school, but it turns out everyone predicted it. That's crazy."
John Crescitelli, the parent of a student named Daniel, quoted what his son said about the killer: "If you were to pick one person you might predict in the future would shoot up a school or do this, it would be this kid."