NJ Pastor Convicted of Attempted Murder; Stabbed Mistress 28 Times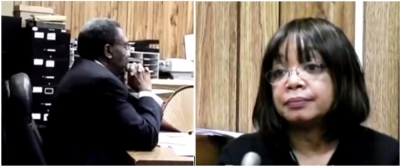 A New Jersey Pastor who went berserk and allegedly stabbed his mistress and associate pastor 28 times then left her for dead at her hairdresser's house when she tried to end their longstanding adulterous affair was convicted of attempted murder after a week-and-a-half-long trial last Friday and now faces up to 20 years in prison for his crimes.
The pastor, Rev. Edward Fairley of Paterson, N.J., who represented himself in the case, also conducted a dramatic cross-examination of his onetime lover turned victim, Rev. Simone Shields-Oliver, who was preparing to get married to another man at the time she was attacked in March 2011 according to a report in The Record. Both pastors worshipped at Koinonia and Christian Ministries in Paterson.
A jury which deliberated on the evidence for approximately four hours after the trial found Fairley guilty of every charge he faced in the case. He was charged with attempted murder, stalking, terroristic threats and possession of a weapon for an unlawful purpose. His bail was also revoked and he is being held at the Passaic County Jail until his sentencing on March 22 by state Superior Court Judge Marilyn C. Clark in Paterson.
A gripping video posted on YouTube last Thursday shows an excerpt of the dramatic cross-examination of the victim by her former lover and pastor. In the video, Shields-Oliver explained that she had been trying to quit the adulterous affair for five years but Fairley's persistent pursuit of her made it difficult.
For five years, said Shields-Oliver who was a school-teacher at the time of the attack, she told Fairley: "'I cannot go on with this relationship. You are a married man. I never dated a married man. I didn't fall in love with a married man. I want to go on with my life."
But Fairley wouldn't stop calling her said Shields-Oliver. When asked by Fairley during her testimony if her behavior towards him was consistent with what she said she wanted, Shields-Oliver admitted that it wasn't.
"Well, defendant Fairley. Sometimes they were sometimes they weren't…In cases like this there is a lot of coercion and a lot of manipulation. So yes, my behavior was a little erratic, not very consistent. I will confess to that," she said in the video.
When asked by Fairley to describe what happened the day she was attacked at her beautician's house, Shields-Oliver gave him a stoic response.
"He looked at me and said, 'you have to die' and pulled out a hunting knife. That's what happened.
"Then he proceeded to stab me repeatedly. First in the stomach, at that point I lost consciousness but I still was fighting. When I realized the end of the deal, I had been stabbed in the back and on the floor bleeding profusely from my neck. That's what happened when the defendant entered."
After the jury delivered the guilty verdict the prosecution said it was a relief to relay the news to Shields-Oliver on Friday. "It felt good to call Simone Shields just now and tell her," said Passaic County Chief Assistant Prosecutor Gina Pfund to The Record on Friday. "She's the one who had to live with this and be confronted by him and ridiculed by him…Justice was served. She will have her day. And that day will be March 22."
According to The Record, Shields-Oliver's hairdresser, Stephanie Flowers, was a mutual friend of the two pastors but she was unaware of the affair between them and didn't think to warn her friend that Fairley had called to say he was coming over. Fairley claimed in his testimony that he had his knife along with other tools in his pocket because he was going to church to do some repairs.
It was also noted that Fairley spent six years in state prison for a 1983 conviction of kidnapping and other charges related to a former wife's Paterson home where he also stabbed her.