'No' Voters on Gay Marriage in Australia Afraid of Being Branded 'Bigots,' Mocked If They Speak Out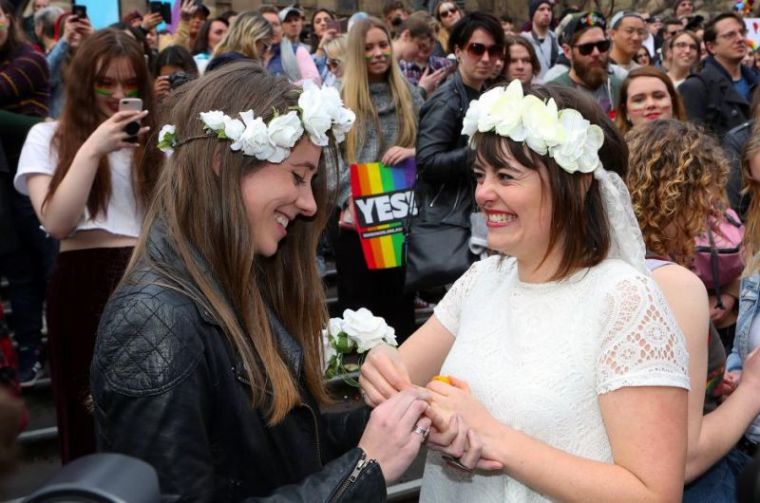 Churches and campaigners in Australia opposed to legalizing gay marriage say that "no" voters are afraid to share their views because they will be branded as "bigots" and mocked by society.
Coalition for Marriage advocate Jon Malota expressed that concern to the Australian Daily Telegraph, saying that "a lot of 'no' voters are keeping their opinions to themselves."
A survey was mailed out to eligible voters in Australia this month, asking if the law should be changed to allow same-sex couples to marry. Results from the nonbinding, voluntary postal survey will be considered as the government decides on whether to hold a parliamentary vote on same-sex marriage this year.
Malota suggested that despite projections that "yes" campaigners are winning, a vote on the issue would be closer than many believe because "people are really sick of being pushed an agenda."
Pastor Phil Pringle of My C3 Church in Sydney told his congregation that it is "entirely reasonable and not bigoted or intolerant to publicly support marriage between a man and a woman as a continuing good for society," as reported by the Daily Telegraph.
Bruce Clarke, senior minister at St. Matthews Anglican Church in Manly, said that Christians should not seek to "shame or bully people on this issue," and said that even if a vote on the issue goes in favor of gay marriage, churchgoers should continue "loving people of all backgrounds."
Clarke said he is opposing the legalization of same-sex marriage because he believes the "classic understanding of marriage as between a man and a woman best protects the rights of a child to know both their biological mother and father."
"I also voted No as history has shown from other western countries such as Canada and Britain that legalizing same-sex marriage has eroded both religious rights and freedom of speech for people of various backgrounds," he noted.
Concern over free speech in Australia has grown after it was revealed that a children's entertainment company fired a Christian contractor for posting on Facebook that she plans to vote "no" on gay marriage.
Capital Kids Parties in Canberra fired her after discovering Madeline's support for the Coalition for Marriage online.
"It was something morally I couldn't get past," said Madeline's boss, Madlin Sims.
"She was very subtle about [her views on same-sex marriage], but any level of it I won't tolerate it," Sims added.
Madeline said in an interview with Triple J Hack that she does not fear standing up for her Christian beliefs.
"Everyone else is putting up these 'Vote Yes' filters, and there's one filter that says 'It's OK to Vote No.' I thought I don't have to put this up but I don't have to stay silent," she said.
In a separate incident in September, an evangelical church in Brisbane received threats of being set on fire after it posted a billboard defending the definition of marriage as a union between one man and one woman.
"On Facebook, a lot of the stuff has been quite vicious at times," said Bellbowrie Community Church Senior Pastor John Gill.
"I mean quite physically threatening. That's been scary for some in the church," Gill added. "One of the comments, for example, was a suggestion that people bring petrol down and set the church on fire."