Number of PCUSA Congregations Slips Below 10,000 Mark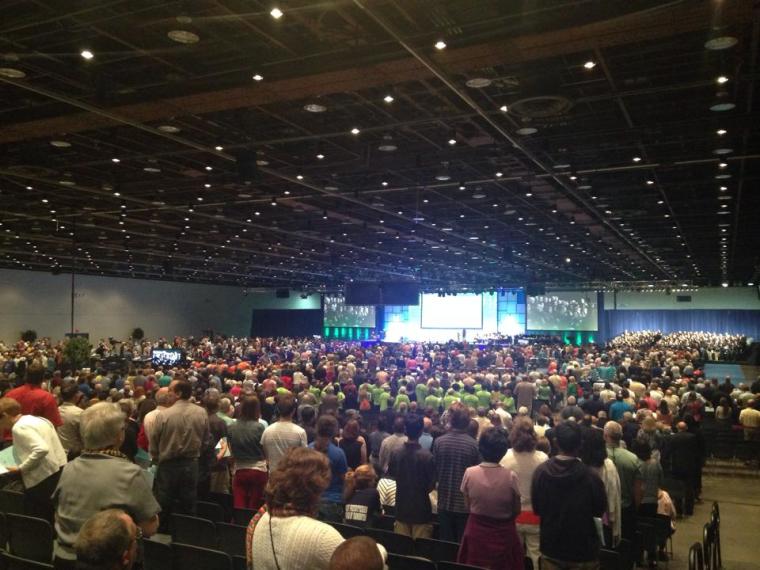 The number of congregations belonging to Presbyterian Church (USA) fell below the 10,000 mark during 2014, according to statistics released by the denomination.
PCUSA earlier this month reported that it had 9,829 congregations in 2014, which represents a decline from the 10,038 congregations it had in 2013.
110 congregations were listed as dissolved and another 101 were dismissed to other denominations. In contrast, in 2014 PCUSA had 15 new congregations organized.
The mainline denomination also continued to decrease in members, in 2014 PCUSA had approximately 1.667 million members, in contrast to 1.76 million in 2013.
In a statement released last week, the Reverend Gradye Parsons, Stated Clerk of the General Assembly of the PC(USA), said that numbers were but one indicator of vitality.
"Membership statistics and church numbers tell one story, but it's not the entire message of how the PC(USA) is impacting the world," said the Rev. Parsons.
"God continues to breathe new life into our work and challenges us to find new, creative ways to touch and transform lives."
Parsons also noted that of those congregations remaining, about 42 percent of them had 150-599 members, showing that overall "the denomination is settling into the new thing God is creating."
"The PC(USA) is a church made up of vibrant congregations doing their best to live out the gospel of Jesus Christ in their communities and in the world," said Parsons.
Over the past several years, PCUSA has suffered decline in the number of affiliated congregations and membership counts.
According to the PCUSA's General Assembly Mission Council, in 2000 the denomination had more than 2.5 million members, or nearly one million more people than in 2014.
In 2011, PCUSA membership dipped below the 2 million mark, with the denomination experiencing a loss of 63,804 members and 96 congregations in that same year.
One factor in the decline has been the theological direction of PCUSA, as votes at the General Assembly level regarding the acceptance of homosexuality have led many congregations to seek dismissal.
Delegates at the 2010 General Assembly approved Amendment 10a, which allowed for local bodies, or presbyteries, to ordain non-celibate homosexuals.
In January 2012, a group of conservative Presbyterians founded the Evangelical Covenant Order of Presbyterians, which presently boasts nearly 200 member congregations.
From 2011-2013, the number of congregations seeking and receiving dismissal to leave for another denominations had increased each year, with 2013 seeing 148 leave.
Last year saw 101 congregations be dismissed, or 47 fewer than in 2013, having some believe it is possible that the trend of departing congregations over theological differences has begun to ebb.