Sister Byrne: Cultural battles aren't waged between left versus right, but 'the devil and Our Lord'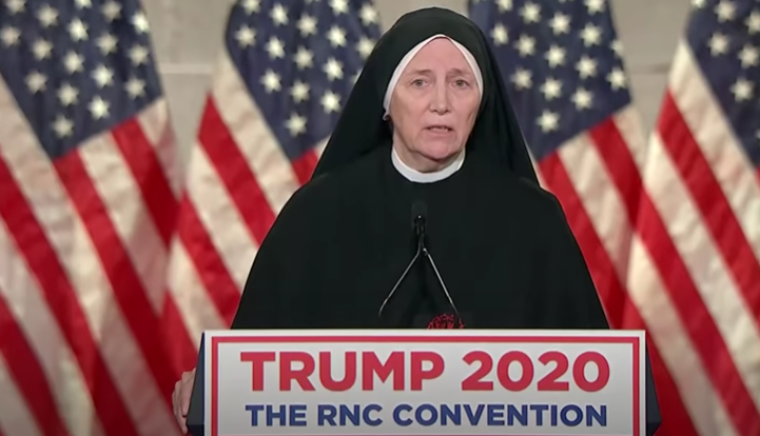 Addressing an international pro-life conference last week, a Catholic nun who spoke at the 2020 Republican National Convention stressed that the political and cultural battles engulfing the United States are the result of a battle between "the devil, who is real, and Our Lord." 
Sister Deirdre Byrne, who gave a pro-life speech at the 2020 Republican National Convention, spoke at the 50th annual conference for the pro-life group Heartbeat International. 
The 2021 Heartbeat International Virtual Conference took place from April 27-30 in Columbus, Ohio. The conference was "designed for ministry leaders, staff, board members, and volunteers of life-affirming pregnancy help centers, medical clinics, maternity homes, and nonprofit adoption agencies, as well as professionals in the area of medicine, counseling, social work and education."
During her speech, Byrne urged Catholics and the pro-lifers gathered in-person and online to be "battle-ready" to act as "soldiers for Christ in this dark time, where every day, things seem to be ramping up about things that are against the family and faith." She maintained that "this battle we face is not a battle between Republicans and the Democrats."
"It's not conservatives or liberals, or left versus right," Byrne added. "This is a battle between the devil, who is real, and Our Lord." 
Byrne, a member of the Little Workers of the Sacred Hearts of Jesus and Mary and a retired U.S. Army colonel who works as a surgeon at a Washington, D.C., medical clinic managed by her order, stressed the importance of praying for pro-abortion politicians, including President Joe Biden and House Speaker Nancy Pelosi.
"We have to pray for all these people, these politicians who are wanting to make the abortion pill over the counter so people will be able to take it like bubble gum or Tylenol," she continued. 
Biden and Pelosi, both Roman Catholics, have been criticized for their public support for abortion, which contradicts the teachings of their faith. Many priests and bishops have suggested that Catholic politicians' advocacy on behalf of such a grave evil should disqualify them from receiving communion. Byrne, however, maintained that it was important to pray for such politicians because "their soul is in a mortal state."
In her address at the Heartbeat International Conference, Byrne discussed her work administering abortion pill reversals, which she described as "an incredible blessing."
Abortion pill reversals enable women who have already taken mifepristone, the first of two drugs administered as part of a chemical abortion, to reverse the process. Mifepristone blocks the natural pregnancy hormone progesterone, while the second drug in a chemical abortion, misopristol, is ingested 24 to 48 hours later and induces contractions and a miscarriage. 
Byrne also reflected on her service in the Army and as a missionary, recalling how it was "horrible to see man's inhumanity [toward] man" manifest itself in international conflicts.  Referring to abortion as "the greatest inhumanity," she lamented that "people don't even think about it anymore; it's become a natural thing."
Yet Byrne said she remains optimistic about the final outcome of the battle between Satan and God because "we know that God is in charge and that He's far greater than the devil." 
"It is He that's going to make things better," she proclaimed. "And so we just have to be there, prayer warriors, and be battle-ready." 
Heartbeat International identifies itself as "the first network of pro-life pregnancy resource centers founded in the U.S." that has since become "the most expansive network in the world."
The organization manages "over 2,800 pregnancy help locations including pregnancy help medical clinics [with ultrasound], resource centers, maternity homes, and adoption agencies in more than 60 countries around the world to provide alternatives to abortion." 
Heartbeat International's ministries include Option Line, a hotline designed to assist "women who are desperate for answers in an unexpected pregnancy," and the Abortion Pill Reversal Network, a hotline that helps women seeking an abortion pill reversal. The organization also operates a news website and a podcast highlighting issues of importance to the "pregnancy help community." 
During her RNC speech last summer, Byrne described preborn children as "the largest marginalized group in the world." She also praised Trump at the time for being "the most pro-life president that this nation has ever had" while criticizing the then-Democratic presidential nominee Joe Biden and his running mate Kamala Harris as "the most anti-life presidential ticket ever."