NY Daily Tells Ted Cruz 'Drop Dead' for Insulting City's Values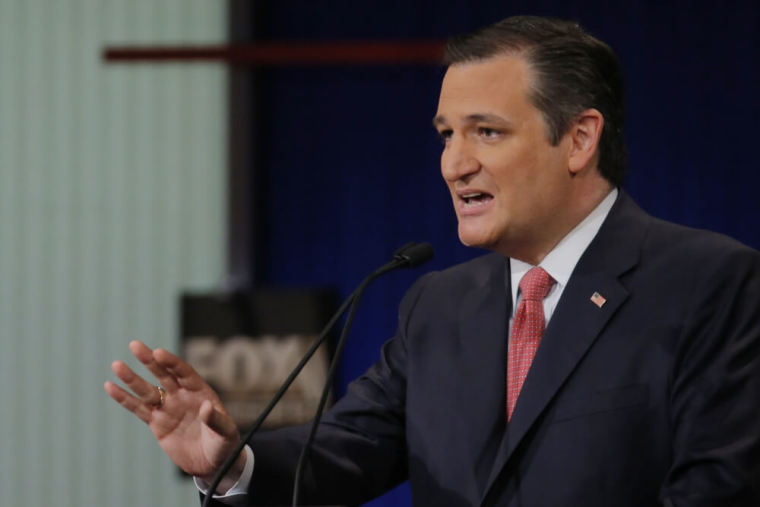 Republican presidential candidate Sen. Ted Cruz of Texas drew the ire of New York City conservatives for belittling their presence in the city and attempting to demean "New York values," during Thursday night's Republican debate.
Prior to the debate in North Charleston, South Carolina, Cruz went after New York City rival Donald Trump arguing the billionaire real estate mogul had "New York values" and wasn't aligned with Iowa voters.
The senator stood by his comments Thursday night when he was asked by Fox Business Network's Maria Bartiromo what he meant by "New York Values." and went even further to declare that "not many conservatives come out of Manhattan."
"I think most people know exactly what New York values are," Cruz quipped back.
"I am from New York," replied Bartiromo.
"You're from New York so you might not but I promise you in the state of South Carolina, they do," he continued to laughter from the audience.
"And listen, there are many, many wonderful working men and women in the state of New York, but everyone understands that the values in New York City are socially liberal," he said, adding that the city supports abortion rights and same-sex marriage.
"The concept of New York values is not that complicated to figure out," he added.
"I can frame it another way: Not a lot of conservatives come out of Manhattan, I'm just saying," Cruz joked in reference to Trump previously saying that "not a lot of Evangelicals come out of Cuba." 
Bartiromo quickly asked Cruz if he was sure about his statement on Manhattan conservatives but he did not respond. Indeed, while Democrats significantly outnumber Republicans in Manhattan as of Nov. 1., there were 83,970 active registered Republicans in Manhattan and 613,634 active registered Democrats according to state elections board figures cited by The New York Times.
Trump responded to Cruz by invoking the 9/11 terrorist attacks. 
"That was a very insulting statement that Ted made," Trump said. "New York is a great place. It's got great people. It's got loving people," Trump continued.
"When the World Trade Center came down, I saw something that no place on Earth could have handled more beautifully, more humanely than New York," Trump said to cheers as Cruz nodded in agreement.
"You had two 110-story buildings come crashing down, I saw them come down. Thousands of people killed, and the clean-up started the next day … People in New York fought and fought and fought," Trump said, noting that "the smell of death ... was with us for months."
On Friday morning the New York Daily News delivered a biting response to the Texas senator.
"DROP DEAD, TED," read the headline on the tabloids frontpage with an image of the Statue of Liberty giving the senator the middle finger.
Mike Lupica, one of the paper's most respected columnists also ripped the senator in a scathing op-ed.
"Ted Cruz, who only comes here with his hand out, has decided that the most diverse city the world has ever known is filled with people who all think alike. He sounds in these moments like as slow a thinker as we have ever had run for President," wrote Lupica.
"If you are dumb enough to think that New York values are some sort of handicap in this presidential season, then you are as dumb and tone deaf as Jesse Jackson was calling the city 'Hymietown,' as dumb as Gerald Ford was when he gave this paper the most famous front page in its history, the day he effectively told New York to drop dead," he continued.
"Cruz is a lightweight. He always has been, however well he is doing in caucuses in the heartland. He may do well there. He is just out of his class here. It is the other party that has a donkey as its mascot. But Cruz is the one who's a career jackass. City to him: Get lost," ended Lupica.
New York lawmakers on both sides of the aisle, including Gov. Andrew Cuomo, also chided Cruz for his comments.
"He doesn't know what New York values are because New York is in many ways the epitome of what formed this nation and what keeps it strong," Cuomo told NY1.
"The Statue of Liberty is in our harbor … This is a man who in many ways, the only reason he's here is because New York is what New York is and America is What America is," Cuomo continued pointing to the "hypocrisy" of Cruz's comments.
"This is a man from Canada of Spanish Irish descent — in many ways he represents or should have represented the beauty of New York and the acceptance of New York," Cuomo said.