NYC Chick-fil-A Opens to Rousing Success Despite LGBT Protesters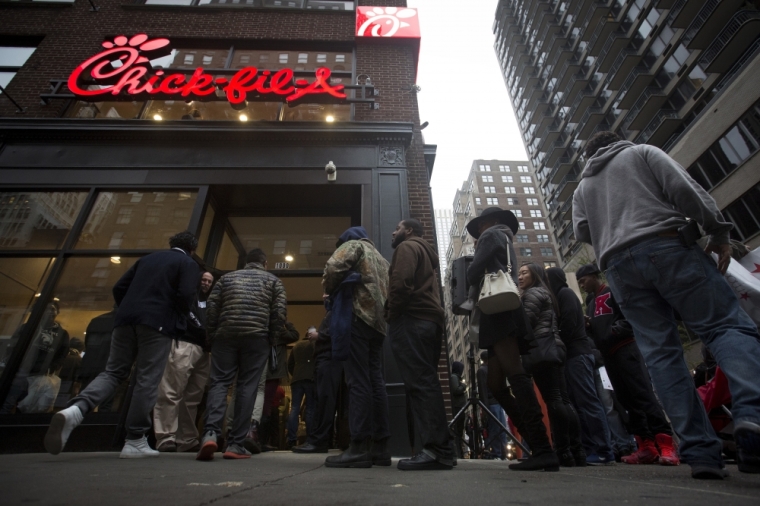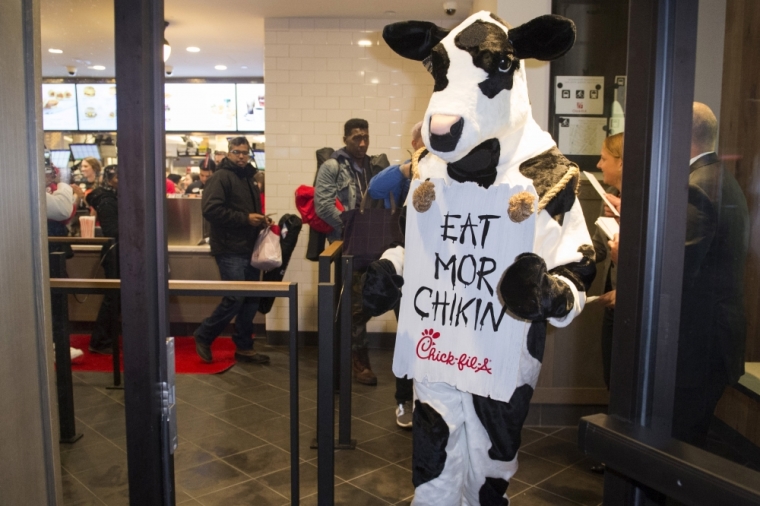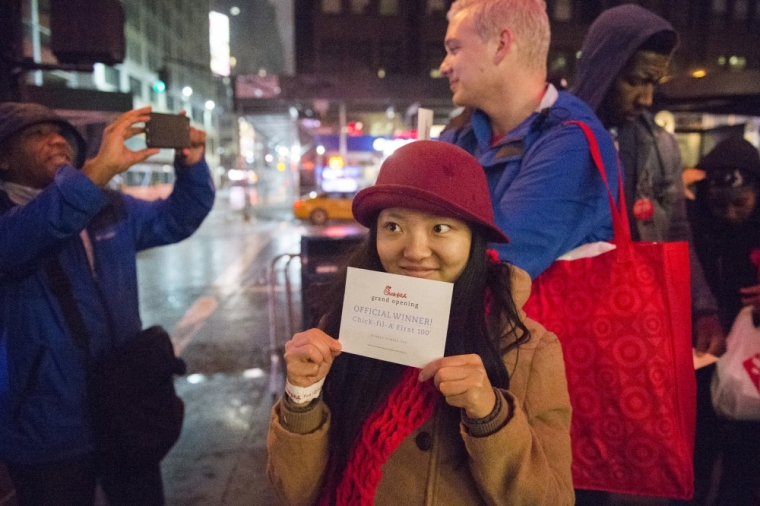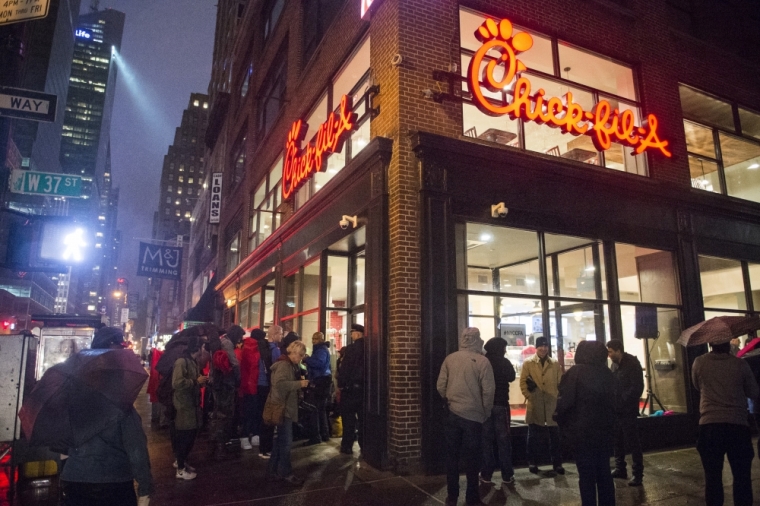 View Photos
While thousands of New Yorkers lined up for blocks to welcome the first stand-alone Chick-fil-A in the city, protesters sought to use the restaurant's Saturday grand opening to make cultural statements about sexual issues and animal rights.
Gothamist, a daily weblog covering the city, reported on demonstrators that included LGBT opponents of Chick-fil-A, Christian counter-protestors, and animal rights activists who descended on the packed restaurant.
Street evangelists got into a shouting match with animal rights activists from Collectively Free and LGBT protestors, who continually shouted "We're here! We're queer! Get used to it!"
Christian enthusiasts shouted back at the group, telling them they were engaged in sinful behavior and called on them to "repent."
"We're here to protest violence toward animals and LGBTQ individuals" explained Raffaella Ciavatta of Bay Ridge, Brooklyn to Gothamist. "Chick-fil-A perpetuates the idea that some lives matter more than others, and that is the root of all that is wrong with the world."
Ciavatta's photo of her kissing another woman was taken by the New York Post outside of the popular chicken chain.
Chick-fil-A received criticism from gay activists after CEO Dan Cathy made comments critical of same-sex marriage in 2012. Cathy's quote below led LGBT activists to call for boycotts and other financial penalties for the franchise:
"I think we are inviting God's judgment on our nation when we shake our fist at Him and say, 'We know better than you as to what constitutes a marriage.' I pray God's mercy on our generation that has such a prideful, arrogant attitude to think that we have the audacity to define what marriage is about."
Chick-fil-A has been heavily criticized, too, for financially supporting charities that hold traditional views about human sexuality and the family.
Currently, Chick-fil-A says the franchise takes no position on same-sex marriage, and one month after Cathy's remark said it would leave the debate over the issue to the "government and political arena."
The popular chain released a statement regarding protests at its new location in Manhattan:
"Chick-fil-A is aware of demonstrators who gathered at our restaurant today. Our grand opening day activities continue as planned, and we are focused on serving customers delicious food with great service. We are excited to serve all of our guests in New York City!"
Some individuals who identified as gay had no problem embracing the popular chicken chain.
"I don't stand with their values. But I do stand with their sandwiches," declared Jeremy McMahan.
"I'm gay and I'm obsessed with Chick-fil-A," Prospect Heights resident Courtney Kim told Gothamist. "My motto is that they'll never hate gay people as much as I love fried chicken."
Chick-fil-A, founded in 1946 by S. Truett Cathy, has almost 2,000 restaurants, with the vast majority of locations in the American Southeast. The company is strongly influenced by the Cathy's strong Southern Baptist faith.
The franchise, which is noted for being closed on Sundays, makes a decision to bypass Sunday's lucrative sales. "It's a silent witness to the Lord when people go into shopping malls, and everyone is bustling, and you see that Chick-fil-A is closed," said the late S. Truett Cathy.
Chick-fil-A founder Cathy, who died in 2014 at the age of 93, once said, "We live in a changing world, but we need to be reminded that the important things have not changed."
According to CBN, the Chick-fil-A location in New York City is its largest restaurant to date.