NYC Mission Says Thanksgiving a Time to 'Bless Our Neighbors and Our City'
The Bowery Mission Executive Talks With CP About Serving Homeless, Charity's Needs
NEW YORK – The Bowery Mission, one of New York City's largest and oldest Christian rescue organizations, is celebrating this Thanksgiving the way it does every year – by serving the hungry and homeless. But the nonprofit organization is also playing an important role in helping victims of Hurricane Sandy get back on their feet.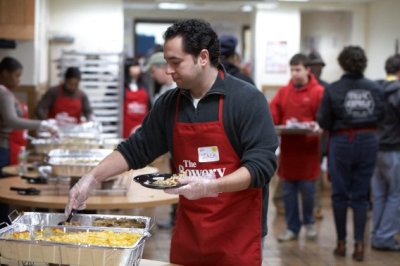 The charity organization has been serving the homeless and the hungry since 1879, and is celebrating its 133th Thanksgiving this year. The staff and volunteers are needed now more than ever as New York City faces a record number of homeless citizens and is recovering from Sandy, one of the most devastating storms to hit the Tri-state region in recorded history. The hurricane killed over 200 people in seven countries and destroyed thousands of homes, impacting and changing many lives.
The Bowery Mission offers a number of ways for people to give and help during this important time of the year, which includes volunteering opportunities, raising funds, donating food and clothes, and spreading the message of goodwill. James Winans, Chief Development Officer at The Bowery, says that like many organizations, theirs has faced significant challenges as a result of the storm. He thanks people for their generosity this season – but noted in a conversation with The Christian Post that help is also greatly welcomed at other times of the year.
The Bowery Mission's main building is located in downtown Manhattan – an area hit hard by flooding that closed down many streets and left almost the entire area without power for a number of days.
"Thanksgiving is always the biggest time of the year for us," Winans told CP. "During the week of Thanksgiving, we serve around 9,000 meals. During Thanksgiving Day alone, we serve about 5,000 meals. On Thanksgiving Day, we serve meals six times in our century-old chapel, and people eat around round tables with beautiful table cloths and beautiful center pieces, and musical entertainment, and they are served by volunteers who act as waiters and waitresses. When our guests leave, they are provided with a new coat and all of the children are provided with new toys.
"So it is an opportunity for us to bless our neighbors and bless our city, and it's the biggest week of the year for us."
Public 'Very Generous' With Resources, But Financial Giving Down
Winans also shared that The Bowery's operations had been significantly impacted in the aftermath of Hurricane Sandy.
"We had 150 men with us who had come in from out of the storm for emergency shelter, because their traditional places of refuge, like the subways and the park, had been closed by police. We lost power that night and didn't have power until a week later. We operated off a generator that someone donated to us. For many nights, we were the only light in the neighborhood, the only light in the street," he shared.
Despite these hardships, the CDO noted that people had been "very generous" in terms of donating resources to the charity.
"We've received a lot of donations of food, clothing, water and other supplies, and are trying our best to share as much of that as possible. Since the storm, we have delivered over 60,000 pounds of material out to the hardest hit areas in Queens and States Island."
Winans said that prior to the storm, 50,000 homeless people were in shelters – already a large number, but since Hurricane Sandy hit, another 20,000 people have found themselves displaced for various reasons, unable to live in their homes. They have had to find other arrangements while they get their homes in order – although in some cases their homes have been destroyed.
"I don't know if we'll see more people for Thanksgiving this year than past years, but I imagine the meal and the coat and the love and care that we provide will be more important than ever this week. We're looking forward to bless our neighbors," Winans shared.
He noted that the mission is expecting around 900 volunteers, which is about the same number as in previous years, but one area in which The Bowery is experiencing difficulties is with financial support.
"Even though we've seen a lot of food and clothing come in after the storm, financial giving is down, it has been disrupted by the storm. People have had to deal with their own troubles, or give to larger relief organizations, as they should – but financial giving to The Bowery is down. We are not as concerned about food and clothing donations as we are about financial donations."
Those wishing to make a financial contribution to The Bowery in time for Thanksgiving can do so at Bowery.org. The nonprofit is aiming to raise about $20,000 for the week of Thanksgiving, which will allow the charity to help as many people as possible.
As for those who want to volunteer but find most positions have been filled during Thanksgiving week, Winans noted that their help is greatly needed in other times of the year as well.
"People do need to understand that a lot of people want to volunteer during the holidays – but what I encourage people to do is to think about volunteering at other times of the year, when their support will be even more valuable. We all get into the giving spirit during the holidays, but we need people in February and April and other times of the year to volunteer with us," he said.
The Bowery is not the only charity organization in New York City doing important work during Thanksgiving week. Plenty of local parishes can also use a hand serving the thousands of people who will walk through their doors. Also, larger organizations, like The Salvation Army, offer various volunteer and giving opportunities on their website as well. NYCService.org provides a listing of such organizations.