OB-GYN on Planned Parenthood Videos: As They Violate Medical Ethics, We Can Overcome Evil With Good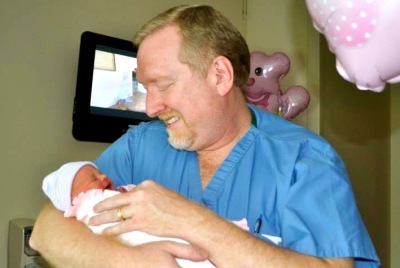 Recent weeks have seen the revelation of deeply disturbing practices at Planned Parenthood, the world's largest corporate abortion provider. As a practicing OB-GYN in Tennessee, these videos horrify me too — especially the latest one released yesterday. Yet I am not shocked.
Women have shared with me how Planned Parenthood violated them, and the pain of losing their babies. For years now, I have volunteered to advance the pro-life cause – because anything else would contradict my Christian faith and the medical ethics I swear to uphold.
Groups such as Live Action, Americans United for Life and Bound4LIFE have documented the horrors inside Planned Parenthood for many years, sharing with anyone who would listen. This latest investigation brings it into sharp focus… and it isn't going away.
(Be forewarned: this article describes some baby parts trafficking procedures in accurate medical terms.)
 Planned Parenthood Uses Partial-Birth Abortions to Sell Baby Parts
 All who watch the first video of Dr. Deborah Nucatola – at a lunch with someone she believed to be a buyer of fetal organs – can only describe the conversation as disgusting. This doctor calmly sips wine and enjoys a salad while she coldly discusses how to "crush" the baby above and below the desired organs, in order to preserve those organs for interested buyers.
Dr. Nucatola is not a low-level provider working in a facility remote from Planned Parenthood's administration. She is the Senior Director for Medical Services: one of her responsibilities is the training of Planned Parenthood doctors in the techniques of abortion.
During the lunch, she admits that this practice is intended to become more pervasive at local abortion centers. Dr. Nucatola acknowledges Planned Parenthood doesn't want this information to be publicized: "I will tell you that, behind closed doors, these conversations are happening with the affiliates."
Within two days of the video release, Planned Parenthood CEO Cecile Richards stated that Planned Parenthood does not profit from the sale of fetal organs and tissue. Then another video release.
 Second Planned Parenthood Senior Executive Haggles Over Baby Parts Prices, Changes Abortion Methods
 In it, Dr. Mary Gatter is having lunch with individuals she believed to be buyers of fetal organs and tissue. It is important to understand that federal law allows a facility like a Planned Parenthood clinic to be compensated for providing human tissue for research (as long as the patient has consented, which is in question).
Federal law, however, only allows the facility to be reimbursed for the actual cost of processing and providing the tissue to the buyer. This would be a fixed cost; it would not be a cost that is open to negotiation. Current laws expressly forbid profiting from the sale of human tissues and organs.
Dr. Gatter's statements, perhaps even colder than Dr. Nucatola's, reveal that Planned Parenthood sees this as an opportunity to profit above the actual cost of the processing and preparation of the organs harvested from aborted children.
Because all that is allowed by federal law is reimbursement for the actual cost, there should be no need to haggle with the buyers over price.
 Since prices would be limited to the actual cost, there would be no need for comments such as these made by Dr. Mary Gatter:
– "I just don't want to lowball."
– "I want a Lamborghini."
– "If it's still low, then we can bump it up."
Even more condemning is the fact that Dr. Gatter reveals a willingness to deviate from standard practices and increase the risk to the patient by using a "less crunchy" method of harvesting organs.
She says, "I wouldn't object" to using a method that employs hand-held suction to remove the baby's body parts instead of mechanical power suction. The use of power suction minimizes the chance that any fetal parts or placental tissue will remain — and retained tissue is one of the most common complications after an abortion.
Retained tissue increases the risk of hemorrhage and infection, as well as increasing the chance the patient will need another procedure to fully remove all the tissue. It also increases the risk to her future fertility.
These higher levels of risk to the patient are acceptable to Dr. Gatter, apparently in order to get her closer to owning that Lamborghini.
Now, a third and even more disturbing video has been released. This one comes largely from footage obtained by a whistleblower that worked as a 'procurement technician' for one of the companies to whom Planned Parenthood sells baby body parts. It is not a video obtained over a lunch; it has footage from inside the lab in a Planned Parenthood facility.
 Human Capital - Episode 1: Planned Parenthood's Black Market in Baby Parts
 People are shown dissecting what they call an "11 and 6″ — a human being who was 11 weeks and 6 days along in the pregnancy. The images and the commentary show the baby's humanity and discuss its head, its spine, and its kidneys.
The baby is coldly referred to as a "five star specimen." A Planned Parenthood employee named Dr. Ginde says, "I think a per-item thing works a little better, just because we can see how much we can get out of it."
It is not possible to say that these things are "deceptively edited" or "taken out of context." The words and images speak for themselves.
Americans are right to be disgusted over these practices. Yet those of us appalled are incorrect if we feel there is nothing that can be done. Congress and the Obama Administration have the power to investigate these practices. They also have the power to withdraw taxpayers' funding currently being utilized by Planned Parenthood.
The federal government provides more than $500 million annually to Planned Parenthood. The Obama Administration has declared that it will not withdraw funding; he is not worried about the political implications of that stance, as Mr. Obama cannot run for the office of the President again. He has nothing to lose. Members of Congress, however, always have the next election foremost in their minds.
What do we do? How do we handle this opportunity? The progressive left has a saying: "Never let a serious crisis go to waste." We need to resolve that we will not let these revelations go to waste. Before discussing specific calls to action, we should consider certain spiritual truths that help us understand our role.
Brent Boles, MD has been practicing medicine for two decades as an OB-GYN in Murfreesboro, Tennessee. He is a contributor to Bound4LIFE International, a faith-based pro-life group