Obama Apologizes for Quran Burning as 2 Americans Are Killed
Taliban Calls for Retaliation; 10 Afghans Killed Amid Deadly Protests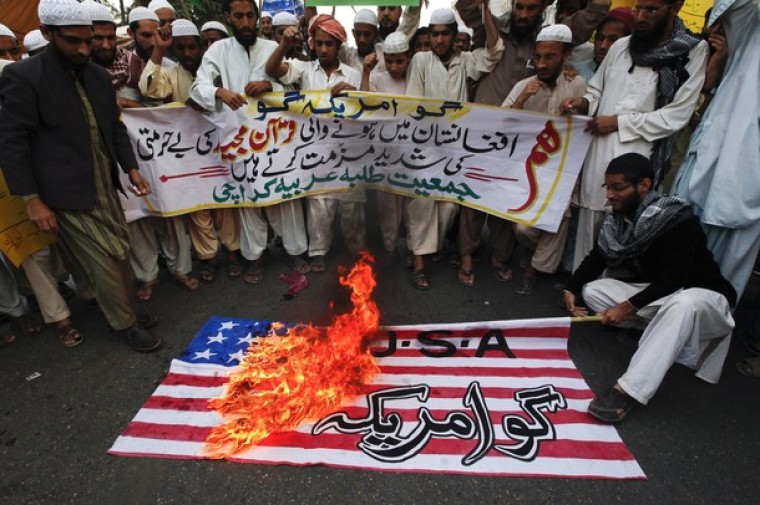 President Barack Obama has sent a letter of apology to Afghan President Hamid Karzai regarding the burning of Qurans at a coalition base in the country's Parwan province after the incident sparked deadly rioting throughout the country. 
The burning of the Islamic holy book, which NATO General John Allen called "unintentional," has set off days of protests in which two American troops and 10 Afghans have been killed, according to reports.
In the letter, President Obama offers his "sincere apologies" and expresses "deep regret" over the incident, according to a statement from Afghan President Hamid Karzai.
"The error was inadvertent; I assure you that we will take the appropriate steps to avoid any recurrence, to include holding accountable those responsible," the letter reportedly reads.
Afghan President Karzai told government officials that a U.S. solider burned the books out of "ignorance."
Protests across the country ensued after workers at the coalition-run Bagram Air Base in the northeastern Afghan province of Parwan reported copies of the Islamic holy book among a pile of garbage at the base on Monday. The workers salvaged some of the copies but others were scorched alongside the garbage at the base's incinerator.
NATO issued an apology regarding the incident on Tuesday, but the apology has done little to curb the anger and unrest. The U.S. embassy in Kabul was forced to go on lockdown on Wednesday amid fears that workers could be targeted by angry mobs in a similar incident to last year's mob attack on a U.N. compound in Mazar-e-Sharif.
The Taliban have not accepted the apologies and are capitalizing on the anger and chaos caused by the incident by urging its followers to kill Westerners in retaliation for the burning.
"Our brave people must target the military bases of invader forces, their military convoys, and their invader bases. They have to kill them (Westerners), beat them, and capture them to give them a lesson to never dare desecrate the holy Quran again," a Taliban statement released on Thursday reads.
Just hours after the Taliban issued its statement, a man dressed as an Afghan solider opened fire on U.S. troops in the eastern province of Nangarhar, killing two American servicemen.
According to reports, American soldiers had started firing on protesters after they began attacking their base. The man dressed as a member of the Afghan army retaliated by shooting six soldiers at the base. The Taliban have claimed responsibility for the attack.
Protests in the country are expected to get worse tomorrow following Friday prayers.