Obama Blasts Syrian President Assad and ISIS in UN Speech: 'Our Job Is to Reject Extremism'
NEW YORK — President Barack Obama addressed the "poisonous theology" of the Islamic State of Iraq and the Levant (ISIL) that "affects too many of our young people," in a far-reaching address during the Opening Session of the 70th United Nations General Assembly in New York City on Monday. He also took issue with atrocities carried out by the government of Syrian President Bashar al-Assad, whom he called a "dictator."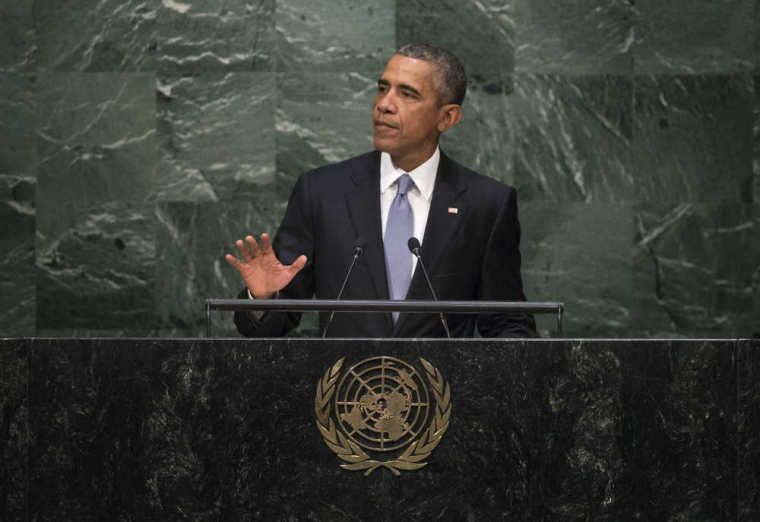 Obama stated that the Islamic State, also called ISIS, "depends on perpetual war to survive" but also "gains adherence because of a poisonous ideology."
So "our job is to reject extremism that affects too many of our young people," the president added. He specifically called on Muslims to reject teachings that promote violence, and on non-Muslims to "reject ignorance that equates Islam with terrorism."
Obama's remarks on the Islamic State were preceded by comments on Syria, which has been in a state of civil war since Arab Spring protests were launched against President al-Assad's government in 2011.
"How'd this start," Obama asked, before launching into his criticism of the Syrian "dictator" who has "slaughtered tens of thousands of his own people."
"Assad reacted to peaceful protests by escalating repression and killing, that in turn created an environment for current strife," said Obama, adding that the Syrian population has been "brutalized by aggression and chemical bombing."
Obama insisted that Syria's internal strife "breeds human suffering on a magnitude that affects us all."
The president then turned to the Islamic State, which he described as an "apocalyptic cult."
The Islamic State's systematic sexual assault of women and beheading of civilians is "an assault on all our humanity," Obama said.
"There's no room for accommodating an apocalyptic cult like ISIL," he added. "We do not apologize for going after them," alluding to the United States-led military action against the the Islamic State in Iraq.
Obama stated that the United Nations must make sure that there is never safe haven for "terrorists" that commit such crimes.
"We will not be outlasted by extremists," he added.
The president went on to state that although military power was necessary to combat Islamic State militants, that particular course of action was not sufficient alone in Syria.
He went on to call on the various factions in Syria that were vying for control to "forge an agreement to live together peacefully."
To assist in this effort, the United States was prepared to work with any nation to resolve the Syrian conflict, Obama said, specifically noting Russian and Iran as potential partners.
Something must be done, because "we cannot return to a pre-war status quo," Obama said, alluding to the opening of his remarks that touched on the United Nations' founding out of the 'ashes" of World War II.
A true and lasting resolution will take time, the president added, because there is no "easy answer to Syria."
Neither were there "simple answers to changes taking place in the Middle East and North Africa," he stated, referencing the migrant crisis sparked by instability and violence in those regions.
In the totality of his remarks to the General Assembly, Obama also called on China, Russia, Iran, and Cuba to pursue diplomatic efforts and stand by the principles agreed upon by the United Nations in its founding 70 years ago.