Obama 'Gave Legitimacy to a Hater' in Interview With Atheist Bill Maher, Claims Catholic League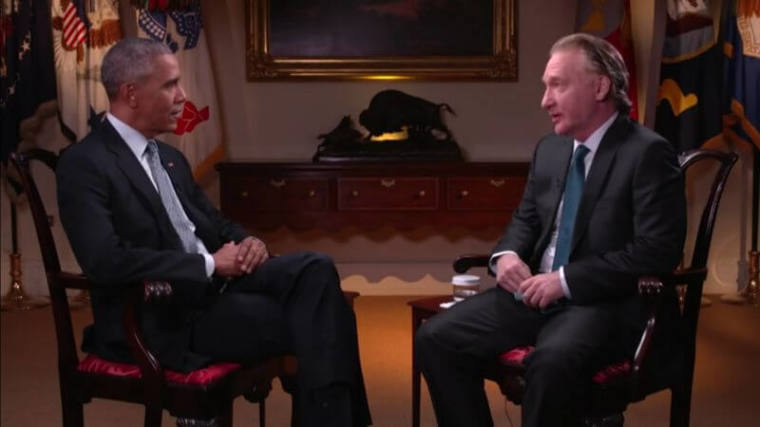 Bill Donohue of the Catholic League has taken exception to President Barack Obama's recent "Real Time" interview with HBO host Bill Maher, who he called a "hater," and pointed out that Obama failed to bring up several secular extremists in a discussion about fundamentalist extremism.
Donohue referred to part of Obama's comments in the interview on the Nov. 4 show, available on YouTube, where the president tells Maher regarding freedom of conscience:
"It's what the Constitution guarantees and where we get into problems typically is when our personal religious faith or the community of faith that we participate in tips the fundamentalist extremism in which it's not enough for us to believe what we believe but we start feeling obligated to hit you over the head because you don't believe the same thing or to treat you as somebody who's less than I am."
Donohue argued, however, that Obama only alluded to religious extremists, but failed to mention that much of the devastation of the 20th century was propagated by non-religious extremists.
"Who does he think was responsible for the totalitarian carnage of the 20th century? Hitler, Stalin, Mao, and Pol Pot were not animated by religious extremism — they committed genocide in the name of atheism," Donohue wrote.
"The biggest mistake Obama made was giving legitimacy to a hater. That he did so speaks volumes about his alleged sensitivity to bashing people of faith," he added.
In the past, Donohue has been highly critical of Maher's controversial comments on the "Real Time" show, which he equated to "anti-Catholic rantings."
Maher has openly criticized many Christian beliefs and passages in the Bible, including the story of Noah, and in 2014 the HBO host said:
"The thing that's really disturbing about Noah isn't the silly, it's that it's immoral. It's about a psychotic mass murderer who gets away with it and his name is God. Genesis says God was so angry with Himself for screwing up when he made mankind so flawed that he sent the flood to kill everyone. Men, women, children, babies, what kind of tyrant punishes everyone just to get back at the few he's mad at?"
Donohue has argued in past statements that Maher's "constant anti-Catholic rantings would of course fill pages — as they do in our annual reports. Yet HBO and its parent company, Time Warner, continue to proudly feature his show, making them fully culpable in his bigotry and that of his guests."
Obama and Maher also spoke about the treatment of atheists in America in the latest interview, with the president agreeing that there is a bias against agnostics or atheists running for political office, after Maher complained that atheists "feel like untouchables to a degree," given their lack of representation in office.
Still, Obama pushed back against suggestions that there is "active persecution of atheists" in the United States, and claimed that most average Americans are not trying to delve into other people's religious beliefs, or lack there of.
"So here's what I would say, that ... we should foster a culture in which people's private religious beliefs, including atheists and agnostics, are respected. And that's the kind of culture that I think allows all of us, then, to believe what we want," Obama said.