Obama Says Islamic State Not An Existential Threat at State of the Union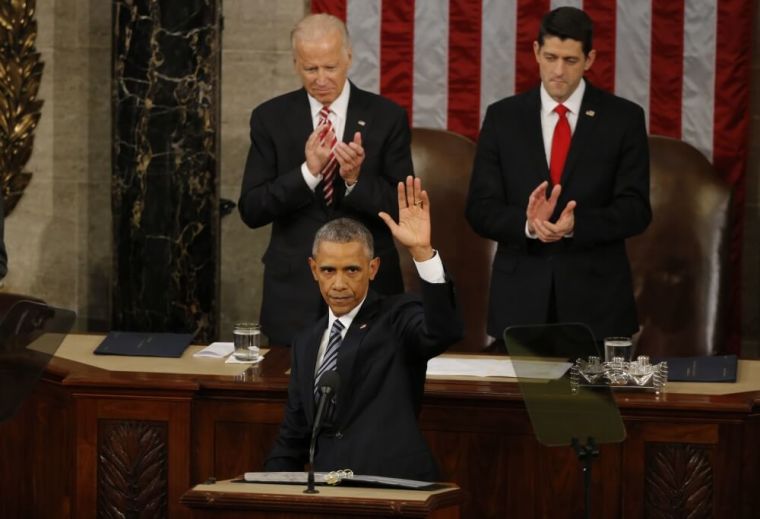 U.S. President Barack Obama said during his final State of the Union address on Tuesday evening that while the Islamic State is a "real" threat, it should not be considered as an existential threat that would endanger national identity.
Speaking from the U.S. Capitol building on Tuesday evening, the president said that viewing terrorist groups like the Islamic State and al-Qaeda as a threat to the nation's identity breeds ideas of xenophobia and religious prejudice.
"Masses of fighters on the back of pickup trucks and twisted souls plotting in apartments or garages pose an enormous danger to civilians and must be stopped. But they do not threaten our national existence," Obama said during his address.
"We don't need to build them up to show that we're serious, nor do we need to push away vital allies in this fight by echoing the lie that (IS) is representative of one of the world's largest religions. We just need to call them what they are  — killers and fanatics who have to be rooted out, hunted down, and destroyed," the president added.
The Obama administration has received criticism from both political parties who argue the president has not taken the threat of the Islamic State seriously, thus allowing the terror group to gain power.
Oklahoma Sen. James Inhofe reacted to the speech by arguing that Obama's leadership has made Americans less safe.
"His lack of leadership has resulted in global instability, the rise of ISIS and the drastic weakening of our military," Inhofe said. "Americans are now less safe because of Middle Eastern instability he caused with the hasty withdrawals from Iraq and Afghanistan. The deal he signed with Iran does nothing but appease our enemy and with every terrorist released from Guantanamo Bay we have another attacker to be worried about."
The president received similar criticism last November when he suggested that the Islamic State terror group had been contained and was not "gaining strength."
"I don't think they're gaining strength. What is true is that from the start, our goal has been first to contain and we have contained them. They have not gained ground in Iraq, and in Syria they'll come in, they'll leave. But you don't see this systemic march by ISIL across the terrain," the president told "Good Morning America" in early November.
A few weeks following his November interview, the president appeared to reverse his stance, saying during a press briefing that the "murderous ideology" of the Islamic State "[poses] a serious threat to all of us."
During this week's State of the Union, the president continued to discuss his strategy for dealing with the Islamic State in the Middle East.
The Commander-in-Chief alluded to comments from GOP presidential hopefuls that suggest "carpet-bombing" Islamic State-controlled areas is a good approach to defeating the terror group.
"Our answer needs to be more than tough talk or calls to carpet bomb civilians. That may work as a TV sound bite, but it doesn't pass muster on the world stage," the president said.
"There's a smarter approach, a patient and disciplined strategy [...] on issues of global concern, we will mobilize the world to work with us, and make sure other countries pull their own weight. That's our approach to conflicts like Syria, where we're partnering with local forces and leading international efforts to help that broken society pursue a lasting peace," Obama added.