'October Baby': 'You Can't Survive 18 Hours of Being Burned Alive in Mother's Womb Without Jesus'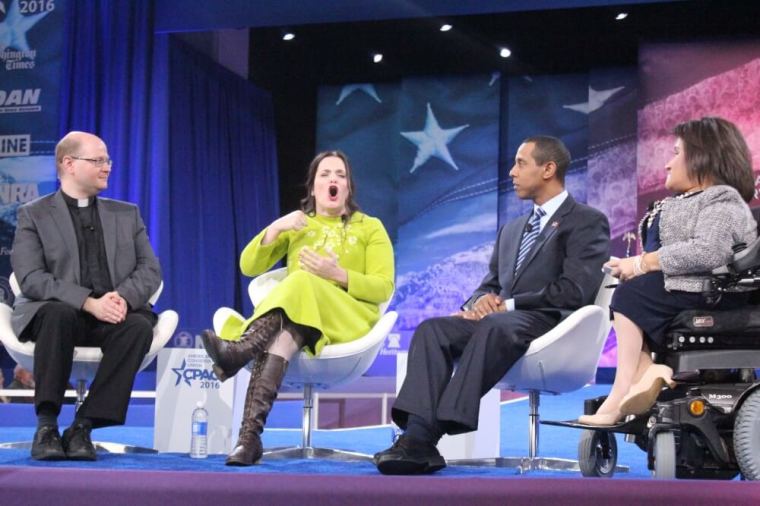 NATIONAL HARBOR, Maryland — A prominent abortion survivor and disability rights activist who was the influence behind the 2011 movie "October Baby" said Friday that it would not have been possible for her to overcome 18 hours of being burned alive inside her mother's womb if it were not for the glory and grace of her savior, Jesus Christ.
During a panel discussion on "personhood from womb to tomb" at the Conservative Political Action Conference, 38-year-old Gianna Jessen, who not only survived a torturous saline abortion but also has Cerebral Palsy due to lack of Oxygen during the abortion attempt, told the crowd at the Gaylord National Resort and Convention Center that she is living a happier life than most people who "whine about nothing" despite the fact that many questioned what her quality of life would be.
After the panel's moderator Julie Hocker brought up the fact that 90 percent of unborn children with Down's Syndrome are aborted, Jessen decried "healthy people" who think they can determine the quality of life for people with severe disabilities.
"I think it's such arrogance for the healthy people to look at a person they perceive as people who are unworthy of life and say 'I am going to say what your quality of life is.' I think we have forgotten as a society that we often learn wisdom from the weakest among us," Jessen said.
"You can imagine how horrified I am when I hear the arguments — as someone who has survived a saline abortion — 'if the baby is disabled, we need to terminate the pregnancy.' Who does that sound like? Adolf Hitler."
"You have no idea the amount of beauty and joy and happiness that I have because I must lean on the strong arm of Jesus, limping all the way to Heaven," Jessen added. "I have more happiness than most people I meet who are whining about nothing."
The moment that changed Jessen's life forever was when she gave her life to Christ. Having been able to survive 18 torturous hours of a saline abortion, Jessen said she has learned that all things are possible through Christ.
"I don't believe that you can survive being burned alive in your mother's womb for 18 hours and have the gift of Cerebral Palsy without Jesus," Jessen stated. "I don't mean, the 'cocktail party Jesus' that keeps the neighbors happy and never offends anyone — that Jesus doesn't exist. I mean the Jesus that raises the dead and makes the lame people walk. I am His girl and you don't mess with me because my Father runs the world."
Jessen added that her physical disabilities have not disrupted her from doing the things in life that others said she wouldn't be able to do.
"I have had to learn to walk twice. My prognosis ... horrible. No one ever expected me to dare to try to complete two marathons by running on my toes for seven or eight-and-a-half hours," Jessen detailed. "I have every intention of trying to figure out how to climb a mountain of some kind."
With hundreds of thousands of babies being aborted every year in the United States, Jessen argued that a "nation of victims" is being created.
"We are creating and cultivating a nation of victims," Jessen said. "I am not victim. I am a victor because of Christ."
Despite the fact that it was the actions of Jessen's own biological mother that caused her life to be saddled with physical disabilities, she has found the strength to forgive her biological mother.
"I want to say that I don't believe in shame," Jessen explained. "I have forgiven my biological mother for what she has done."
While abortion proponents like to paint the pro-life movement as being a "war on women," Jessen asserted that abortion is "not just a woman issue."
"It takes two people to create a life. We have emasculated men in our culture," Jessen said. "Men, if you don't want to see this country go to hell, stand up and take it back and defend your women. That may or may not be acceptable in this room and I really don't care."
Jessen's disabilities are a result of a failed abortion at a California Planned Parenthood, and she testified before the House Judiciary Committee last September to provided the horrifying details about the type of abortion she survived.
"This method of abortion burns the baby inside and out, blinding and suffocating the child, who is then born dead usually within 24 hours," Jessen said. "This is what I survived. Instead of dying, after 18 hours of being burned in my mother's womb, I was delivered alive. My medical records state, 'Born alive during saline abortion - 6 a.m.'"
"How many children have died, and been dismembered, and their parts sold for our ego, our convenience and our promiscuity?" Jessen continued. "How many Lamborghinis were purchased with the blood of innocent children, the blood that cries to the Lord from the ground? Like that of the blood of Abel. Not one of them, is forgotten by Him."