Octomom Stripping Controversy: Nadya Suleman 'Topless Gigs' Cause Outcry
Controversial mother "OctoMom" is continuing to cause a stir; having previously announcing she would never take part in any type of porn for money, she recently posed naked for a magazine, as well as taking part in an adult movie. However, it has been reported that she is continuing to delve into the adult entertainment industry as her preferred method of getting paid; she is reportedly booked in for a gig at a West Palm Beach, Fla. strip club.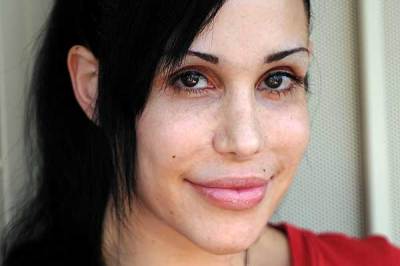 According to TMZ Nadya Suleman will "perform" two topless shows a night at the strip club from July 11 through July 15.
The decision, if true, is likely to pour further scorn on the mother. She was originally widely criticized for having so many children without any means to take care of them. Further criticism was directed her way in recent months when photos emerged of her house in a squalid state, with most agreeing it not being in a good condition to raise her brood of children.
Suleman was then rebuked for turning to nudity to put food on her family table, by posing naked for a magazine. She then arguably took her most controversial step – taking part in an adult porn movie, although she drew the line at only allowing herself to be filmed alone, and refused to take part in any pornography that would feature "touching" with anyone else.
So Octomom's latest drive into the adult entertainment industry perhaps should not surprise anyone.
Despite her wave of critics, there are also others defending her corner, saying that they understand she will do anything to support her family of 14 children; including showing off her body to those willing to pay. Some commenters refuse to blame Suleman, rather saying it is an indictment on society's darker side that she would be targeted by the porn industry.