Ohio Pastor Says Angel Named 'Johnny' Saved His Life After Crash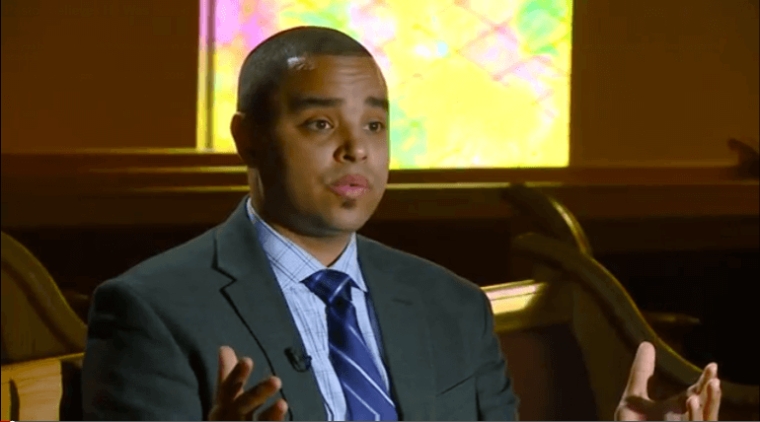 A young Ohio pastor says he is convinced that an angel named "Johnny" saved his life after he crashed his car into a utility pole last year.
"The windshield was melting. The passenger window was folding into the car," Pastor John Boston of the Central Seventh-day Adventist Church recalled in a FOX 8 interview.
"No one should've been able to touch the car. I shouldn't have survived," he said.
Boston explained that he was driving on Airport Road in Columbus, Ohio, in April 2015 when another vehicle crossed the center line and veered toward him. He swerved his car to avoid it but ended up crashing into a utility pole and a live transformer fell on his car.
The intense heat from the thousands of volts of electricity quickly started frying both metal and glass on the vehicle. The young father had no way to escape from his burning car until a "scruffy looking" stranger came out of nowhere and opened the smashed door with ease, according to Boston.
The man removed him from the car then walked Boston 20 yards away from the vehicle to safety, just before his car exploded.
"He said 'my name is Johnny. The police are almost here and I can't be here when they get here but you're gonna be OK.' And then the man was gone," Boston said of the moment.
The young pastor was treated for only minor injuries when he was eventually rescued by first responders.
And while many have speculated why "Johnny" fled the scene, veteran firefighters say some aspects of what happened to the pastor could be seen as miraculous.
No one, they say, should've been able to "touch" or "walk" away from a car with a live transformer on top of it.
While the circuit breaker could have tripped, one firefighter said they're designed to immediately reset. Electricity was still coursing through the car when help arrived on scene they said.
"With a transformer on the car, that's probably one of the worst runs we could roll up on," one firefighter told Fox 8.
Officials at the power company said the area also never lost electricity.
"The person that touches that car … he's the ground. You have to jump away from the vehicle and shuffle your feet, but even that's risky," one firefighter noted.
And the fact that neither Boston or the mysterious "Johnny" were badly hurt "gives me goosebumps," one firefighter said.
Boston says the experience from the accident has changed his life dramatically and he is now using the story to inspire faith in others.
After months of physical therapy, Boston and his congregation have increased efforts to feed the hungry and they're currently organizing a large mission's trip to Haiti. He is also more determined in his faith in God as well.
"I don't think angels come to us with wings and white robes shining lights. I think they come as help — and that's what I had that day," Boston said.