Tim Tebow Tells Florida Congregation: When We Bring Our Talents to God, Miracles Happen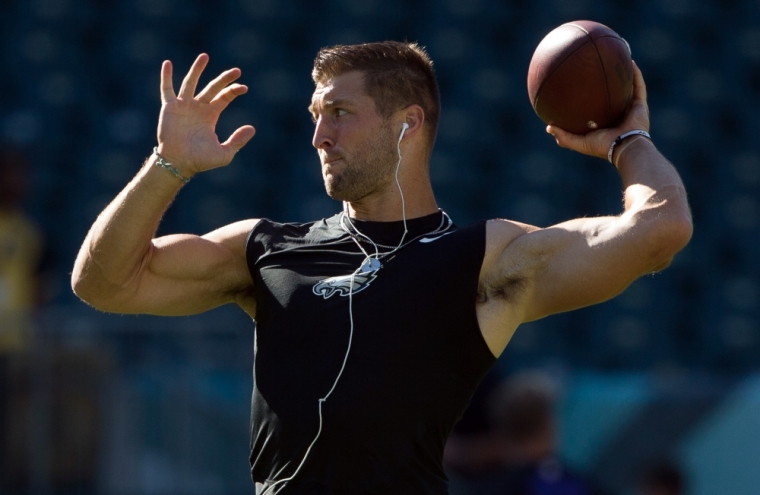 Former NFL quarterback and ESPN analyst Tim Tebow made a special appearance at a packed church in Central Florida recently, telling the congregation that his sports career is evidence that God "can take little things and make them big."
The 28-year-old professional athlete delivered a sermon at Real Life Church in Clermont, Florida Sunday, telling a series of stories relating to his time in the NFL and how he believes God used his sports prowess to share a Christian message.
Tebow pointed to his iconic John 3:16 eye black, telling the congregation of thousands that this verse carried him through his NFL career and inspired him to share God's message on the field.
The star quarterback pointed to several instances in which he believes God was working through his athletic skill, as seen when he threw 316 yards in his 2012 playoff game against the Pittsburg Steelers, as well as averaging 31.6 yards per completion.
"God can take the little things we do and make them big," the Christian athlete told the crowd, according to the Orlando Sentinal.
Tebow went on to say that it matters how Christians expresses their faith.
"It matters whose team you're on. ... As a Christian, it's pretty awesome to have God as a teammate," Tebow said. "With Jesus on your team, you have a lot to offer. When we bring what we have and match it with who He is, miracles happen."
Tebow visited the Central Florida church as part of the congregation's annual "Night to Shine" event for people with special needs.
Every year, the Tim Tebow Foundation partners with hundreds of churches to deliver a weekend of activities for disabled teens, including a prom night that was held earlier this month.
"Night to Shine is an unforgettable prom night experience, centered on God's love, for people with special needs ages 16 and older. On one night, more than 200 host churches in 48 states and eight countries [hosted] Night to Shine. That's more than 70,000 volunteers and 30,000 honored guests sharing the same amazing prom experience on the same night around the world," the foundation states on its website.
This year, Tebow was able to attend his foundation's Night to Shine in several cities, including Elevation Church in North Carolina and Life Church in Cookeville, Tennessee.
Tebow spoke to People magazine last week about the annual charity event, saying: "I've always had a burden for people who can't fight for themselves. The disabled are often bullied and told in a million ways that they're not important. Well, they are important, and this is a night for them to realize that they are important — and for the community to actually see them and celebrate them."
Tebow, who previously played for the Denver Broncos and the New York Jets, now serves as an SEC Network analyst for ESPN.
The athlete has been outspoken about his Christian faith, saying that his identity will always be connected to his relationship with Jesus.
"When your identity is found in Christ, your identity never changes. You are always a child of God. That's why I always say I don't have to live the roller coaster that the rest of the world lives," he said at a God's Purpose for America event in July 2015.