Ohio School Shooting Leaves 1 Student Dead, 4 Injured (VIDEO)
Suspect Apprehended in Chardon School Shooting
Chardon High School in the Cleveland suburb of Chardon, Ohio was put on lockdown this morning as a school shooting was reported at about 7:30 a.m. that resulted in at least one death and four injuries among the student body. A suspect has also been apprehended.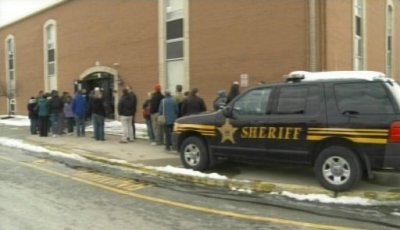 According to Fox 8 News in Cleveland, one student who witnessed the shooting reported that five shots were fired inside the cafeteria.
Officials originally confirmed that at least four students, three boys and one girl, were injured in the shooting. However, another student was later found injured, bringing the total number of victims in the shooting to five. One of the students taken away in critical condition has died. The injured students were taken from the school by Medevac helicopters. 
The Cleveland Plain Dealer has reported that the suspect arrested after the shooting is T.J. Lane, a junior at the school. Lane was identified by fellow junior Nick Mueller, whose ear was grazed during the shooting.
Mueller was sitting at a cafeteria table along with three friends when Lane reportedly approached them and fired a shot from behind Mueller's head.
"My friends were crawling on the floor, and one of my friends was bent over the table, and he was shot," Mueller told the Plain Dealer. "It was almost like a firecracker went off. I turned around and saw [T.J.] standing with a gun and I saw him take a shot."
One of the three boys at the table was said to have recently begun dating Lane's ex-girlfriend, although that has not been confirmed as a motive for the shooting.
Because the shooting happened so early in the morning, some students had not even arrived on campus yet. Those still on buses have been sent home and all classes in the Chardon Local Schools district have been canceled.
Earlier reports indicated that there may have been a second shooter, although Chardon Local Schools Superintendent Joseph Bergant II only confirmed one suspect at the onset. It appeared, however, that Lane acted alone.
Students were evacuated from both the high school and middle school as SWAT teams arrived on the Chardon school campus.
FBI agents have also been seen at the school, indicating that federal authorities will be working with the local Geauga County Police Department to investigate the shooting. 
Chardon High School, located about 30 miles east of Cleveland, has about 1,150 students.
SEE ARIAL VIDEO OF SHOOTING AFTERMATH