1 year after Dobbs, Republicans look to refute the 'pro-birth' only narrative
Rep. Elise Stefanik lauds numerous bills spearheaded by Republicans to help parents, families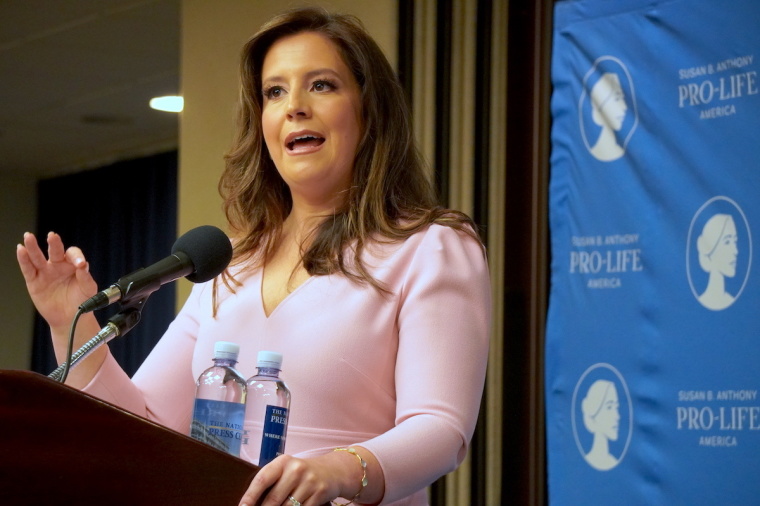 WASHINGTON — A top House Republican is urging her colleagues in Congress to support a bill banning abortions after 15 weeks gestation and separate legislation to support families raising children as the pro-life movement looks to refute the narrative that they're merely "pro-birth" as opposed to pro-life. 
The pro-life advocacy group Susan B. Anthony Pro-Life America held a press conference at the National Press Club on Tuesday, four days before the one-year anniversary of the U.S. Supreme Court's Dobbs v. Jackson Women's Health Organization decision determining that the U.S. Constitution does not contain a right to abortion. Following an introduction by Susan B. Anthony Pro-Life America President Marjorie Dannenfelser, Rep. Elise Stefanik, R-N.Y., addressed the pro-life activists and media gathered at the event.
Stefanik, chair of the House Republican Conference, discussed the state of the pro-life movement a year after the landmark decision that reversed the 1973 Roe v. Wade ruling that legalized abortion nationwide. Stefanik praised the Dobbs decision for providing "a historic opportunity to continue to strengthen the culture of life in America."
While she acknowledged that "some of the worst aspects of humanity were on display" following the Dobbs decision in the form of attacks on pro-life pregnancy centers and churches, as well as threats of assassination directed at Supreme Court justices, Stefanik expressed gratitude that "the vast majority of Americans involved in this important conversation continue to conduct themselves in a respectful, meaningful manner that advances the dialogue."
The lawmaker devoted much of her speech to discussing congressional efforts to enact "new and better policies that protect the unborn, and encourage and support women and expect more from fathers." The first example she cited, the Born Alive Abortion Survivors Protection Act, provides "healthcare for babies who survive abortion procedures."
The congresswoman lamented, "210 House Democrats alarmingly voted against this bill." "The extreme Democrat position of today is to oppose protecting children who are born alive, refuse to provide access to any medical care and leave babies to die after their first miraculous breaths outside the womb."
Stefanik also noted that "House Republicans passed a resolution in support of crisis pregnancy centers," some of which have been subject to attacks following the Dobbs decision. "It is telling that 209 House Democrats voted against this resolution," she said. Both the Born Alive Abortion Survivors Protection Act and the resolution condemning the violence against pro-life pregnancy centers are tied up in the Democrat-controlled Senate, where they are unlikely to come up for a vote.
In a previous interview with The Christian Post, pro-life activist Lila Rose called on lawmakers at both the state and federal levels to enact policies that will help make the U.S. "a friendlier place for families."
Stefanik agreed that "state, local and federal policymakers" have a role to play in enacting pro-life legislation, echoing Rose's analysis even before an audience member mentioned that "life after birth can be difficult," while suggesting that the federal government had an obligation to help parents provide for their children.
The "life after birth" comment, as well as Rose's advocacy on behalf of initiatives to provide "both private and public financial support for families to help them raise their children," come as pro-life advocates face the common criticism that they are "pro-birth" rather than pro-life. Stefanik rejected the idea that the pro-life movement does not care about babies after they are born. 
"The life movement deeply understands that we must support and lift up mothers and families, and it is why the life movement must continue to advocate for the value and dignity of all Americans throughout their lives, and we can do that by focusing on the evident needs of new mothers and fathers," Stefanik stated.
The congresswoman pointed to the PUMP for Nursing Mothers Act, which she summarized as a bill that "works to provide working mothers the access and accommodations they need while breastfeeding while they continue to work," as an example of legislation designed to address such needs. The PUMP for Nursing Mothers Act became law as part of the Consolidated Appropriations Act of 2023, approved by President Joe Biden on Dec. 29, 2022.
Stefanik discussed additional legislation that has been introduced but "still has to work through the committee process," including the After Hours Childcare Act. The After Hours Childcare Act would provide federal funding to eligible entities that enter into contracts with childcare providers that cater to the needs of parents who work outside the traditional work hours of weekdays between 9 a.m. and 5 p.m.
Stefanik, along with Reps. Ashley Hinson, R-Iowa, Suzanne Bonamici, D-Ore., and Mark Pocan, D-Wis., have introduced the legislation in the House, while Sens. Todd Young, R-Ind., and Maggie Hassan, D-N.H., have introduced it in the Senate. The House bill has been referred to the Committee on Education and the Workforce. 
The After Hours Childcare Act has secured five additional co-sponsors since its May 24 introduction in the House: Reps. Kevin Mullin, D-Calif., Greg Landsman, D-Ohio, Brian Fitzpatrick, R-Pa., Nancy Mace, R-S.C., and Tracey Mann, R-Kan. The bipartisan support for the legislation comes as Stefanik insists that the American people are far more united than they appear on the divisive topic of abortion.
Throughout her speech before pro-life activists and the media Tuesday, Stefanik made the point that "while those in the media want to portray Americans as viscerally divided on this issue, I believe there is far more consensus than the media would like to admit." She pointed to a June 2022 Harvard-Harris poll finding that "72% of voters support limiting abortions at 15 weeks, including 75% of women, 70% of independents and 60% of Democrats."
"It's Republicans and the life movement who represent the consensus, and it is the Democrats who are the radicals, out of touch with the vast majority of the American people," she added. "The majority of the American people believe that a baby born alive should be provided necessary healthcare. The majority of the American people condemn violent attacks on crisis pregnancy centers."
As she proclaimed that "terminating the life of an unborn child is not healthcare," Stefanik described the consensus surrounding abortion as a "historic opportunity to turn our attention to enacting a federal law that protects an unborn child when he or she can feel pain." Stefanik declared that "at the federal level, we do have a role to play in this, ensuring that no taxpayer dollars go towards funding abortions and having a minimum of a 15 weeks bill with exceptions for rape, incest and life of the mother."
Stefanik also mentioned H.R. 7, the No Taxpayer Funding for Abortion and Abortion Insurance Full Disclosure Act of 2023, as a "permanent solution" to "ensure taxpayer dollars never support abortions." While the Hyde Amendment and similar longstanding riders attached to government spending bills prohibit the use of federal tax dollars to pay for abortions, Stefanik cited congressional Democrats' ultimately unsuccessful efforts to remove the Hyde Amendment from appropriations bills as reasons why the measure is necessary.
H.R. 7, which has been referred to the House Committee on Energy and Commerce, the Committee on the Judiciary and the Committee on Ways and Means, has secured 162 co-sponsors, all Republicans. Stefanik told attendees of the press conference that the House's "next major focus is the appropriations process," explaining that "subcommittees are already working through those appropriations bills and that would ensure those Hyde protections" remain in place.
While much of Stefanik's remarks focused on the federal government's efforts to enact pro-life legislation following the Dobbs decision, she also discussed how the ruling has enabled states to decide on the legality of abortion. Since the Dobbs decision, several states have enacted total or near-total bans on abortion. According to data compiled by Susan B. Anthony Pro-Life America, 24 states have enacted pro-life laws, although some of the states currently find their pro-life legislation subject to litigation.
Specifically, the states of Alabama, Arkansas, Idaho, Kentucky, Louisiana, Mississippi, Missouri, North Dakota, Oklahoma, South Dakota, Tennessee, Texas, West Virginia and Wisconsin have laws on the books that prohibit abortions through all nine months of pregnancy, while Georgia outlaws abortions after a fetal heartbeat can be detected, usually at around six weeks gestation.
Additionally, Nebraska and North Carolina ban abortions after 12 weeks gestation, while Florida prohibits the procedure after 15 weeks when an unborn baby is known to be able to feel pain. The states of Arizona, Indiana, Ohio, South Carolina, Utah and Wyoming currently have pro-life laws tied up in court, while the remaining 26 states and the District of Columbia have "few or no protections" for unborn babies in place.
Stefanik pushed back on the perception of pro-life laws passed at the state level as "new and extreme, the invention of religious extremists, opponents of women's rights and antagonists of modern healthcare." She maintained that "the exact opposite is true," stressing that "Pro-life advocates are not extremists, we are not anti-woman."
On the other hand, voters in California, Michigan and Vermont have approved referendums establishing a right to abortion in their respective state constitutions in the past year. According to the pro-abortion Guttmacher Institute, the states of Colorado, New Jersey, Oregon and Vermont allow abortion up until the moment of birth.
California, Connecticut, Delaware, Hawaii, Illinois, Maine, Maryland, Massachusetts, Minnesota, Nevada, New York, Rhode Island and Washington allow abortions up until the point of viability, which refers to an unborn baby's ability to survive outside the womb.