Oregon High School Shooting Is the 74th Since Sandy Hook; Shootings Average More Than One a Week, Says Gun Control Group
A gunman and one victim are dead at an Oregon high school Tuesday, marking the 74th shooting since Adam Lanza opened fire on a first grade classroom in Sandy Hook, Connecticut, just a year-and-a-half ago.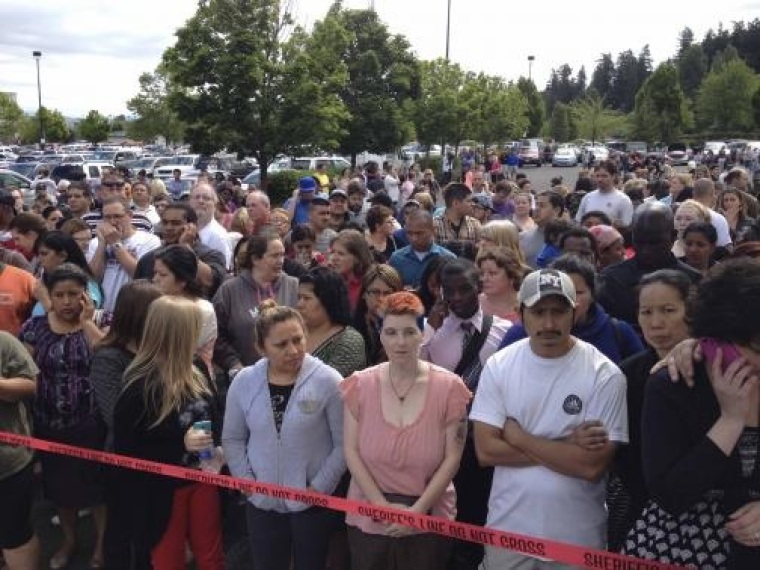 An unidentified gunman armed with a rifle entered Reynolds High School, in the Portland suburb of in Troutdale, around 8 a.m. local time on Tuesday, while classes were in session. The Multnomah County Sheriff's Office confirmed that the gunman had been killed, but did not state how he had died.
Beyond the male student who was killed, a teacher, believed to be physical education teacher Todd Rispler, was also wounded, stated KGW. One student also told KGW that after hearing two gunshots, he saw the gunman chase Rispler down the hall. Rispler said his hip was grazed but that he would be fine.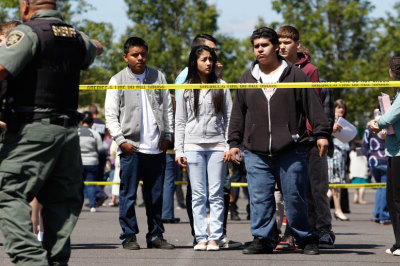 According to an Everytown for Gun Safety study, a group that lobbies for gun control legislation, since the 2012 elementary school massacre, school shootings have averaged 1.37 a week. The majority of the school shootings, 39, have taken place at K-12 schools, while the remainder, including two of the most recent tragedies, have happened at colleges or universities.
Police responded quickly to the Troutdale shooting and the school was put under lockdown. Several SWAT teams also arrived at the high school and went room to room to release students to their parents.
Authorities confirmed during a press conference that they found a gun on the body of another student, though it appears to be unrelated to Tuesday morning's incident.
"Today is a very tragic day for the city of Troutdale and Reynolds School District," Troutdale Police Chief Scott Anderson told reporters, as reported by CNN. "I'm very, very sorry for the family, and for all the students, and everybody who will be impacted by this tragic incident."
Oregon governor John Kitzhaber expressed his grief at the incident.
"My heart is heavy after learning of this morning's tragic events at Reynolds High School. Today Oregon hurts as we try to make senses of a senseless act of violence. Please keep students, staff, the extended Reynolds community and first responders in your thoughts and prayers," he said in statement.
"This is a very tragic day, one that I had hoped would never, ever be part of my experience," said Linda Florence, the Reynolds School District superintendent, as reported by NBC News.
Tuesday was the penultimate day of classes at Reynolds, which is in the middle of holding its final exams. There are roughly 2,600 students who attend the school.
Last Thursday, Aaron Ybarra allegedly killed one student and wounded two others at Seattle Pacific University in Washington.
In May, University of California-Santa Barbara student Elliot Rodger shot and killed seven people, including himself, and wounded 13 others.