Ousted Fire Chief Kelvin Cochran Reaffirms Biblical Views on Sexuality During Powerful Testimony: 'God Intended for a Man and a Woman to Procreate' (Video)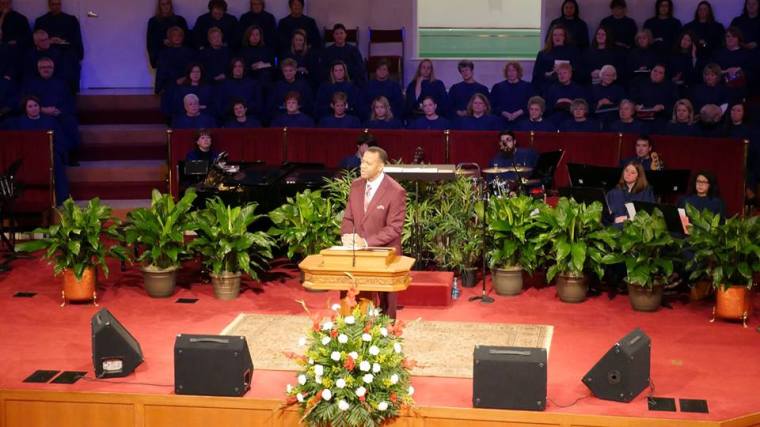 Ousted Atlanta Fire Chief Kelvin Cochran delivered messages of hope for Christians everywhere during two separate testimonies on Sunday, nearly two weeks to the day after he was fired for espousing his religious beliefs in a self-published book and sharing it with subordinates.
In his 2013 book, Who Told You That You Are Naked?, Cochran calls homosexuality "sexual perversion" and "vulgar" and also likens it to "bestiality," among other things. The book targets Christian men, and the married father of three explained his views on sexuality to fellow members at Elizabeth Baptist Church in southwest Atlanta over the weekend.
"The truth will set you free, but I've also found out that the truth will make a lot of people angry and that there are worldly consequences for standing up for righteousness in these current times," he said from the pulpit. "God intended for a man and a woman to procreate in the bounds of holy matrimony, and that's what got me in trouble."
In November, city officials said Cochran had violated policy by self-publishing his book and then handing it out to employees. Subsequently, he was suspended without pay and forced to undergo sensitivity training. The book was brought to their attention when an AFRD member complained about Cochran distributing copies in the workplace.
On Jan. 6, the seven-year veteran fire chief was supposed to return to work, but instead was fired by Atlanta Mayor Kasim Reed over the incident. The termination sparked widespread outrage, protests and also drew a firestorm of criticism from prominent Christian leaders including evangelist Franklin Graham, who said Cochran's First Amendment rights were violated.
Cochran reportedly told congregants at Abilene Baptist Church in Augusta on Sunday that he believes God is using his ordeal for a greater purpose.
"I am not going through this because of something I have done. I am going through this because of something that (God) is doing in the body of Christ and in my life," Cochran said, according to The Augusta Chronicle. "I believe God is going to use my life to demonstrate publicly the kingdom consequences for standing on His Word and standing on the values that He has embraced in his Holy book, the Holy Bible."
Abilene Pastor Brad Whitt, who invited Cochran to speak on Sunday, shared these sentiments and said the high-profile case is already giving momentum to religious liberty bills in Georgia.
"This, for us, was not a political event. It was a worship service," Whitt told The Christian Post. "He's got all of the markings of somebody that God could use even on a larger stage, and I do think this is going to have a real negative impact on the mayor (everybody thinks the mayor wants to run for higher office). … You've got to remember, Georgia is full of Southern Baptists and right now they're standing up with [Cochran]."
Cochran recently confirmed to CP that he's exploring legal options to sue the city in the wake of his dismissal. He disputes Reed's claims that he never got approval from the city to write the book.
"Great story, great man, great family," Whitt said of the former fire chief. "I do pray that the Lord vindicates his name … there's never been an obligation that he mistreated somebody. Of course, as a Christian, we have a biblical worldview, marriage is one man and one woman. We live in a society now where the only ones it's OK to be intolerant against are conservative Christians."
Last week, hundreds of religious freedom advocates gathered for the "Standing for our Faith Rally" in the Georgia state Capitol rotunda to showcase support for Cochran. Protesters marched to city hall where they hand-delivered a petition with 50,000 signatures to Reed's office.
Numerous petitions calling for Cochran's reinstatement as fire chief have reportedly since collectively garnered more than 100,000 signatures.
In 2009, Obama appointed Cochran as the fire administrator for the U.S. Fire Administration. He returned to his job as Atlanta's fire chief the following year.