Over 1 Million Christian Students to Unite in Prayer for 24th Annual 'See You at the Pole' Event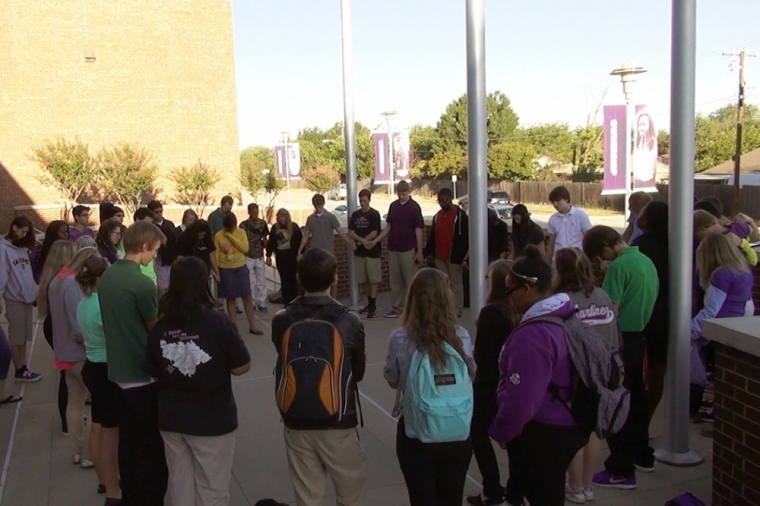 Across the United States, students will soon go to their respective school campuses' flag poles and pray together for friends, family, their teachers and the nation.
Known as "See You at the Pole," the annual event will take place on Wednesday and is expected to have over 1 million participants.
Doug Clark, promotion coordinator for See You at the Pole, told The Christian Post that it is "vital" for students to gather together and pray at their schools.
"The heart of God that has been revealed to us about this event is that students might feel ownership and vision to represent Him to their schools," Clark said.
"The unity factor of SYATP is key," he asserted. "Students are involved in many different churches, but they come together as the body of Christ when they pray at SYATP."
The event, which was started by a small group of teenagers in Burleson, Texas, in 1990, has blossomed into a widely observed event with participants throughout the country.
While the event has received occasional push back from groups that question its constitutionality, the ACLU released a statement in 1995 acknowledging that the SYATP observance does not violate the Constitution.
"Student participation in before or after school events, such as 'see you at the pole,' is permissible. ... School officials, acting in an official capacity, may neither discourage nor encourage participation in such an event," the ACLU stated in its "Joint Statement of Current Law on Religion in the Public Schools" released in 1995.
Clark told CP that while the observance used to be held on the third Wednesday in September, over the years the date has changed to the fourth Wednesday in the month to accommodate students who attend schools and universities that start their fall terms after Labor Day.
"SYATP began as the third Wednesday, but we were getting consistent feedback from schools that began after Labor Day and colleges that were starting their fall terms later in September that it didn't allow them time to organize," Clark said.
Clark also noted that they recently added a "Global Week of Student Prayer" to the overall See You at the Pole event, which began Sunday and concludes on Saturday.
"Two years ago, we made a change to the format of SYATP, to Global Week of Student Prayer. That shift was another accommodation, since many were saying that for one reason or another there was no school on Wednesday," Clark added.
"This encouraged them to do it another time during the week that includes the fourth Wednesday. It also was a push for students to think 'outside the box' and do something creative with SYATP in their context."
The theme for this year's See You at the Pole observance is Ephesians 6:18a, which reads "Never stop praying, especially for others" in the Contemporary English Version of the Bible.
"There are many See You at the Pole gatherings where dozens of students, sometimes even hundreds, gather to pray at their school flagpoles. Yet there are thousands of campuses where just a handful meet to pray," noted lifesongs.com.
"Regardless of number, God takes each situation seriously and promises to be in their midst. So, whether your school has a huge group that covers the front of the school or you have just two or three, there is power in each group."