Over 2,600 killed in Turkey, Syria after strongest earthquake in over 100 years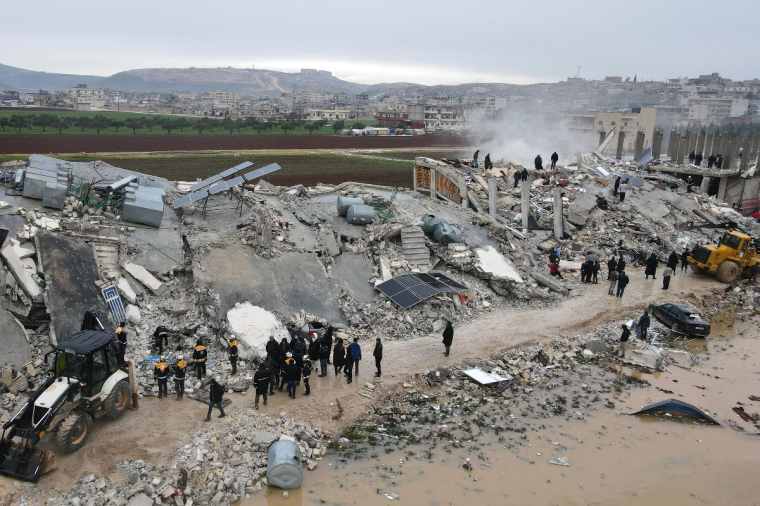 Update Feb. 6 at 1:30 p.m. ET: Turkish Health Minister Fahrettin Koca announced updated figures showing that at least 1,651 people were killed and 11,119 others injured in Turkey after two earthquakes rocked Turkey and northern Syria on Monday. As many as 3,471 buildings have been damaged in Turkey. Citing figures from the Damascus government and rescue workers in the rebel-held northwestern region, Reuters reports that at least 968 people were killed in Syria.
Original:
Over 2,000 people have been killed in southern Turkey and northern Syria after a powerful 7.8-magnitude earthquake hit Turkey's Nurdagi town early Monday, one of the strongest to hit the region in more than 100 years, officials say. 
Centered near the town of Nurdagi in Gaziantep province of Turkey, the earthquake was felt as far as Israel and Lebanon, according to newswires. Multiple strong aftershocks were reported across the region. A second 7.5-magnitude earthquake was reported Monday afternoon. 
Turkey's disaster agency AFAD reported earlier Monday that at least 1,014 citizens lost their lives, while over 7,000 citizens were injured. Over 2,800 buildings have reportedly been destroyed so far. Nearly 10,000 search-and-rescue personnel were assigned to the region. 
Updated figures from AFAD show the death toll in Turkey has reached 1,498, with over 8,533 injured, according to Turkish media. 
At least 430 people were killed in government-controlled regions of Syria, according to state media. 
In rebel-held northwestern Syria, at least 380 people died, a Syrian Civil Defense official said, according to The Associated Press.
The earthquake had a significant impact on opposition-held regions on the Syrian side of the border, where roughly 4 million displaced individuals from the ongoing Syrian civil war reside, AP reports. 
The area lacks proper living conditions and adequate healthcare, making the situation even more dire as hospitals in the area were overwhelmed with patients.
CNN meteorologist Brandon Miller reports that the shaking from the quake could be felt up to 186 miles from the epicenter.
"I have never felt anything like it in the 40 years I've lived," Erdem, a resident of Gaziantep, told BBC. "We were shaken at least three times very strongly, like a baby in a crib."
The search for survivors continues as the death toll is expected to rise.
"Because the debris removal efforts are continuing in many buildings in the earthquake zone, we do not know how high the number of dead and injured will rise," Turkish President Recep Tayyip Erdogan said, according to AP. "Hopefully, we will leave these disastrous days behind us in unity and solidarity as a country and a nation."
Kerem Kinik, the head of the Turkish Red Crescent relief agency, expressed concern over the area affected by the earthquake and described the damage as "serious and widespread." He also appealed for blood donations.