Over 50 killed, 70 injured in suicide bombings at 2 mosques in Pakistan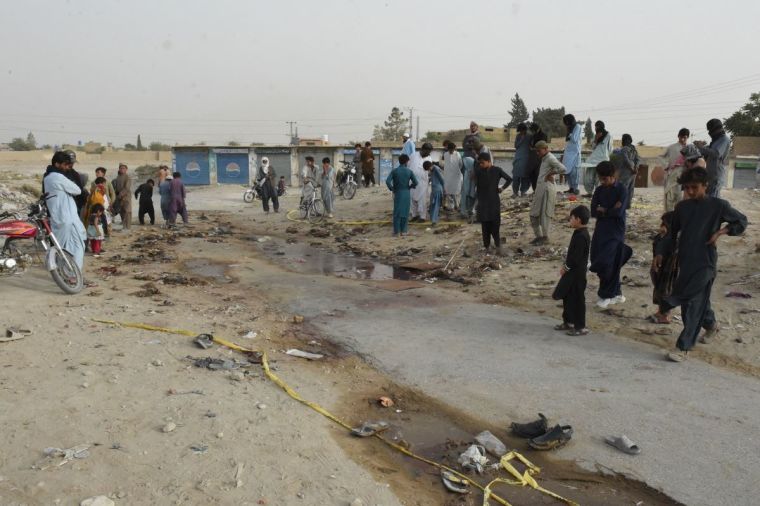 The death toll continues to rise as two suicide bombings targeting mosques in Pakistan left over 50 people dead and dozens injured during Friday prayers. 
The more devastating of the two attacks occurred in the Mastung district of Baluchistan province. At least 54 people are dead after two more victims died in the hospital overnight, according to The Associated Press. Over 70 were injured. 
Local officials stated the suicide bomber targeted worshippers as they left the mosque. Dr. Saeed Mirwani, chief executive of the local Nawab Ghous Bakhsh Raisani Memorial Hospital, told reporters that dozens of casualties were being treated there.
Hours later, a second explosion rocked a mosque in Khyber Pakhtunkhwa province, leaving at least five people dead.
Footage aired on Pakistani TV and posted online showed the aftermath, with victims and body parts scattered around the blast sites.
Interim information minister for Khyber Pakhtunkhwa, Feroze Jamal, said two suicide bombers were involved in the second attack. One was killed in a shootout, and another detonated his device inside the mosque.
Mirwani confirmed with the Pakistani news outlet Dawn that the hospital has received 32 injured victims from the Baluchistan attack. At least 20 were sent to Quetta for advanced treatment. Jamal reported that 30 to 40 people were buried under rubble after the mosque's roof collapsed in the Khyber Pakhtunkhwa attack.
Local police officer Shah Raz Khan told The National that rescuers are pulling worshippers from the rubble. 
The government declared the day a national holiday for Prophet Mohammad's birthday on Friday.
According to the U.K.-based Christian Solidarity Worldwide, the mosque in Khyber Pakhtunkhwa was part of a police complex and had a capacity of 40 to 50 people.
While no group has claimed responsibility, the Pakistani Taliban denied involvement, CBS News reports. ISIS-Khorasan, an Islamic State faction operating in Pakistan and Afghanistan, has claimed similar attacks in the past. Baluchistan province, rich in oil, has seen multiple attacks by both ISIS and Baluch nationalists.
Pakistan's President Arif Alvi condemned the attacks. Caretaker Interior Minister Sarfraz Bugti also denounced the bombings, calling them a "heinous act," in a statement.
The Human Rights Commission of Pakistan spoke out on social media, calling the situation in Baluchistan "unacceptable." They urged that those responsible be brought to justice but cautioned against "hyper-securitization."
Security was increased around mosques in Punjab province and Karachi city.
Previous attacks in Pakistan have seen high casualties, including a 2014 Taliban attack on a school in Peshawar that killed over 150, mostly children.
In 2013, at least 81 Christians were killed when two suicide bombers bombed a church in Peshawar as worshipers left Sunday mass. On Easter Sunday 2016, over 75 were killed and over 340 were injured in a suicide bombing at one of the largest parks in Lahore, targeting Christians celebrating the holiday. 
CSW criticized Pakistani authorities for failing to counter violent extremism.
"While the motivations for [Friday's] attacks are currently unclear, Pakistan has become an increasingly dangerous place for citizens of all religions and beliefs as the Pakistani authorities have repeatedly failed to counter violent extremism and terrorism, whilst also often emboldening extremist Islamist elements by embracing dangerous rhetoric,'" CSW's Founder President Mervyn Thomas said in a statement. 
Pakistan ranks as one of the worst countries in the world when it comes to Christian persecution on Open Doors' 2023 World Watch List, which states that Christians make up less than 2% of the Muslim-majority population. 
Christians and other minorities are often falsely accused of blasphemy, which is punishable by life in prison or execution. 
Last month, a Muslim mob rampaged through a Christian neighborhood in Punjab province, destroying more than 80 homes and 21 churches after allegations spread that the Quran had been desecrated.
Rights groups have been critical of Pakistan's blasphemy laws, which have been used to persecute various religious groups. Over 2,000 people have been accused since 1987, and at least 88 have been killed on such allegations, according to the Centre for Social Justice.