Over 800 Killed in Kurdish, US-Led Coalition Battle Against ISIS in Kobane; Nearly 500 Dead From ISIS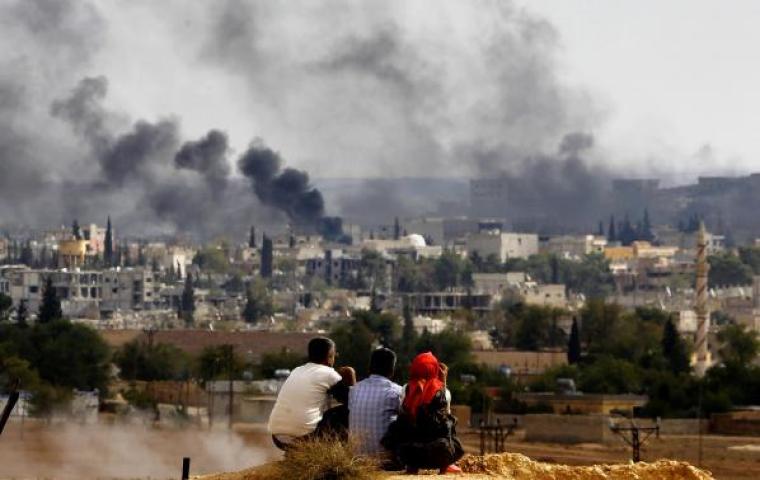 The battle for the key Syrian city of Kobane between Kurdish forces supported by a U.S.-led coalition and terror group ISIS has led to the deaths of over 800 people in the past 40 days, a Syrian monitoring group said Sunday. The real death toll is feared to be twice as high, however.
The Syrian Observatory for Human Rights said that it could document the deaths of 815 individuals, with more than half, or 481 of them, belonging to ISIS. Militants died in ambushes, bombardments, targeted vehicles, and other clashes in the battle near the Turkish border. At least 16 of the dead were suicide-bombers who booby-trapped vehicles in Kobane and its surroundings.
Reuters reported that the Islamic militants shelled Kobane overnight in new attacks, but were repelled by local fighters.
"Of course they will try again tonight," said Idris Nassan, a local Kurdish official. "Last night they brought new reinforcements, new supplies, and they are pushing hard."
SOHR noted that the real number of casualties could be twice as high. The death toll is difficult to confirm, as the monitoring group cannot access a number of areas and villages around the town where violent clashes and bombardments have taken place.
The Iraqi Kurdish parliament separately voted to provide backup for the Syrian Kurds fighting ISIS in Syria, but will not be sending ground troops in the fight.
"Primarily, it will be a back-up support with artillery and other weapons," Kurdistan Regional Government spokesman Safeen Dizayee said. "It will not be combat troops as such, at this point anyway."
The Iraqi Kurds have been locked in their own battle against ISIS. A U.S.-led coalition has aided both the Iraqi Kurds and the Syrian ones in the battle for Kobane by launching airstrikes against ISIS targets and providing arms and supplies to local fighters.
CNN noted that close to 200,000 Kobane residents have fled the city into Turkey, which has seen an influx of Syrian refugees escaping both the country's three-year-long civil war and the attacks from ISIS in recent months.
U.S. Central Command confirmed that the U.S. military carried out five airstrikes near Kobane since Saturday, looking to slow down the advance of the jihadists.
Iraqi security forces are meanwhile stepping up their efforts to free large stretches of territory in Iraq from ISIS' grasp. Government forces, supported by Shi'ite militias, retook four villages on Sunday near the Himreen mountains, according to military officials.
ISIS fighters have also been driven out of Jurf al-Sakhar, south of Baghdad, while Kurdish fighters recaptured the town of Zumar in the north.
"We have decided to make slow advances. We hold the ground, set up watch towers, clear the explosives and build sand barriers to prevent the armed men from returning," army major Ahmed Nu'aman told Reuters.
The battle for Kobane has also carried a major significance for Turkey, which so far has not intervened against ISIS. Turkey has criticized foreign aid to Syria's Kurdish fighters, which it sees as an extension of the banned Kurdistan Workers' Party.
American President Barack Obama and Turkish President Recep Tayyip Erdogan reportedly spoke on the phone last week about the situation in Syria and Turkey's concerns, though Erdogan's reaction was not made known.