Owners of the Bar That Launched the Modern LGBT Movement Call It a 'Gay Church'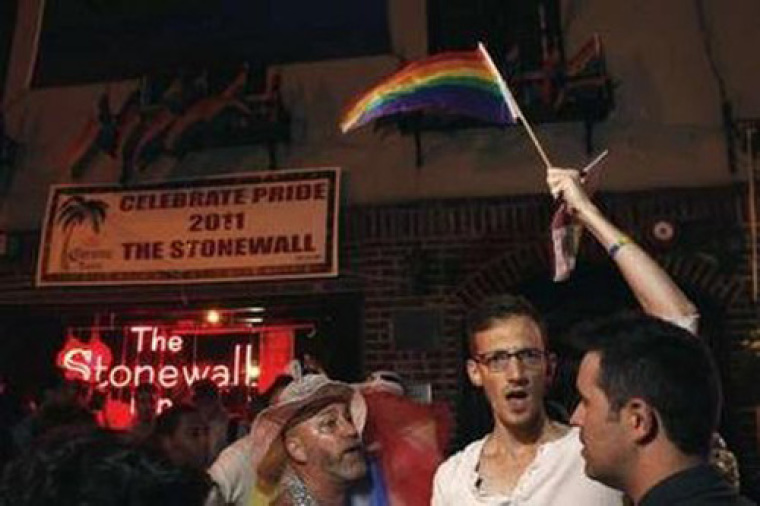 The current owners of the bar believed to be the site for the birthplace of the modern LGBT movement have labeled it a "gay church."
Kurt Kelly and Stacy Lentz became the owners of The Stonewall Inn, a New York City-based bar that was the site of riots by LGBT individuals and activists in 1969.
Kelly and Lentz, who became the bar's co-owners in 2006, told The Huffington Post about overseeing the historic site in an interview published Monday, comparing it to a place of worship.
"I would say it is a gay church," said Lentz. "For me, it's a platform for social change and social justice. That's what I'm passionate about."
"It represents a movement, it's a living, breathing part of history and it's our responsibility to keep it alive and it also means to me the birthplace of gay rights and the ability to keep that equality in place."
Kelly echoed the comments of Lentz when asked about what he most wanted people to know about the bar's significance.
"It is the church. This is the melting pot. This is where you can come and feel safe. This is a part of the national monument," stated Kelly.
Some critics, among them the Reverend Will Owens, president of the Coalition of African-American Pastors, have compared LGBT activism to a religious movement.
In an interview with Breitbart News from 2015, Owens cited the Day of Silence, an event wherein students stay silent to support LGBT youth bullied for their identity, as "cult-like."
"The homosexual agenda intends to brainwash Americans into believing that homosexuality is alright, but it has become cult-like," stated Owens.
"Let's make it a day of silent prayer to promote Christianity and faith in general. What's the difference? ... Until we the people join together on the Day of Silence and oppose it, those who support the LGBT political agenda will know they own our youth."
Overseas, the Chief Rabbi of Jerusalem Shlomo Amar referred to the LGBT community as a "cult of abomination" in comments from Nov. 2016.
"This is a cult of abomination, this is clear. This is an abomination. The Torah requires a death sentence for this. This is in the first row of the most severe transgressions," stated Rabbi Amar, as quoted by the Jerusalem Post.