'Pacific Rim' Shows Christ-like Sacrifice Amid Numbing Action and 'A Tiny Dash of Paganism,' Say Reviewers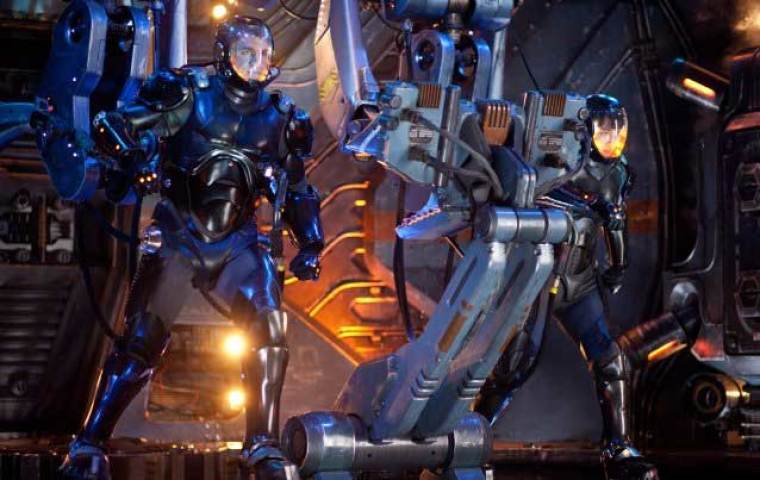 "Pacific Rim" may be just another mayhem film, but at least it has likeable characters and approaches the concept of one sacrificing for all, say Christian reviewers of Guillermo Del Toro's Sci-Fi action flick, which opened last Friday.
The movie's hero, Raleigh Becket, has an admirable, but challenged, back story and then risks all for the future of mankind, which at least gets him to first base, according to one Christian reviewer.
A film "has to have redemptive, sacrificial, Christological elements in it," said Dr. Ted Baehr, chairman of the Christian Film and Television Coalition and Editor-in-Chief of Movieguide, in an interview with The Christian Post. "Pacific Rim" achieves this in a very overt fashion, he explained.
Toward the end (spoiler alert), the hero "dives into the belly of the beast, he goes through the dimension of this dark underworld and then he pops up in a sort of resurrection scene," very similar to Iron Man in "The Avengers." He ejects his copilot (and love interest) so she can survive, but sets off his Jaeger (giant robot suit) to destroy the villainous aliens.
When "he comes back and it looks like he's dead, she hugs him and he comes back to life." This hero theme, "as old as the cuneiforms in Babylon," also led C.S. Lewis to Christianity, Baehr explained. It reminds the audience that "every man has a God-shaped hole in his heart."
Despite this heroic sacrifice, Baehr, and others, explicitly say that "Pacific Rim" is "not a great movie." In addition to the similarity to the story of Jesus, a good film has to feature good over evil, which it does. But the film must also be "well made," and "this one is at the lower end of that."
"We've gotten really used to these huge, kind of eye-popping, mind-numbing spectacles," Adam Holz, Senior Associate Editor of Focus on the Family's film review site Plugged In, told The Christian Post. "So many of these films have underperformed this year," he added, noting the less-than-stellar performance of "The Lone Ranger," "After Earth," and "Oblivion."
These large-scale, Armageddon-themed films might be "numbing us to things that are more mundane," said Holz. Furthermore, "Pacific Rim" didn't distinguish itself from similar movies, such as Battleship, Transformers, or John Carter, he explained.
"If you're not in touch with your inner teenage boy," moviegoers were likely to miss it, because the film would not likely appeal to other audiences. He called it "a Godzilla movie for the 21st century," which proved ironic, since Director Gareth Edwards has slated a Godzilla reboot for next year.
Elsewhere at the box office, Both "Despicable Me 2" and "Grown Ups 2" beat "Pacific Rim" over the weekend, and Holz explained the gap by the difference between original stories and franchise films. "Audiences seem more willing to bet their money on a known quantity," he explained.
With a "pretty stable" audience, Adam Sandler provided a big draw to "Grown Ups 2." "We can label it infantile entertainment but people are paying to see it so we'll probably keep seeing more of it," Holz said. Not according to Rotten Tomatoes, one rating service, which gave Grown-ups a dismal 7 percent.
"Studios just can't afford to absorb a hundred or two hundred million dollar loss when a movie underperforms," he said, turning back to "Pacific Rim."
While the film proved predominantly secular, it did feature "a tiny dash of paganism," in the worship of destructive beasts from another world.
Nevertheless, Holz praised the film for the virtue of its characters and its lack of sexual content. "I liked the characters – I liked that they were willing to sacrifice for each other." While the theme of sacrifice may not be "a super original idea in a big-budget action movie," Holz found the characters' struggles compelling.
As opposed to other big Armageddon-style flicks, "I didn't feel like the human beings were just throwaway components in the big action but they were really integral to the story," he said.
In this light "popcorn movie," the plot points "are not developed well," and "some of the battle scenes go on too long," Baehr said. The film ended up "overwhelmed in CGI and some of the character arcs are not well as developed."
Related
One Million Moms Slams Discovery Channel's 'Naked and Afraid;' Compares Show to 'Soft Porn'
Cory Monteith Dead: Girlfriend Lea Michele 'Hysterical, Inconsolable'
The Avengers 2 Movie News: Lastest Cast Rumors Involve Hugh Jackman as Wolverine (VIDEO TRAILER)
Star Wars Episode 7 News Update: Movie Cast Rumors to Be Confirmed at D23 Expo? (Trailer Video)
'Despicable Me 2' Crushes 'The Lone Ranger': Christian Theme Movie Wins at the Box Office