Parents of Christian Girl Kidnapped by Boko Haram: Nigerian Gov't Never Contacted Us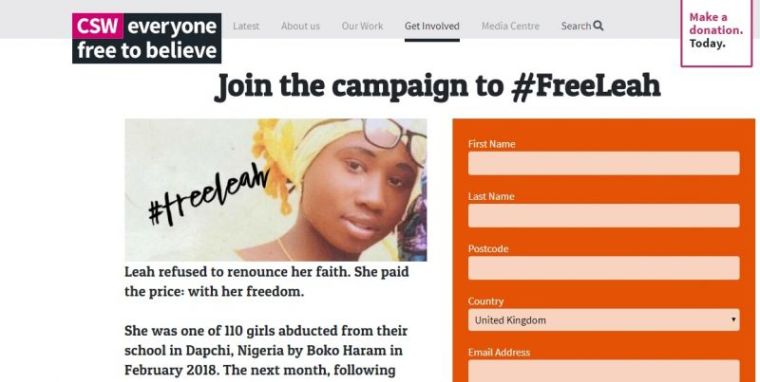 The parents of a Christian schoolgirl being held captive in Nigeria by Boko Haram said they have yet to receive any government response.
"Unfortunately, since the abduction of our daughter, no government official in Nigeria has contacted us or even let us know the effort the government is making towards the release of my daughter," Nathan Sharibu, father of Leah Sharibu, told Morning Star News.
"However, Christians across the world have been supporting us and praying with us. It has not been easy bearing the pains of missing our daughter, but the Lord has been gracious through His unmerited grace to us."
The 15-year-old girl, who was kidnapped in February during an Islamic radical raid on a girls school in Dapchi, Yobe state, has remained in Boko Haram captivity because she refuses to renounce Jesus Christ and take up Islam.
The Christian girl's plight has sparked prayer campaigns and calls for actions from around the world. In August, a 35-second recording from her was released to Nigeria's media, where she begged the government for help.
"I am calling on the government and people of goodwill to intervene to get me out of my current situation. I also plead to the members of the public to help my mother, my father, my younger brother, and relatives," the teen asks in the recording.
"Kindly help me out of my predicament. I am begging you to treat me with compassion, I am calling on the government, particularly the president, to pity me and get me out of this serious situation. Thank you."
Her father argued that even with the release of the audio tape, President Muhammadu Buhari's administration still refuses to contact the family and explain to them what is being done to rescue their daughter.
"When I heard Leah's voice in that audio message and her photo as shown, I was highly elated, knowing that she was still alive," Sharibu said of the audio release.
Major Christian leaders, including Church of England figurehead Justin Welby, have directly pleaded with Buhari to intervene and help free the Christian girl.
"I urged the president to do everything possible to secure her release," Welby said, following a face-to-face meeting with Buhari in April.
The president said at the time that his administration is "managing the matter quietly."
"Making noise would not help. We are collecting as much intelligence as possible, working with the Red Cross and other international organizations," Buhari claimed then.
Boko Haram, which has been waging violent attacks on churches, mosques, and government institutions in Nigeria since 2009, carried out new deadly raids and took control of a town in northeast Nigeria earlier in September.
The raids came despite earlier claims by the Nigerian army that the terror group had been almost entirely defeated.