Party Leaders Aid Accused Molesters: Trump Boosts Roy Moore, Pelosi Defends 'Icon' John Conyers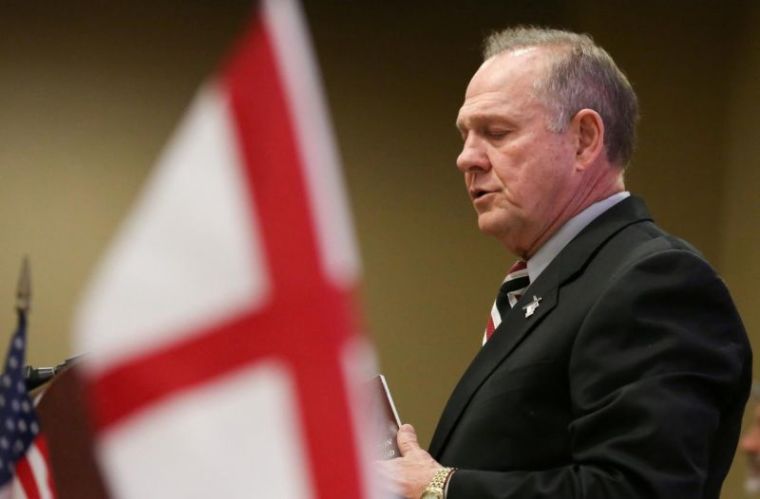 Without mentioning his name, President Donald Trump effectively endorsed embattled Alabama Republican Judge Roy Moore for the open U.S. Senate seat as sexual misconduct allegations continue to emerge against other government officials.
"The last thing we need in Alabama and the U.S. Senate is a Schumer/Pelosi puppet who is WEAK on Crime, WEAK on the Border, Bad for our Military and our great Vets, Bad for our 2nd Amendment, AND WANTS TO RAISES TAXES TO THE SKY," Trump tweeted Sunday, adding that Doug Jones, the Democrat running in the race, "would be a disaster."
The President put out a subsequent tweet an hour later noting hat he had endorsed Luther Strange, who was appointed to the seat earlier this year to replace now-Attorney General Jeff Sessions. Strange lost to Moore in the Republican primary race on Sept. 26.
"[Strange] shot way up in the polls but it wasn't enough," Trump said in the second tweet. "Can't let Schumer/Pelosi win this race. Liberal Jones would be BAD!"
Several women have accused Moore of sexually inappropriate behavior, one of whom alleged that he molested her when nearly 40 years ago when he was 32 and she was 14. Moore continues to deny the allegations and has vowed to stay in the race. 
Senate Republicans remain unsupportive of Moore's candidacy.
Republican Senator Jeff Flake of Arizona has said that he would vote for the Democrat in the race if he lived in Alabama, tweeting Sunday that Republicans supporting Moore is the worst kind of political tribalism and that the party should not succumb to it. Similarly, Republican Senator Rob Portman of Ohio noted Sunday that if he could vote in the race he would back a Republican, but not Moore. 
The president's obliquely supportive comments come at a time where influential men in many public spheres are being exposed for all types of sexual misconduct. Since the revelations about Hollywood kingpin Harvey Weinstein became public in early October, the nation has seen a deluge of allegations of sexual assault, predation, and harassment against powerful figures in the entertainment industry, mass media, churches, and in state and federal legislatures.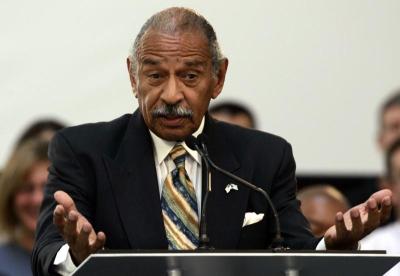 Congressman John Conyers, a Democrat from Michigan, is among the most recent individuals against whom workplace sexual harassment allegations have been leveled. Last Monday it was reported that Conyers' office paid approximately $27,000 under a confidentiality agreement to settle a 2015 complaint from a woman who said she was fired from his Washington staff because she turned down his sexual advances. Affidavits from former staff members have also been published describing how they saw Conyers both requesting sexual favors from female staffers and touching them inappropriately.
Conyers, who is known for his activism in the Civil Rights era and has served in the U.S. House of Representatives for over 50 years, is now under a formal ethics investigation as a result of the allegations. The 88-year-old Congressman stepped down as the ranking member of the House Judiciary Committee on Sunday. Thus far, the only Democrat to call for his resignation is Congresswoman Kathleen Rice of New York. 
Democratic leader Nancy Pelosi called for the ethics investigation into Conyers, but is defending him, saying he deserves due process. 
"John Conyers is an icon in our country," Pelosi told Chuck Todd on NBC's Meet the Press Sunday, when asked about the allegations against him, adding that he is "entitled to due process, but women are entitled to due process, as well."
"He has done a great deal to protect women — Violence Against Women Act, which the left — right-wing — is now quoting me as praising him for his work on that, and he did great work on that. But the fact is, as John reviews his case, which he knows, which I don't, I believe he will do the right thing."
She later tweeted a statement, noting Conyers is stepping aside from his Judiciary committee post: "Zero tolerance means consequences ... No matter how great an individual's legacy, it is not a license for harassment."
In a Sunday op-ed, Laura McGann, editorial director for the liberal news site Vox.com, argued that Pelosi's excuses for Conyers were the type of behavior that discouraged women from revealing harassment. Pelosi, she wrote, "ran through a list of excuses for Conyers that are the very reasons women are afraid to come forward and report sexual harassment in the first place." 
Conservative commentator Bill Kristol was unimpressed with the whole affair, tweeting Sunday: "The highest ranking Republican in the nation, Donald Trump, is pro-Roy Moore. The highest ranking Democrat in the nation, Nancy Pelosi, is pro-John Conyers. "A plague o' both your houses!" (Romeo and Juliet, Act III, Sc. 1)."