Passion 2013 Conference to Kick Off in Atlanta With 60,000 Students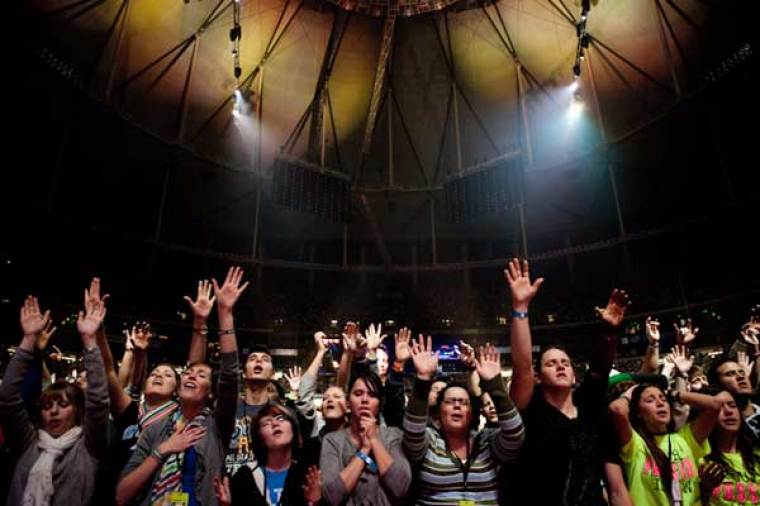 ATLANTA – Over 60,000 university students from around the world are expected to pack the Georgia Dome stadium in Atlanta Tuesday evening kicking off the four-day Passion 2013 conference, focused on making Jesus famous and fighting modern-day slavery.
In what will be the largest single Passion gathering in North America since the Passion movement began in 1995, attendees will hear from dynamic Christian speakers including Louie Giglio, John Piper, Beth Moore, Francis Chan, Judah Smith, and Gary Haugen. Worship through music will also be an integral component of the conference, and lead musicians include Chris Tomlin, Matt Redman, Christy Nockels, Kristian Stanfill, Charlie Hall, David Crowder, Lecrae, and Jesus Culture.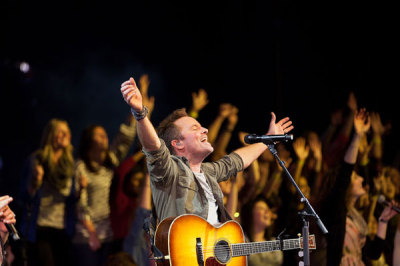 The majority of conference participants are students and young professionals ages 18-25, along with youth ministry pastors and church leaders attending with their groups. In addition, over 2,500 volunteers – called "Door Holders" – have committed to serve during the conference with everything from registration and ushering to production and logistics.
"Passion is about the Jesus Generation uniting for His fame," said Louie Giglio, founder of the Passion movement and pastor of Passion City Church in Atlanta, in a statement. "At the heart of it all, Passion exists to see a generation stake their lives on what matters most. For us, that's the fame of the One who rescues and restores, and the privilege we have to fully leverage our lives by amplifying His name in everything we do."
Since the first Passion Conference was held in 1997 in Austin, Texas, with 2,000 people, the movement has grown exponentially and hosted millions of university students at large-scale gatherings across the U.S. and around the world through nine conferences, four world tours and multiple one-day and regional events. In 2008, the organization embarked on their first Passion World Tour traveling to 17 cities worldwide on six continents, kicking off in Kiev and ending in Sydney. The most recent world tour in 2012 consisted of five cities: Vancouver, Pretoria, Kampala, Durban, and Cape Town.
"Passion is committed to spreading the fame of Jesus Christ to the 20+ million college students of the nation and countless others around the globe," the website reads. Organizers insist that Passion is more than simply a conference or an event, but rather a call for "saying goodbye to lesser things and saying yes to the One whose name is above every name."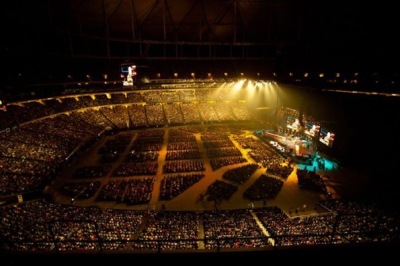 Last year over 42,000 students and leaders from 31 countries and more than 1,700 campuses participated in the Passion 2012 conference, and this year is set to break all attendance records. "We want to see the place filled," said Giglio of the Georgia Dome, the largest indoor sporting facility in the U.S. with a capacity of 71,250. "Not for the sake of numbers, but as a symbol of a new generation... a new wave of Jesus followers who are trading in small dreams for a place in the story God is writing around the globe."
In addition to the Biblical teaching and worship through music, a significant part of the conference will focus on the cause of ending modern-day slavery for the 27 million people worldwide who are victims of human trafficking and trapped in forced labor. Passion's "Do Something Now" campaign connects worship and justice, empowering individuals from all walks of life to join together and help people who cannot help themselves. "Together we are a force for good," their motto states. Since 2007, over $5 million has been given to causes around the globe in Jesus' name through Do Something Now. "As a result we've seen slaves freed, children released, the hungry fed, the Church equipped, women restored, scripture translated, wells dug, healing provided, and so much more," said Bryson Vogeltanz, chief steward of Do Something Now for Passion Conferences, in a statement.
The Passion 2013 freedom causes are focused around four central themes in the fight to end slavery: Awake, Prevent, Rescue, and Restore. Passion is partnering with a number of anti-slavery organizations including the A21 Campaign in Thailand, Bombay Teen Challenge in India, and Wellspring Living in the United States. At Passion 2012 students and supporters gave a total of over $3.3 million toward the freedom cause, and this year's goal is to raise even more money and awareness.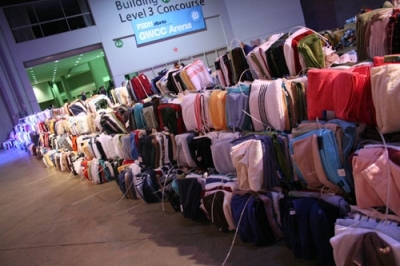 "We believe that this generation of students has the ability to put an end to slavery," said Vogeltanz. "We believe that God receives much glory when worship and justice are wed as one. It's about doing something in the name of Jesus to free people all over the world who are enslaved."
In line with the conference's purpose, Passion is also collecting towels and socks to donate to homeless shelters in Atlanta, Nashville and the Gulf Coast, and each attendee and volunteer is being urged to participate in this effort. "We want to make an impact on a tangible need in the host city of Atlanta," says a statement on the website. Last year over 36,000 towels and 150,000 socks were donated, enough to provide Atlanta's homeless shelters with towels and socks for the entire year as well as extra supplies to send to New York City during Hurricane Sandy relief efforts.
The main sessions of the conference will be streamed live for free on the Passion website (http://268generation.com/passion2013/). Last year more than 170,000 people from over 130 countries watched the conference online. In addition, for the first time Passion Conferences has launched The Passion 2013 app available for iTunes and Android.