Pastor Accused of Brutally Murdering Wife Returns Home in Alabama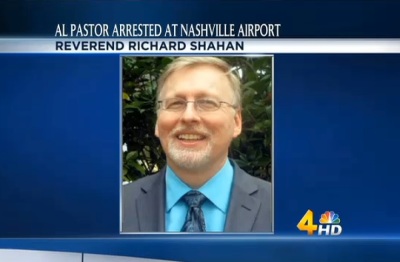 An Alabama pastor accused of killing his wife last July returned to the state on Wednesday.
Richard Shahan, 53, was arrested for being "a fugitive from justice" while waiting in line at security at Nashville International Airport on New Year's Day.
Shahan, who was placed on administrative leave from the First Baptist Church of Birmingham in August, was removed from the church's payroll several weeks ago and said he was intending to embark on a three year commitment with Bible Mission International in Germany.
However, authorities said that Shahan was actually attempting to flee the country to Russia, according to ABC 3340.
"Once he got over into Germany and ultimately into Russia, the chances of extraditing him are pretty nil," Homewood Police Chief Jim Roberson told ABC 3440. "If we can't get Snowden back, we probably couldn't get him back either."
Shahan was arrested by Homeland Security officials last week and imprisoned in Tennessee, before being moved to Jefferson County Jail.
Authorities issued the arrest warrant on Dec. 31. Roberson said at a press conference last week that "certain inconsistencies in interviews" led to Shahan's arrest and that police had been able to determine a motive, though they could not make it public at this point.
"It will become readily apparent as we move into the trial process," Roberson said. "There are very few new details of which we can go into great elaboration because it is an ongoing investigation."
Shahan had told investigators that he was visiting one of the couple's two sons on the day his wife was reportedly stabbed to death inside their home.
Shahan's attorneys Wendell Sheffield and John Lentine said it was unfair of authorities to suggest that their client had tried to flee the country.
"Some of the inferences that were put out there in the news conference made it sound like Richard was trying to leave the country and never come back," Lentine said. "Anybody who's been keeping up with this knows that Richard had announced months ago that he was planning on going on another mission trip like he did in 2012."
They also questioned the fact that it had taken six months for the police to decide to arrest him.
"The investigation has been pending for half a year," Sheffield said. "Is he supposed to put his life on hold until they come to a determination not to arrest him?"
Sheffield also accused the police of not being thorough in their investigation.
"The chief is saying 'We've got our man,' then saying it's an ongoing investigation," Lentine said. "There's your inconsistency. The reality is they've always looked at Richard, and they didn't bother to look any further out than that."