Pastor Carl Lentz Will Not Preach on Sexuality From Pulpit; Refuses to 'Ostracize People'
Hillsong NYC Lead Pastor on Homosexuality: Not His Job to Be People's 'Judge and Jury'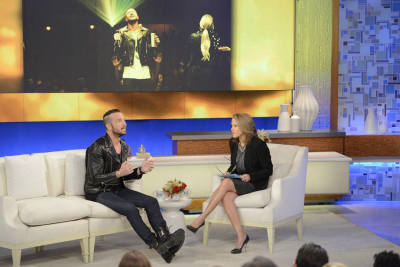 Hillsong NYC Pastor Carl Lentz has made it clear that he will not take a public stance on social issues like homosexuality because, as he said during media appearances this week, that is not the example Jesus Christ models in the Bible.
When asked during an interview with Katie Couric on her self-titled daytime show if he felt that he had a moral imperative to speak publicly about "some of these more controversial issues," Lentz said, "No, because we try to be like Jesus."
He explained, "Very rarely did Jesus ever talk about morality or social issues. He was about the deeper things of the heart. Often people want to talk about behavior modification, and our church isn't about that. … We're about soul transformation. You start talking about some of the symptomatic stuff, that's not what we're about. We're about talking to people about their heart and the condition of their soul, and some of that stuff out-works itself. But we're not trying to change anybody because we can't."
Lentz's pre-recorded appearance on "Katie" aired Thursday, the same day the Hillsong NYC pastor visited HuffPost Live and was asked similar questions about the same issue.
Host Ahmed Shihab-Eldin asked Lentz, 35, if same-sex couples were welcomed to attend the popular megachurch, which prompted the Pentecostal pastor to speak out against critics who insist that he needs to make a public stance on homosexuality and other social issues.
"Some media wants us to use our pulpit to have a soapbox for social issues," said Lentz. "I don't believe that's our job."
Pointing to Jesus as his example for ministry, Lentz added, "You go look at what Jesus did, he was always talking about the heart of an individual and the soul of a person, not these symptomatic societal problems. People hate that, because a lot of churches are about what they're against. We're about what we're for.
"When it comes to people's sexuality, I don't want to use a public forum to talk about private things. Because how in the world could you have a dialogue? How in the world can I hear your story? How in the world can someone have a question?"
If he stood in the pulpit at Irving Plaza, the Manhattan concert venue that serves as a sanctuary on Sundays for Hillsong's six worship services, and "just start(ed) railing at something or (made) a statement in a newspaper about something, I believe it's insensitive to the journey that people are walking on, and our church is going to protect people."
He added, "No matter where you're from, no matter what you carry, no matter what orientation you feel is your lane of life to run in, I want to have a conversation about it. We have a stance on love, and we have a conversation on everything else."
Asked if he was "in a position to support homosexual couples," the married father said, it was not his job to be a judge and jury for others.
"If I sat down with a homosexual couple and they ask me what I thought about their relationship, I would tell them, and it would be at their table and it would be our business. But their situation is different than the next situation," Lentz explained.
"Often people get these two words mixed up: acceptance and approval. If someone comes to my church, I don't have to approve of every single thing in their life, because that's not my job. I'm not God. My job is to accept you as I have been accepted. With everything in my life, God accepted me. So acceptance and approval, we draw a really cool line in there…"
Lentz, who leads with Hillsong United frontman Joel Houston, son of church founder Pastor Brian C. Houston, said there were plenty of people who have visited the church and did not find it to their liking.
"There are a lot of people who will come into our church, leave and go, 'No thanks. I don't want to change. I don't want to believe that.' And I say, 'Good for you, that's your job. You have to answer to God for your life, not me.' So why is this on me?" said Lentz.
The Christian minister said that he had gay friends and people whom he loves who are "right in the thick of that debate," which he will not be participating in publicly, at least not from the Hillsong NYC pulpit.
"I refuse to ostracize people any longer, I hate it. I think that there's been so much hate, and so much bigotry and so much insensitivity, I'm done with that," said Lentz.
Before The Huffington Post Live interview came to a close, the preacher made sure to add the two things he believes Jesus said to do.
"He said love the Lord your God with all your heart, all your soul, all your mind." explained Lentz. "He said, number two, love your neighbor — with the inference being, if you love your neighbor, there's so much room to talk about stuff. But people want to yell with no love."
Hillsong NYC, founded in late 2010, welcomes more than 5,000 worshippers every Sunday and is the first U.S. plant of the main Hillsong Church in Sydney, Australia.