Pastor claims church members got killed by gang during Haiti protest because they lost faith
After at least seven of his members were executed when he led them into what local police have called an ill-advised protest against a powerful gang in Haiti on Saturday, Pastor Marcorel Zidor, leader of the Church of the Pool of Bethesda in Caradeux, said they only died because they lost their faith.
"Those who died are those who went to hide in the houses," Zidor, who is popularly known as Pastor Marco, said in an interview with Mega Radio on Monday, according to Reuters. "Ninety-five percent of my parishioners were being shot at, none of them got hit," he added. 
In a press statement Monday, Haiti's Police Chief Frantz Elbé said Zidor led several hundred of his followers, some of whom were armed with sticks and machetes, to overthrow the gang controlling a suburb of Port-au-Prince called Canaan.
Elbé said police tried to stop the protest by setting up security perimeters and warning church officials that confronting the gang members was not a good idea, but they ignored the warnings. In an earlier report, The Christian Post noted that Zidor had convinced his parishioners that they could not be harmed by the bullets from the gangsters, and they believed him.
"They were determined because the pastor told them, 'They will not get shot,'" Elbé said during a subsequent press conference. "There was a belief in this crowd; there was a determination.
"The police did everything they could to prevent the crowd from arriving at its destination," he added.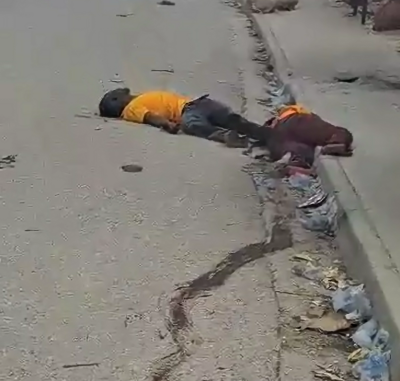 A video posted on X, formerly known as the platform Twitter, shows the gang members opening fire on the church members with what appears to be the lifeless bodies of a man and woman from the protests at the end of a trail of blood in the unpaved streets of the squatter community. Other videos posted on YouTube show several members who were also kidnapped. Zidor allegedly abandoned his flock on a motorcycle, Haiti Libre reported.
Elbé said the execution of churchgoers, who were accompanied by armed men in olive green uniforms, happened after a confrontation, but he did not share any specifics on the confrontation.
On Monday police were still trying to recover an unconfirmed number of bodies but the neighborhood was inaccessible. A local human rights group, CARDH, told Reuters the number of dead churchgoers could be as high as 20.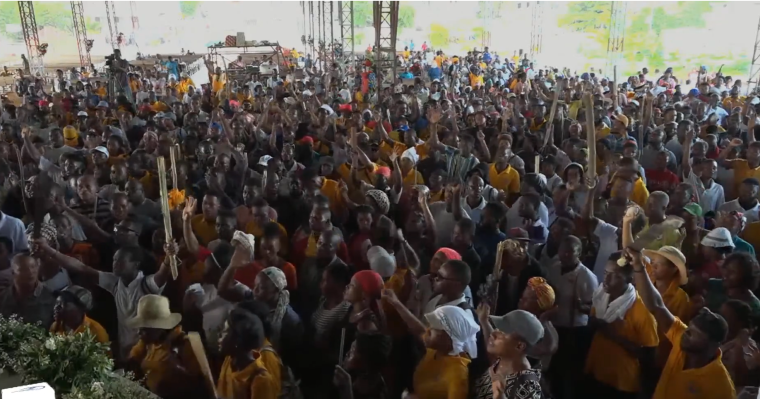 The massacre of the church members comes as Haiti descends further into lawless gang rule just two years after the assassination of President Jovenel Moïse.
On July 27, the State Department issued a travel advisory urging Americans not to travel to Haiti and ordered all U.S. citizens and non-emergency government employees to leave as soon as possible.
A Level 4 Travel advisory is "the highest advisory level due to greater likelihood of life-threatening risks."
"During an emergency, the U.S. government may have very limited ability to provide assistance. The Department of State advises that U.S. citizens not travel to the country or leave as soon as it is safe to do so," reads a Safety and Security Information document from the State Department. "The Department of State provides additional advice for travelers in these areas in the Travel Advisory. Conditions in any country may change at any time."
Haitian citizens frustrated by the lack of security in the country have increasingly turned to self-defense groups and programs but even those efforts are being resisted by the gangs.
Ravina Shamdasani, spokesperson for the U.N. High Commissioner for Human Rights, said in a statement from Geneva earlier this month that conditions in Haiti highlight "the extreme brutality of violence being inflicted on the population and the impact it is having on their human rights."
She noted that between Aug. 14-15, a local government representative and his wife were allegedly shot and killed at their house in Port-au-Prince.
"The man was apparently targeted in retaliation for his reported support for a local self-defense group set up to confront the gangs," Shamdasani said.
Hours before they were killed, members of the Grand Ravine gang also reportedly murdered five men and two women from the same family on Aug. 14 by burning them alive inside their home in the Carrefour-Feuilles neighborhood.
As the U.N. Security Council considers a proposal to allow Kenya to lead a 1,000-member multinational contingent of police officers that would help train and assist Haitian police in restoring order to the country, Zidor insists that he believes God will protect him and his congregants despite the massacre.
When asked if he would abandon the protest against the gang if he had a second chance, Zidor told Mega Radio, "I'll do it again."