Pastor Greg Laurie: 'Why Did Jesus Come on That First Christmas?'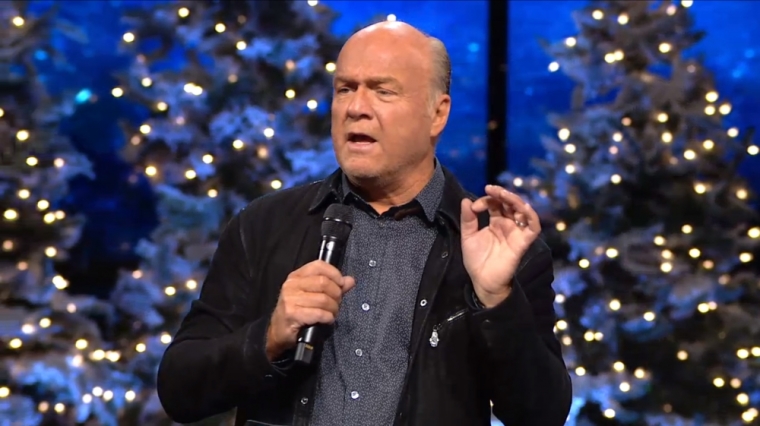 On Sunday before Christmas, Pastor Greg Laurie of California's Harvest Christian Fellowship asked — and answered — the most important question for this Christmas season, why Jesus came on that first Christmas.
We often forget all about Christ as we go about celebrating Christmas, Laurie told the congregation in his message titled, "The Greatest Story Ever Told!"
"It's possible to lose Jesus at Christmas. … But He never forgets us," he said.
Laurie said three key questions must be looked at during Christmas: When did Jesus come? Where did He come? And, most importantly, why did He come.
Laurie answered the first question by saying that Jesus came at the appointed time, at the perfect time, referring to Galatians 4:4-5.
"The story of Jesus' birth starts in Heaven and unfolds on Earth," he added.
Mary was a nobody, living in a nothing town in the middle of nowhere, Laurie said, and read Luke 1:28-30: "The angel went to her and said, 'Greetings, you who are highly favored! The Lord is with you.' Mary was greatly troubled at his words and wondered what kind of greeting this might be. But the angel said to her, 'Do not be afraid, Mary; you have found favor with God.'"
Angels said the baby should be named Jesus because He would save His people from their sins, the megachurch pastor went on to say.
Laurie observed that "Jesus went from being a sovereign to being a servant, from the glory of Heaven to a stable for animals." He gave up His place in Heaven so that we can have a place in Heaven, the pastor said.
"The Son of God became a man so that men might become sons of God," he quoted C.S. Lewis.
On the second question, Laurie said Jesus was born in Bethlehem, as was said in the Old Testament prophecy.
He also said, "History swings on the hinges of the door of a stable in Bethlehem."
When Mary and Joseph came to Bethlehem, Mary was nine months pregnant, the pastor said. They went to an inn in the middle of the night, and the inn-keeper turned them away. He lost an opportunity. God often comes to us in an unexpected way, Laurie said, adding that he was perhaps preoccupied or just busy as most of us are today.
The problem of "Christmas" is that we've made it too beautiful, Laurie remarked. "What happened was beautiful but we have so romanticized it, with all of our Christmas cards, with images of sleighs and snow … the images of Jesus and Mary and Joseph. … But the real story was quite sad."
He added: "Jesus was not born in a mansion; He was born in a barn or a cave. It was cold and damp. He was not wrapped in clean sheet; He was wrapped in cheap rags. … God-incarnate was born on the dirt floor of a filthy cave."
However, this doesn't diminish the story, Laurie said. It enhances the story, highlighting the sacrifice God made to come to us, he added, and read 2 Corinthians 8:9, "For you know the grace of our Lord Jesus Christ, that though he was rich, yet for your sake he became poor, so that you through his poverty might become rich."
God broke the news of the birth of Jesus through His angels first of all to shepherds, who were at the bottom of the social ladder at the time, Laurie mentioned. "It doesn't matter what others think about you. It matters what God thinks about you. … God loves every one of us."
Laurie then came to the question why Jesus came on that first Christmas. "God came to this world to die an agonizing death to ransom us from an eternal death sentence," he said.
The real Christmas tree was a cross that Christ hung on, as the Bible says cursed is every man that hangs on a tree, Laurie said. He died for the sins of all of the world. This is why red is the color of Christmas, he explained.
Because of the kind of celebration we normally have on Christmas, many feel lonely or depressed during the season, Laurie added. But we don't need Christmas to be happy, we need Christ, he stressed. And we don't need presents, we need His presence, he concluded.