Pastor Jamal Bryant Tells Mama, 7.5M 'Preachers' Fans He Was Joking About Open Marriage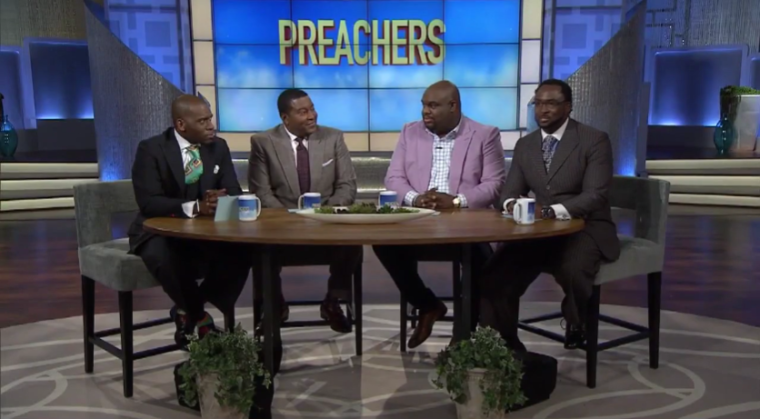 Pastor Jamal Bryant's mother was upset when she heard the Baltimore megachurch leader joke about believing in open marriages on his new daytime talk show "The Preachers."
"My mother called me 'Sleepless in Seattle' trying to figure out, 'what did I mean laughing about open marriages. God is not pleased,'" Bryant of Empowerment Temple AME Church, recalled on his show this week. "So I'm not talking to the millions of y'all watching. Dear mama, please know that I still believe marriage is between two people and what God has brought together let nobody put asunder."
Bryant joked about believing in open marriage when actress Mo'Nique and her husband, Sidney Hicks, revealed duirng a segment last week that they both have had sex with other people during their 10-year marriage and will continue to do so.
As a divorced pastor who has publicly opened up about his struggles with infidelities and temptation, Bryant made light of the topic.
"I think that's amazing and a lot of people think that is novel and y'all 'church people' are going to have a heart attack," Bryant said with a laugh on the show last week. "I believed in open marriage, I just forgot to tell my ex-wife about it."
Bryant co-hosts "The Preachers" alongside E. Dewey Smith Jr., the senior pastor of The House of Hope churches in Atlanta and Macon, Georgia; John Gray, an associate pastor of Lakewood Church in Houston, Texas; and Orrick Quick, pastor and founder of God Seekers Church in High Point, North Carolina.
While the Baltimore-based preacher said he received a lot of flack for his comments concerning marriage, he decided to thank his critics.
"Many years ago Franklin D. Roosevelt said, 'if they're not kicking your butt you're not up front.' The only way they can do it is you've got to be ahead of them," Bryant said. "It's been a major adjustment, none of us have done daytime television. I took the greatest hit last week. Some 7.5 million of you watched a clip on YouTube so let me say thank you to all of my haters and thank you to all of my celebrators."
Even though Bryant insisted that his believes in biblical marriage, he also said he appreciates being able to engage in a conversation with those who have different beliefs.
"Let me say to you while I believe in that, I'm grateful to have the opportunity to have conversations with people who don't share my beliefs," he said.
Aside from his 2008 divorce, Bryant is alleged to have fathered a child out of wedlock with a 34-year-old woman in California who accused him of not keeping up with child-support payments.
Although Bryant did not confirm or deny the reports, he did make a Periscope video to ask people to pray for him.
"Keep praying for me and I'll keep praying for you. I wanted to come on tonight so there will be absolute clarity: Sunday morning is to discuss Jesus, it is not to talk about Jamal," he previously said on Periscope. "So when you come to church, get ready to talk about how great God is. And not the frailty of what Jamal possesses."